OXFORD — Those Munford backyard football games got downright competitive for the Britt brothers. Seems older brother Zay and younger brother Warren never played on the same side.
Seems Zay never cut Warren slack. Well, not quite never.
"Sometimes," Warren said. "Just being competitive, we were not taking it easy, just because he's older than me. He's not going to let you win.
"He's like, 'You're going to have to beat me.'"
Who knew then that Zay was helping to mold his replacement, at another school, some years down the road?
A house fire caused a chain of events that brought the Britts from Munford to Oxford. Zay wound up most valuable player of the state championship game, keying Oxford's comeback to beat Spanish Fort for the Yellow Jackets' first state title in 26 years.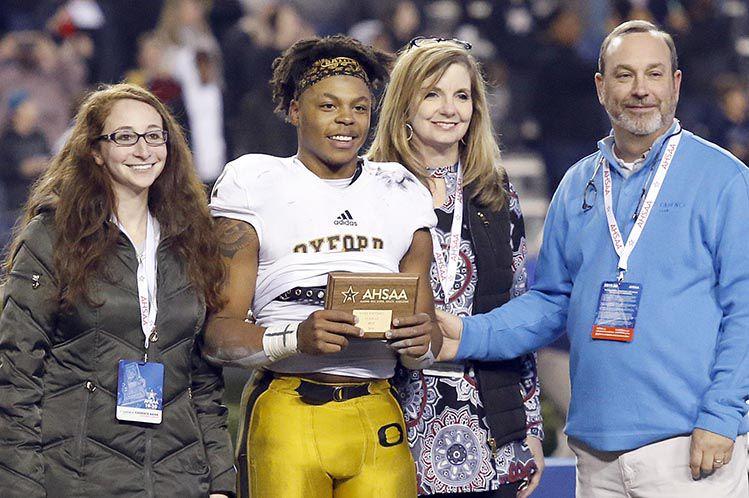 Fast-forward 10 months, and Zay is a freshman at West Georgia. Warren is a senior at Oxford and ably replacing his older brother at receiver.
As second-ranked Oxford approaches Friday's Class 6A, Region 7 game at Pell City, Warren has caught 13 passes for 240 yards and three touchdowns. He's second on the team in catches and yards and tied with Bakari Dailey for second in receiving touchdowns.
Britt's given Oxford a way to punish defenses that devote too much coverage to Tennessee commit Roc Taylor, who has 15 catches for 354 yards and five scores.
Taylor averages 23.6 yards a catch, and Warren averages 18.5.
Warren does "exactly the same stuff" Zay did for Oxford last season, Oxford coach Keith Etheredge said, and to great effect.
"He's had 200-yard games and made some big catches in the other games," Etheredge said. "He's scored in every game we've played, almost. He's a kid that's going to be big for us this year.
"On the other side, Roc gets a lot of attention, but you cannot not play over the top of Warren, too, because he's so fast."
At 5-foot-8, 150 pounds, Warren could be Zay's body double. He's also a skill double.
"I think he's better than me," Zay said. "He's quicker and probably has better hands."
Etheredge says Warren brings a little more quickness, while Zay has a slight size edge.
Don't confuse a small frame for slight strength. Warren hang-cleans 265 pounds, did 51 reps on a pullup test, which Etheredge calls "a freakish amount."
Oxford has a clear backup quarterback in sophomore Sam Robertson, so don't expect to see Warren lineup behind center, the way Zay did after an ankle injury took Trey Higgins out of last year's state final.
Then again, don't put it beyond Etheredge to find ways to use Warren's skills.
"Warren is one of those guys who can really throw it and do a lot of those same things," Etheredge said. "There might be a package in there for him later in the year, where he can run some reverse passes or some toss passes or some things like that."
Imagine that happening in the state final for the go-ahead touchdown. There couldn't be a more perfectly parallel ending for Warren.
He and Zay essentially share the same story. Both came up the ranks at Munford until the fire uprooted their lives.
Their backyard sparring saw each Britt give as good as he got, even if Warren was slower to give it back.
"I like to trash talk," Zay said. "He'd be quiet until he reached his limit, and then he'd let it out."
Perhaps quiet fire helped Warren push through the one extra hurdle he faced. He participated in Oxford graduate Kwon Alexander's summer camp, which was held on Oxford's campus. Since he transferred to Oxford, that became a no-no with the Alabama High School Athletic Association.
Unlike Zay, who didn't participate in the camp, Warren had to sit out his sophomore year, rather than play junior-varsity ball.
"It was depressing," Warren said. "Football means a lot. It was a change for me, not being able to play football."
Warren saw action as a junior, rotating at wide receiver during Oxford's state-title run. He got to watch his big brother's evolutionary run from becoming a key player in Etheredge's first year as head coach to producing a storybook ending at Auburn's Jordan-Hare Stadium.
Zay stays a few miles away, over the Georgia line, but the two stay in contact. The older brother who took little mercy on his younger brother in backyard games also took the time to offer encouraging words, as Warren readied for his senior year.
"He told me, 'It's your time to shine. Now turn it on,'" Warren said. "We do the same thing we used to do before he left. If I need help on a route, I'll text him and ask him about it.
"It's really the same, for real, like when he was here."
As for how Warren has filled in, it's like Oxford has another Zay.
"It feels pretty good," Warren said. "I'm just trying to live it up."