INDIANAPOLIS — Georgia hammers home three touchdowns in the final 8:09 to beat Alabama 33-18 and win its first national title since 1980.
Stetson Bennett threw a 40-yard touchdown pass to Adonai Mitchell and a 15-yard scoring pass to Brock Bowers. Then Kelee Ringo returned an interception 79 yards to ice it. That turned an 18-13 Alabama advantage into an insurmountable Georgia lead.
Georgia's Stetson Bennett was the offensive MVP, and teammate Lewis Cine was defensive MVP.
About taking 41 years to win another national title, Georgia's Kirby Smart said, "Hope that doesn't take that long again."
After a first half full of field goals, Georgia and Alabama have broken through. Georgia roars back with a 40-yard touchdown pass from Stetson Bennett to Adonai Mitchell.
The two-point play fails, but Georgia still leads 19-18 with 8:09 to play in the fourth quarter.
A disputed fumble call gave Alabama first down at the Georgia 16. Four plays later, Alabama had a touchdown on a 3-yard touchdown pass from Bryce Young to Cameron Latu. A disputed roughing-the-passer call helped the Crimson Tide.
A two-point try failed, but Alabama still leads 18-13 with 10:14 to play.
Alabama got a fourth field goal from Will Reichard to cut Georgia's lead to 13-12.
It was another opportunity lost, however, as Alabama had first-and-goal at the 5 at one point. In the first half, Alabama had first-and-goal at the 8 but couldn't get a touchdown.
Alabama trails 13-9 after Georgia popped the Tide with a quick touchdown drive. James Cook's 67-yard run set up a 1-yard scoring run by Zamir White.
The Crimson Tide has the ball with first down at its own 42 at the start of the fourth quarter.
Alabama All-America receiver Jameson Williams isn't back in the second half of tonight's championship game.
"We've got other players who have opportunity," Alabama coach Nick Saban said. "They're young but have talent. They're capable. Don't have the experience but they're going to get it tonight."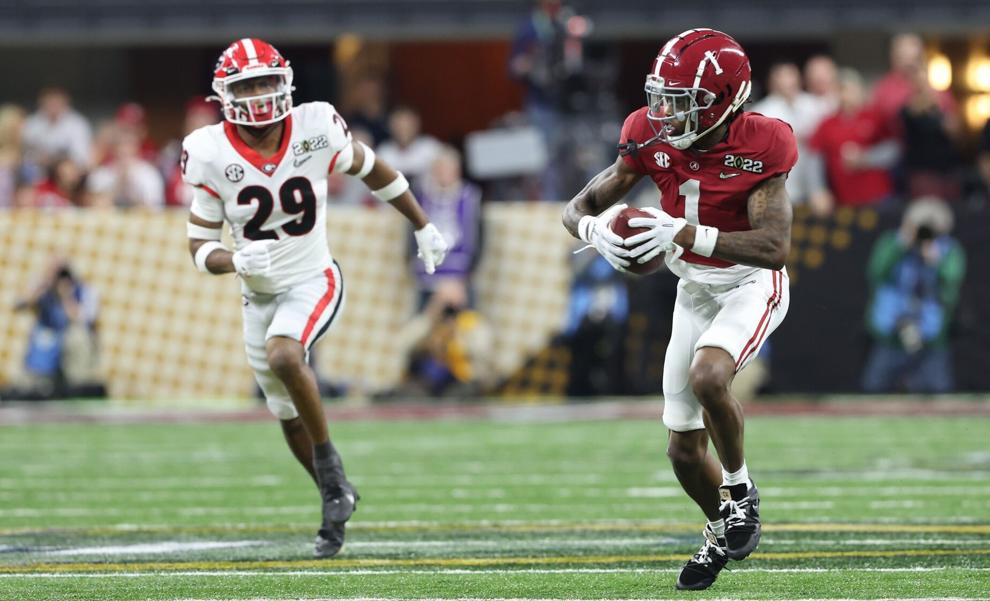 Alabama leads 9-6 at halftime in Monday's national championship game against Georgia.
Play a CFP championship game in Big Ten country and it brings out the inner Iowa even in SEC teams.

— Ralph D. Russo (@ralphDrussoAP) January 11, 2022
--Nothing but field goals so far as Alabama's Will Reichard has three and Georgia's Jack Podlesny has two.
--With John Metchie out since the first Alabama/Georgia game and Jameson Williams going down in the first half when his left knee buckled, Slade Bolden has been the go-to receiver for the Tide. He has six catches for 37 yards.
--Agiye Hall, who had two catches all year for 20 yards, managed a 24-yard reception late in the half after Williams went down.
--Stetson Bennett completed 11 of 17 passes for 127 yards for Georgia.
--Neither team can run the ball against the opposing defense. Georgia gained 26 yards on 13 carries, while Alabama had 10 yards on 10 carries.
--Neither team has a turnover, although both had near-misses.
--Christian Harris, Henry To'o To'o and Will Anderson Jr. each have four tackles for Alabama.
The Bulldogs got a 49-yard field goal by Jack Podlesny to cut Alabama's lead to 9-6 with 3:09 to play.
It's been nothing but field goals so far.
After a 61-yard catch-and-run by tight end Cameron Latu gave Alabama first-and-goal at the 8, Georgia's defense held.
That brought in Will Reichard for a 37-yard field goal. It's his third 3-pointer of the game, putting Alabama up 9-3 with 7:07 to play.
Alabama is up 6-3 after a Will Reichard field goal with 11:13 to play in the first half.
The bigger news: Alabama All-America receiver Jameson Williams went down at the end of a long catch on that drive, and it appeared his left knee buckled.
Williams went to the Tide injury tent but when he walked out of the tent, he went to the locker room.
With John Metchie lost in the first Alabama/Georgia game, Alabama is hurting for wide receivers.
Alabama is up 3-0, but Georgia is threatening after a 52-yard completion from Stetson Bennett to George Pickens.
The Bulldogs will start the second period with second-and-13 at the Tide 23-yard line.
During Georgia's opening drive, Alabama was flagged for delay of game, disconcerting signals. Apparently, Alabama linebacker Henry To'o To'o was clapping, which could throw off Georgia's signal calling.
Disconcerting signals sounds like a dating problem more than a football penalty call

— Matt Hladik (@MattHladik919) January 11, 2022
Alabama threw a lot of different looks at Georgia on its first drive and got a field goal out of it. Will Reichard kicked a 37-yarder through the uprights.
The drive went 14 plays, 56 yards, and Alabama leads 3-0 with 9:55 left in the first quarter.
For Alabama, freshman Kool-Aid McKinstry and junior Khyree Jackson worked with the first team at cornerback.
Alabama is without Josh Jobe (turf toe). Jalyn Armour-Davis is struggling with a hip injury. Jobe and Armour-Davis have started 11 games each this season. This would be Jackson's first start at Alabama and McKinstry's sixth.
Emil Ekiyor, who hurt his shoulder in the Cotton Bowl win over Cincinnati, is working with the first-team offensive line in warmups for Alabama.
Neal is at left tackle, Cohen at left guard, McLaughlin at center, Ekiyor at right guard and Owens at right tackle.
Nick Saban always make sure to see his wife, Terry Saban, during the pregame warmups.
Georgia is a three-point favorite, according to VegasInsider.com. Alabama has been favored in 165 of its last 168 games, dating back to 2009.
Each time Alabama was the underdog in that stretch, it was against Georgia. The Tide is 2-0 so far in those meetings.
Alabama was favored to beat Cincinnati in the Cotton Bowl. Until the SEC Championship Game against Georgia, which Alabama won 41-24, the Crimson Tide was favored in its previous 92 games, which is a record dating to the 1970s. The last time before the SEC game that the Tide wasn't favored was 2015 when it was a 1.5-point underdog at Georgia. (Alabama won 38-10.)
Before that 2015 Georgia game, Alabama was favored in 72 straight, after the Tide was a 4.5-point underdog against Florida in the 2009 SEC Championship Game. (Alabama won 32-13.) The 72-game streak is the second longest in major college football, again dating back to the 1970s.
Have you seen the "Hope" series of videos by SEC Shorts in which an angry Georgia fan rebuffs Hope trying to bestow her favor on the Bulldogs?
The actress who plays her, Hannah Kuykendall has made it to Indy.
Here are the three SEC Shorts videos featuring "Hope" this year.
Former Tide player, coach Croom honored
Former Alabama All-America center and assistant coach Sylvester Croom was picked as part of the 2022 College Football Hall of Fame class. The National Football Foundation announced the selection Monday afternoon.
Croom played center for Alabama in 1971-74. He made All-SEC and All-American in 1974 and won the Jacobs Award as the league's top blocker. He played with the New Orleans Saints in 1975 before returning to Alabama and serving on the Tide staff from 1976-86.
He coached in the NFL in 1987-2003 before becoming Mississippi State's head coach in 2004-08. He then went back to the NFL as an assistant coach before retiring in 2017.
He inducted into the Alabama Sports Hall of Fame in 2020.
The College Football Hall of Fame induction is set for Dec. 6.
--This is Alabama's sixth appearance in the College Football Playoff finals in seven years.
--Alabama has a 42-25-4 record against Georgia going into tonight's game, which includes a seven-game win streak. That stretch includes three SEC Championship Game victories and a College Football Playoff championship win.
--Nick Saban is 9-2 against Georgia, including 7-1 at Alabama.
--Georgia's Kirby Smart is 0-4 against Alabama.
--In their last meeting, Alabama beat Georgia 41-24 in the SEC Championship Game. The Crimson Tide has won seven of the last 10 league crowns (2012, 2014, 2015, 2016, 2018, 2020, 2021) and is unbeaten in its last eight SEC Championship Game appearances (2009, 2012, 2014, 2015, 2016, 2018, 2020, 2021).
--Alabama has compiled 11 wins for the 11th straight season. That's the longest in the SEC. The SEC has had four streaks of three seasons with at least 11 victories, including Alabama from 1973-75 and 1977-79, LSU from 2005-07 and South Carolina from 2011-13.
Alabama's Will Anderson has 17.5 sacks, which trails only Derrick Thomas in the Tide's single-season leaders.
Thomas had 27 in 1988 and 18 in 1987.
Thomas also holds the record for most tackles for loss in a season, with 39 in 1988.
Anderson is second with 34.5, while Wallace Gilberty was third with 27 in 2007.
Alabama running back Brian Robinson has 2,636 rushing yards for his career, which ranks 12th in school history.
No. 11 Dennis Riddle (1994-97) is only nine yards ahead at 2,645. Johnny Musso (1969-71) is 10th at 2,741, which is 105 yards ahead of Robinson.
Robinson also has 29 rushing touchdowns, which is tied with Tony Nathan (1975-78) for 10th place. They trail No. 9 Eddie Lacy (2010-12) with 30 and No. 8 Bobby Humphrey (1985-88) with 33.