LESS COWBELL: Tide's Hurts quiets MSU with comeback win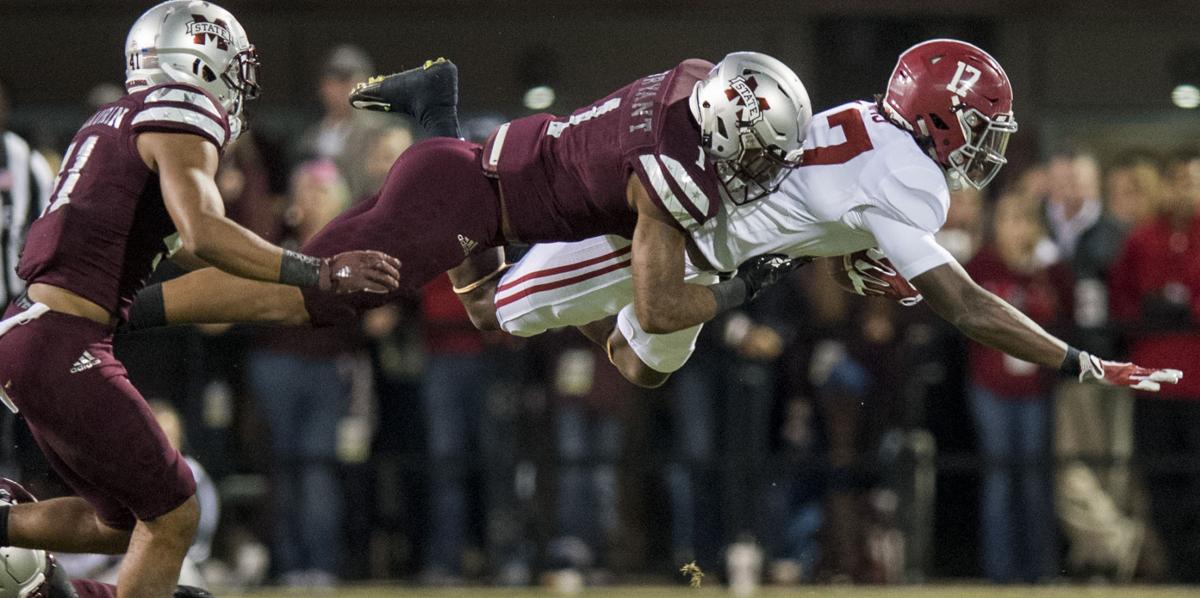 STARKVILLE, Miss. — Beneath the incessant clanging of cowbells inside a stadium that in 10 years has transformed from morgue to madhouse, Jalen Hurts walked along the sideline. An ESPN cameraman, worker, someone — he couldn't remember exactly who — was nearby. It was the third quarter. Alabama trailed Mississippi State.
"I was built for stuff like this," Hurts told the man. "We were built for stuff like this."
All of his teammates have a story — revealing exactly when they think this 19-year-old's inordinate stoicism registered as something extraordinary, something worthy of the enormous stage on which he places himself each week.
On an evening where his beleaguered defense broke under the weight of innumerable injuries, Hurts piloted a game-winning six-play, 68-yard drive in the game's final 1:09 to give Alabama a 31-24, come-from-behind win on a chilly night inside Davis Wade Stadium.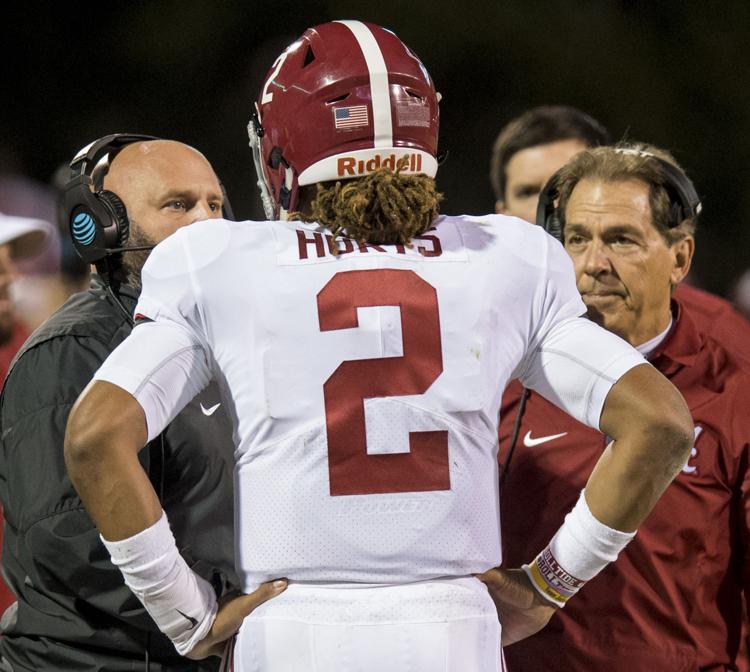 Hurts found freshman wide receiver DeVonta Smith for a 26-yard touchdown with 25 seconds left. He finished 10-of-19 for 242 yards and that score, adding 40 rushing yards and another touchdown.
"We've been in situations like this," said receiver Calvin Ridley, who finished with 171 yards on five catches. "(Hurts) definitely was very poised. We've been in situations like this, like last year that drive versus Clemson and other games. We practice against that type of stuff, two-minute, and we just made some great plays right then."
For a moment amid the noise, Hurts remembered back 10 months. Deshaun Watson had this same time period — one minute, nine seconds — to lead his team to a national championship against the Crimson Tide.
"(Waston) went down and scored," Hurts said. "And we needed to do the same."
Hurts completed three of his four passes on the final drive. The incompletion was a throwaway.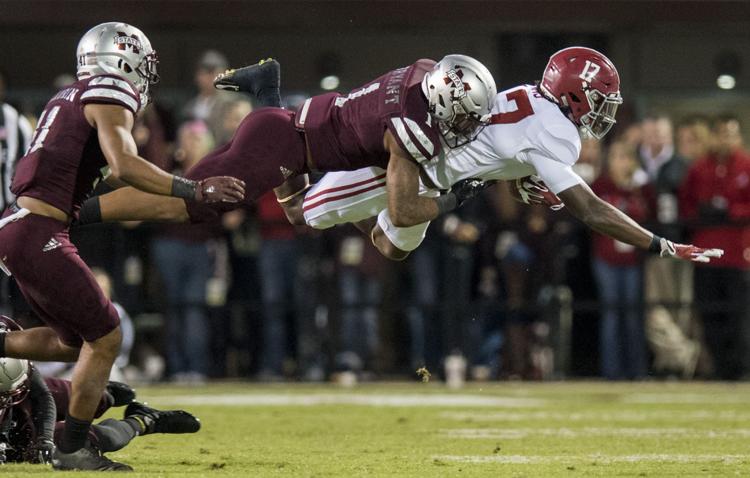 Before a 31-yard pass to Ridley, Hurts — a sophomore — instructed the junior to run a slant route, different than what the called play instructed.
"He kind of shook his head 'no' at first," Hurts said. "And I told him 'Trust me, I got you.' That's the trust and togetherness I talk about."
Behind a struggling offensive line that produced little separation for the running game, Ridley and Hurts represented Alabama's lone first-half offense. The junior receiver had 124 yards on his first two catches.
Both preceded the Tide's only two first-half touchdowns. Alabama possessed the football for just 7 minutes, 57 seconds in the first half. The Tide gained 40 yards on 16 rushing attempts.
"They had a really good plan," Tide coach Nick Saban said. "They played slow — they're usually a no-huddle team — tried to shrink the game, tried to make it a close game and have a great time of possession, which they ended up having."
Quarterback Nick Fitzgerald's third-quarter touchdown gave his team a 21-17 lead. It was Mississippi State's third rushing touchdown of the night. A Saban-led Alabama team had never given up so many. Not since the 2006 Independence Bowl had any Crimson Tide team permitted three rushing touchdowns.
Mississippi State ran over, through and around Alabama's depleted defense, still reeling from season-ending injuries to middle linebackers Shaun Dion Hamilton and Mack Wilson.
Their absence thrust Keith Holcombe — a one-time Mississippi State commitment — into the limelight. Five-star true freshman Dylan Moses, too.
Neither provided much help. The Bulldogs totaled 172 rushing yards on a night where its total offense gained 330. Todd Grantham's blitz-heavy defense stymied the Tide running game, too.
Alabama did not muster a run of more than 10 yards in the first half. It produced two in the second half's first minute. Damien Harris put the Tide inside the Bulldogs red zone with a 48-yarder, two plays after Josh Jacobs broke four tackles on a 12-yard jet sweep.
Harris' 48-yard run eclipsed Alabama's entire first-half rushing output. Andy Pappanastos kicked a 30-yard field goal to end the drive, lending the Crimson Tide its first lead of the evening.
"We talked about at halftime getting back to running some cat sweeps and even though we weren't running them, using them as sort of eye candy for the defense and try to run the ball on the perimeter a little bit more," Saban said. "I think the players did a really good job of that. We moved the ball very effectively in the second half."
Bulldogs place-kicker Jace Christmann booted a 25-yard field goal on the third play of the fourth quarter, widening the Bulldogs lead to a touchdown. Fourteen minutes remained when Hurts took the field.
Fourth-and-five arrived. The game hung in the balance, the thought of Alabama's weary defense stopping Mississippi State's resurgent rushers far-fetched. Mississippi State rushed just three down lineman toward Hurts.
He scrambled for 13. Got seven on the next play, too, before Harris bullied his way into the end zone for a game-tying touchdown.
Harris' 14-yard touchdown offered but a brief moment of joy. Freshman offensive tackle Alex Leatherwood ran into the Crimson Tide celebration from the sideline without his helmet. Unsportsmanlike conduct was whistled, a mindless mistake on a night where the Tide could afford none.
Somewhere along the sideline, Minkah Fitzpatrick gathered his unit.
"We just came together as a defense and told everybody we had to do our job," Alabama's safety said. "That's the whole reason why, we were making plays and getting big runs and passes on us, we weren't doing our job. The fourth quarter, we just got together, executed and finished."
The Bulldogs gained 48 yards on 12 fourth-quarter plays, refusing to accept Leatherwood's folly or Tide kicker Andy Pappanastos'  41-yard field goal that clanked off the left upright with two minutes left.
Instead, it allowed Hurts to amble onto the field, one minute and nine seconds from authoring the next chapter of a career growing more illustrious by the minute.
"Most of the time," Saban said, "the bigger the situation, the better he is."
"It's crazy how much poise he has and how relaxed he is in those type of situations," Fitzpatrick said. "He did a couple things that a normal quarterback couldn't do.