TUSCALOOSA — Two days before her team made history — defeating the vaunted Tennessee Lady Vols in Knoxville for the first time in the 44-year history of Alabama's women's basketball program — Quanetria Bolton stopped practice inside Foster Auditorium.
In hindsight, there wasn't one drill that irked her. There isn't a specific moment to which she can attribute her anger. Bolton isn't a yeller — her voice cracks if she does that — but she is a leader, one of six seniors on this Crimson Tide team.
With her docile voice and an unassuming smile, the forward they call "NeNe" huddled the team.
"We just didn't have that energy, that extra oomph that you have when practice is going. I guess we were trying to fix it but I guess we just needed to come together and talk about it instead of just trying to say it throughout practice," Bolton said. "I let them know that this isn't my first rodeo and we just needed to pull together to take advantage of that opportunity."
When she arrived at Anniston High School for her sophomore season, this situation was difficult to envision. Bolton was too nice. Too afraid to sometimes be selfish, her coach Eddie Bullock said this week.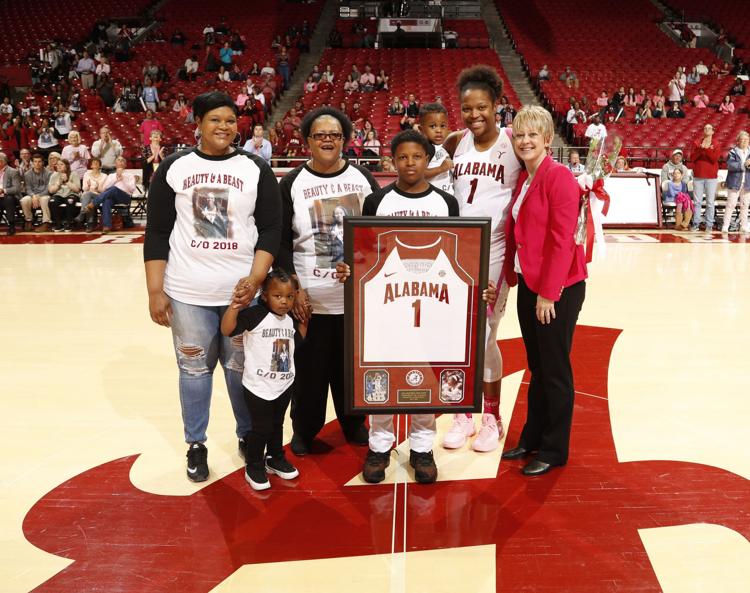 Bullock took it upon himself to harden this 6-foot-0 post player.
"I told her for her to be an effective leader she would have to be a little bit tougher," Bullock said. "It was a different combination of things, sometimes I used to get in practice and I'd push her around. I would elbow her pretty hard, just some things to make her mad, and then once I got her mad, she would kind of let loose a little bit."
Bolton was puzzled. Joining his team was, at first, not what she'd conceived. See, she and Bullock are cousins, allowing the veteran coach a bit more insight into Bolton's habits than other players.
"There's a method to the madness," Bullock said. "I wanted everything to be her fault because I was trying to get her ready for the next level, to play in college. If she could play for me and take me being that tough on her, I knew (college) wouldn't throw anything at her that she couldn't take."
Everything that went wrong, Bullock blamed on Bolton. Everything that went right, too.
Placing such pressure — real or contrived — upon the young player made her more aware of the teammates around her and what was required to make them gravitate toward her.
"I didn't really understand it at first," Bolton said. "I talked to my mom, talked to him — he's my cousin — so I just pretty much got an understanding of why he did that to push me the greatest that I could. It has really paid off. Learning that early played a big part in how I am now in college."
Bullock's methods refined Bolton's coachability — the trite, sometimes indistinguishable trait so many players often miss. Fifth-year Alabama coach Kristy Curry sure doesn't.
"She's put herself in the best position she's ever been in conditioning-wise. I probably wasn't always her favorite person because we pushed her to the point where she had to learn to be uncomfortable to improve," said Curry, smiling while Bolton sat to her left. "She had to be patient with who was in front of her.
"And I think that's going to make her a great coach."
Bolton entered college unsure of her future plans. Alabama's elite summer camp during her sophomore year redirected her uncertain path. She overtook almost all her teammates' stations, immediately enamored with teaching the game to all campers.
She was one of three Southeastern Conference players tabbed to participate in the Women's Basketball Coaches Association's "So You Want To Be A Coach" program, slated for late March in Columbus, Ohio  — the site of the Women's Final Four.
The girl who was once too nice, too unselfish, has found her voice.
"The first thing that comes to mind, she's going to be a great recruiter," Curry said. "The second thing is I think she has a great patience about her to be able to manage people, work with people, people from all different backgrounds and different strengths and weaknesses. She has a way of communication that's really special."