After 17th championship, Tide players help Saban's foundation build 17th house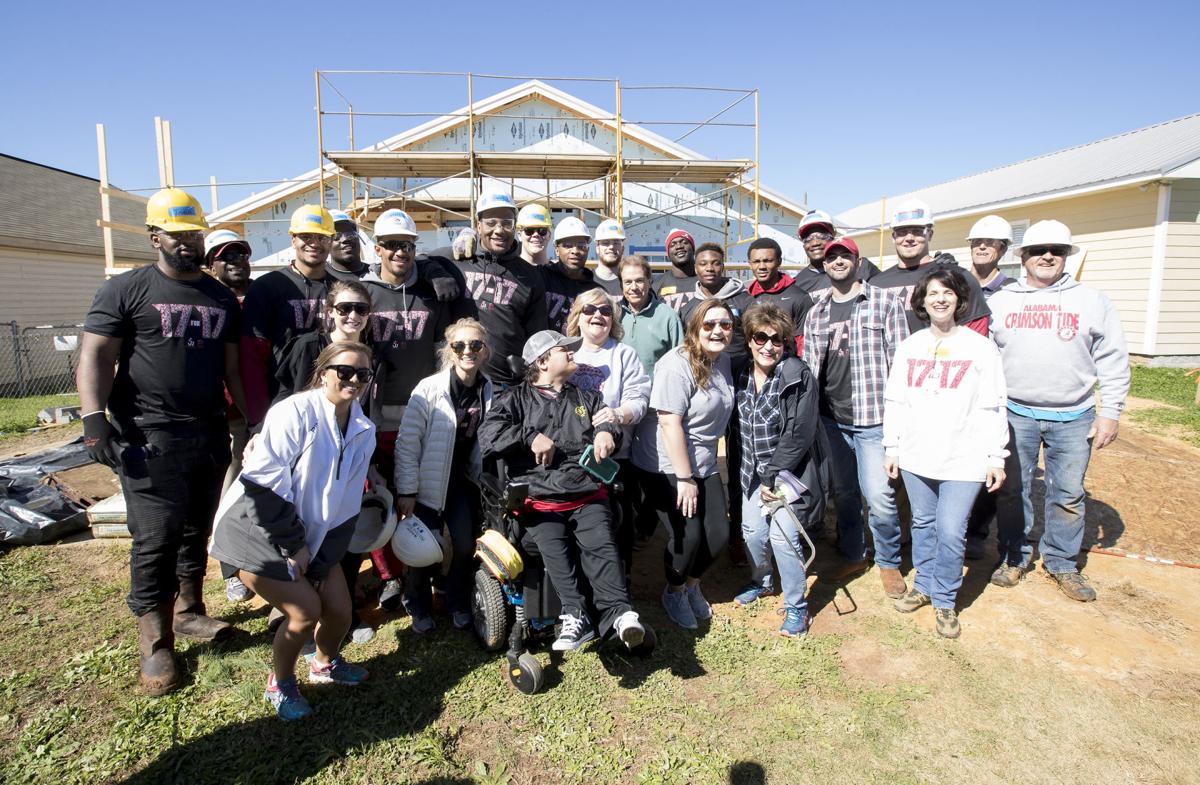 TUSCALOOSA — Overtime arrived and Andrew Smith could no longer stay awake. He and his mother, Donna, sat together in their Tuscaloosa home watching the College Football Playoff Championship Game — two Alabama fans who'd run the emotional gamut across all of regulation.
Andrew is 19 and has spina bifida, a birth defect in which the spinal cord and the membranes around it do not completely close, causing paralysis. He requires a wheelchair and has a skill companion dog that accompanies him most places. Donna assisted him that January night getting into bed.
"I had the TV on in his room when Tua threw the pass," Donna said Saturday morning. "It was amazing."
"And then to see Miss (Terry) Saban's interview and say 'The greatest thing about winning the national championship was to be able to build the 17th house.'"
Each national championship brings a new Habitat for Humanity house, built in connection with Nick Saban's Nick's Kids Foundation. Donna could not have fathomed it that night when she heard Terry Saban give that interview — but the 17th house is for her, Andrew and her daughter Megan.
Construction continued Saturday, with waves of Crimson Tide football players working in two shifts, all donning black, "17 for 17" shirts to commemorate the home's significance, which came after the team won the school's 17th football national championship. Donna and Andrew milled about, posing for pictures with players as they worked.
"Just the house in general was absolutely wonderful but then to find out that it was the 17th house, that was surreal," Donna said. "I keep pinching myself when I'm here, it doesn't seem real yet. ... I don't know that there are words to say what is in my heart. It's just overflowing and overwhelming."
Both Donna and her 20-year-old daughter, Megan, are in nursing school. Both work night jobs, too, while completing their studies.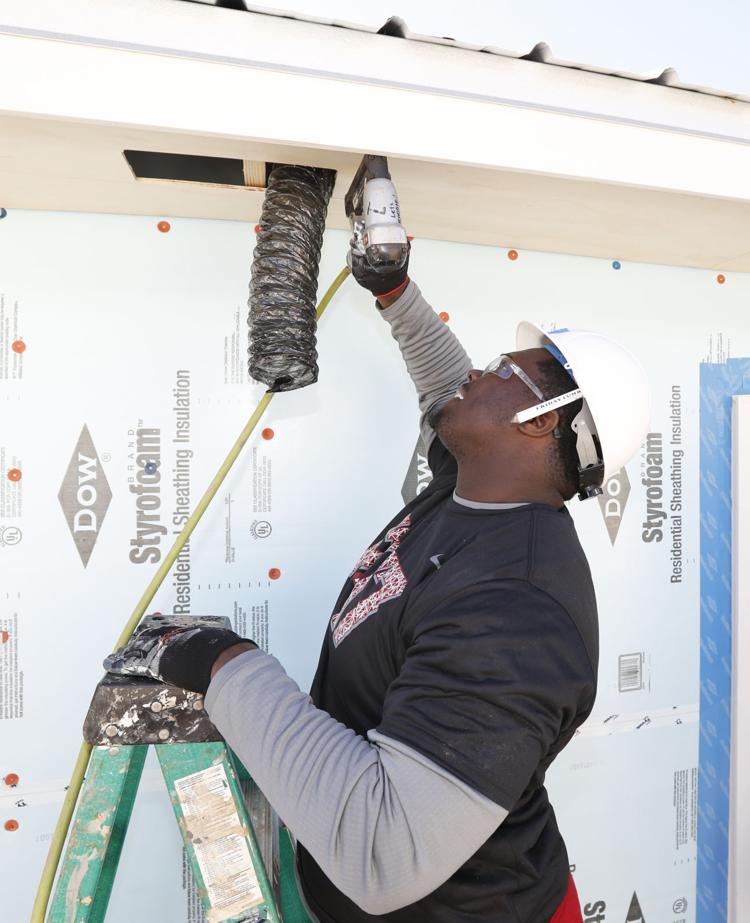 The family has never lived in a handicapped accessible home. This house will be, with a door from Andrew's bedroom into the backyard so he and his service dog can play and exercise outdoors.
"This is going to open up a whole new level of independence for him," Donna said.
His teammates at a local CrossFit call Andrew the "row master." He goes every Friday, Donna said.
Mother and son went to last month's Night to Shine prom at Shelton State Community College, a prom experience for special needs children that's sponsored around the country by the Tim Tebow Foundation.
The Davises' met an icon, in their eyes, that night — one who showed up Saturday to lend a hand.
"Everyone had smiling faces, everyone was excited going to the prom," said Alabama quarterback Jalen Hurts, wearing a hard hat and with a shovel in his hand between construction duties. "I just think that's what it's really all about, using the platform that you have to kind of bless others and put a smile on others' faces. Just to do good deeds and do everything with high character, that's what's important."
Tide coach Nick Saban dropped by the construction site for about an hour Saturday morning. Though a recruit was in town and, according to Terry, he had meetings all day, the 66-year-old coach got to work.
Wearing a green sweater and slacks with casual loafers, Saban first operated a drill alongside defensive end Isaiah Buggs. Christian Miller and Anfernee Jennings supervised Saban shoveling a post hole while a gaggle of reporters snapped photographs.
Players joshed with their coach, and Saban, smiling, shot back, a different dynamic in what can sometimes be a monotonous offseason.
"I had told the guys this morning, the football players, that there's very little that we do and decisions that we make that don't have long-term rewards or consequences," Donna said. "This is a long-term reward from the football team and we are just absolutely grateful. It's overwhelming, absolutely overwhelming."