HEFLIN — She's only 9 years old now, but veteran wrestler Abalena Williamson — who won a national championship in her sport earlier this month — remembers when she first started at the age of three.
Williamson and her dad, Kyle, would pass time by watching the wild antics of World Wrestling Entertainment (WWE) on television and then the pair would wrestle to pass time and to bond.
Kyle, however, was not teaching his daughter the body-slamming techniques used in the WWE but the style he learned during his wrestling years at Cleburne County High School.
"From the beginning, we used to watch WWE every day, when she was a baby I'd come home and we'd watch WWE and after that was over she would be like, 'daddy wanna wrestle,'" said Kyle.
"I never told her what type of wrestling that we were wrestling and fighting we were doing, I wrestled in high school for four years, so that's the type of wrestling that we did and at that age she didn't know any better," he said.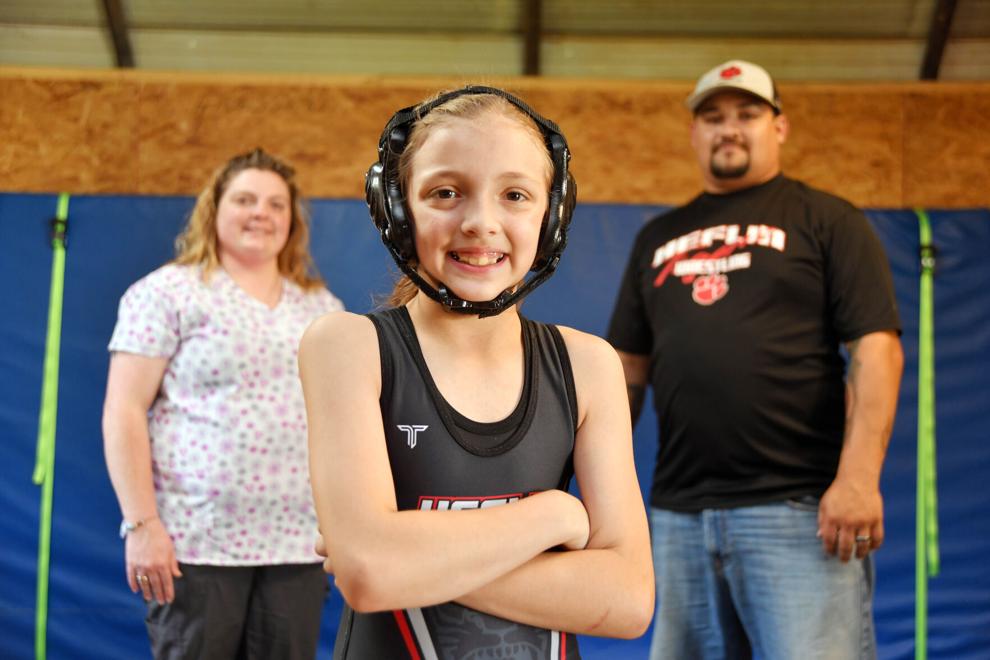 Abalena then realized two years ago that the style of wrestling she had been taught was really nothing like the performance theater of the WWE she had seen on television.
"I realized that we were doing the same wrestling that we're doing right now," she said.
Williamson said two years ago his daughter brought home a flier from school stating Heflin PARD would be offering youth wrestling.
"We got the flier and I asked her if she wanted to wrestle and she said, 'yeah,'" said Williamson.
For the most part, wrestling is perceived as a boys sport but that was not going to deter Abalena, according to her dad.
"At first it was a little different, you walk into a room filled with boys, and her first year I think we had three girls on the team," said Williamson.
Williamson said Abalena did an awesome job her first year and found her "groove."
"She just had a natural talent for it," he said.
Abalena won a few tournaments and had a couple of high finishes in 2019.
"It just went from there," he said.
"The second year covid hit and that was really the downfall of every sport. Wrestling got hit hard," said Williamson.
The season was shortened and one of the seasons known as freestyle wrestling — the other being folkstyle — was canceled altogether, said Williamson.
Earlier this year, with the pandemic waning, the family saw a flier advertising the New Way National Championships in Tennessee.
Williamson said that he had hinted early on that he wanted to take Abalena to nationals during her second or third year.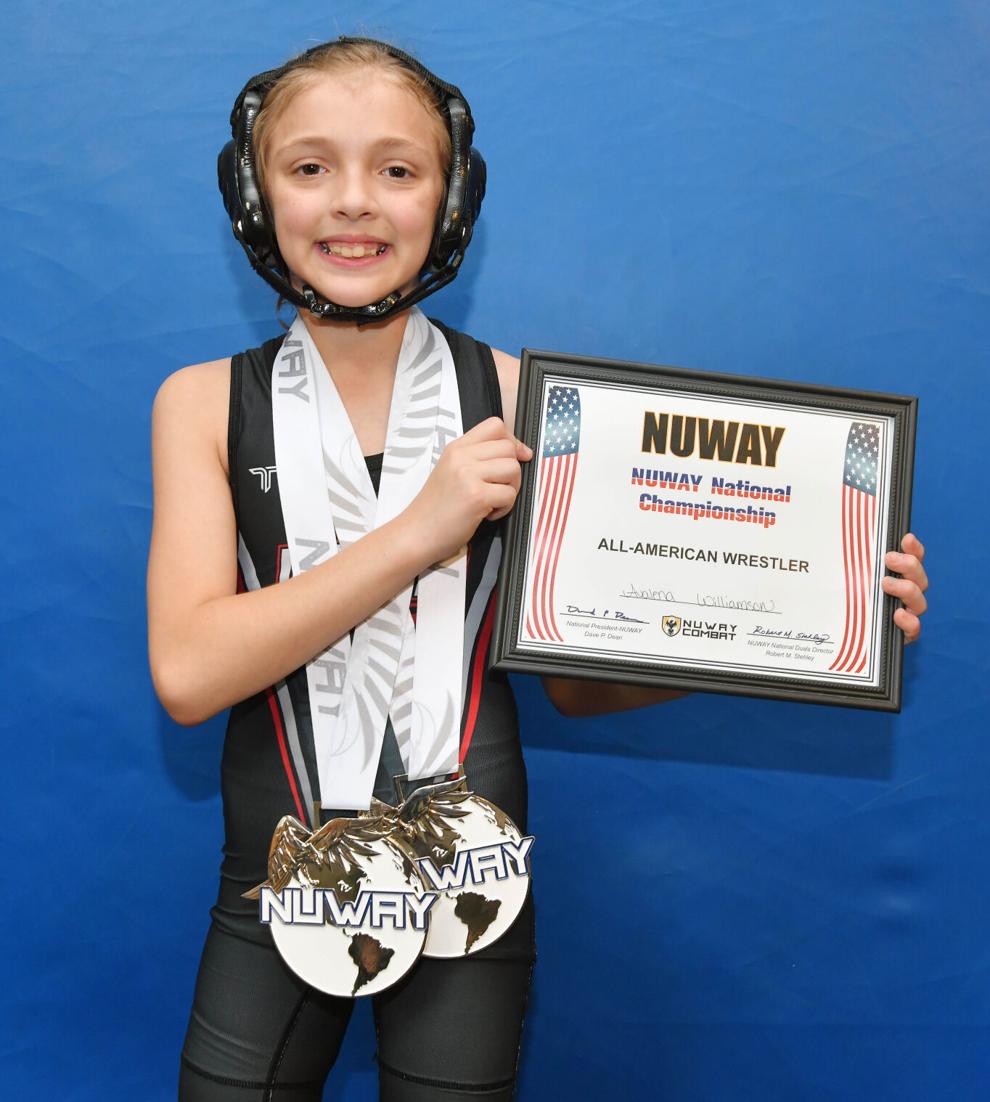 "This just happened to be going on her third year of wrestling and we just asked her and she said, 'yeah, I want to go,'" he said.
So the Williamson family headed off to Gatlinburg on June 5 for Abalena to compete in both the folkstyle and freestyle categories.
Abalena came up short in the folkstyle competition with a second place finish.
"It was really a bummer because that's the first time we went to an out-of-state tournament for girls and not come back home with first place in folkstyle," said Williamson.
Williamson said Abalena then competed in the freestyle contest and the results were much more favorable.
"She just let 'em have it ... she got the national championship in freestyle," he said.
Williamson said girls wrestling in Alabama has yet to be sanctioned by the Alabama High School Athletic Association but the organization did hold its first-ever girls wrestling tournament in January.
"Hopefully if we can get more girls into wrestling then Alabama can finally get sanctioned and there will be another competition for girls," said Williamson.
Williamson said he has high hopes for Abalena's future.
"We're just going to take it season by season and hopefully get better and better and maybe one of these days you will hear about a little Alabama girl going to Fargo," he said, adding that Fargo is one of the biggest tournaments to compete in.
Williamson describes his daughter's wrestling technique as very technical.
"She is like a master of her craft, if she likes running a certain move she's going to work on that move until she gets it right," he said.
Abalena's mom, Stephanie, said at first she was a little scared of her choice of sport but when she saw her on the mat it was obvious that this is what she really wanted to do.
"I said, 'If you're going to do this, go out there and do it and give it your best,' so I'm probably the loudest person in the gym. She's come a long way," said her mom.
During a practice session last week Abalena sparred with her little sister, Gabby, 7, on the mat. Abalena was very determined in her moves to take control of the match.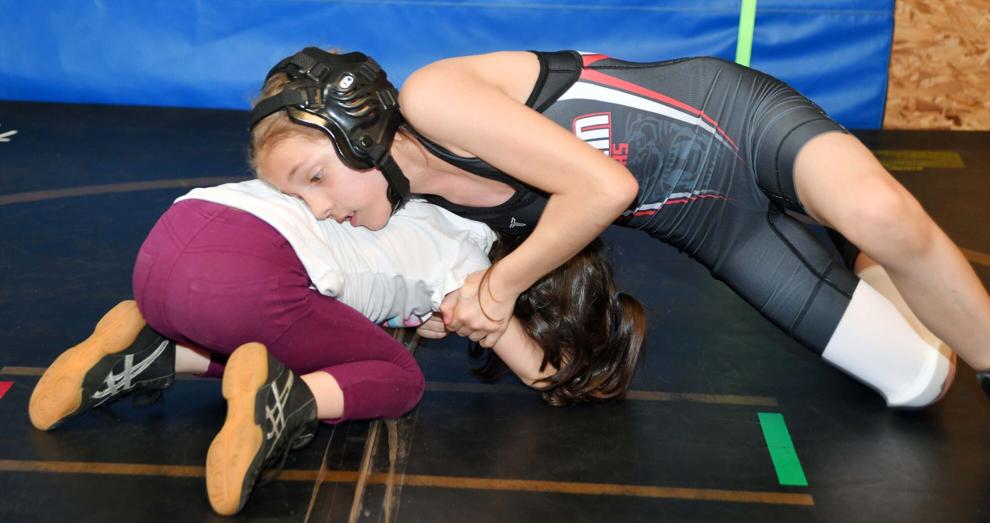 Williamson said that Gabby will sign up for youth wrestling to follow in her sister's footsteps with Heflin PARD later this year.
Abalena's dad said he is "super proud" of his daughter.
"Wrestling isn't about fitting in, you go out there on that mat and at the end of the match one person is going to walk away a winner and the other person is going to walk away with something to learn. At this age you're not losing, you're learning — you're going to learn from your defeats," he said.
Abalena said her friends don't say too much about her choice of sport, but they all wish her good luck.
"They always watch my videos when I wrestle and it makes me happy," she said.