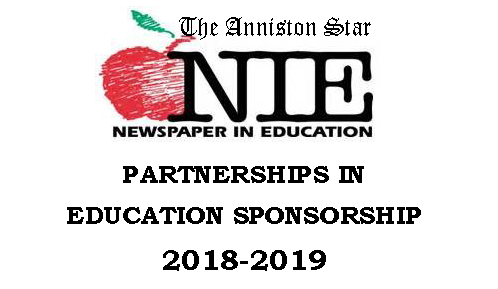 Area educators and The Anniston Star would like to thank our 2018-2019 Newspapers in Education (NIE) partners and would also like to encourage them to continue their support of education in our local classrooms.
Why Newspapers?
It deals in actuality, in what is happening here and now. Motivation for reading and discussion is built in.
It is the only up-to-date social studies text available.
It is the only text the majority of children will continue to need and use throughout their lives.
It contains history as it unfolds, reported as completely and objectively as possible.
For more information on how you or your business can get involved with our Newspapers in Education Program or how you can get newspapers started in your classroom. Please call Janese Payne 256-235-9254.
Click here to become a sponsor
Gold Sponsors
Silver Sponsors
Chef T's
Cider Ridge Golf Club
Johnson Tax Service
Mata's Greek Pizza & Grinders
North Alabama Women's Center - James S. McDaniel MD
Pediatric Care Center of NE Alabama
Pierce Pro Cleaning
Bronze Sponsors
Pediatric Care Center of NE Alabama
Pierce Pro Cleaning
Alexandria Foodland
Anniston Eye Clinic - Drs. Dachelet & Wilczek
Anniston Fireplace & Patio
Calhoun County Commission
Camp Lee - Christian Retreat Center
Christian Electric Service
City of Jacksonville
Downing & Sons
East Alabama Portables
FITCO
Forsyth Building Co. Inc.
Hampton Inn - Jacksonville
House of Chen
Howard Core Company LLC
Jacksonville Housing Authority
Jay Jenkins, Anniston City Council
Joey Crews Team- Keller Williams Realty Group
Mark Riddle Plumbing & Septic
Mechanical Systems Consulting Inc.
Miller Sand & Landscape Supply
Multimetco
O'Reilly Auto Parts
Peerless Saloon & Grille
Peggy Miller Lacher Circuit Court Judge Calhoun County
Popeye's Fried Chicken #2229
Price Less IGA
S&L Cleaning Services
Simmons Staffing LLC
Skinner's Cash & Carry Inc.
Small Town Bank
TempForce
Tyler Union
Warren Averett - CPAs & Advisors
West Anniston Foundation
Area Teachers Agree: The newspaper works in the classroom!