As JuBeshia Loveberry watches her paralyzed daughter keep an upbeat attitude through multiple surgeries and rehab, she has to keep reminding herself that it was an accident.
The reminders help quell the anger and frustration.
Some.
JuBeshia's daughter, Briana "Bri" Loveberry was shot in the back on June 12. It was an accident that JuBeshia says was life-changing and very much avoidable.
JuBeshia says the young man who shot her daughter is a good kid. He and Bri are the best of friends. The Wednesday afternoon of June 12, they were in Bri's car at a friend's house in Oxford. They were planning to go with a couple other friends to American Deli at the Quintard Mall.
Bri, 17, was in the driver's seat and the young man, 18, was in the back passenger seat with a gun in his lap.
Somehow the gun accidentally discharged.
The bullet traveled through Bri's right shoulder, striking both lungs and her spine before lodging in her left shoulder blade. It was the impact to her spine that left Bri "temporarily" paralyzed from the waist down.
Just weeks ago, she was on a personal high after having been crowned Miss Legacy 2019 and then graduating from Jacksonville High School. Her plan was to attend Gadsden State in the fall and then after two years transfer to Clark-Atlanta to major in graphic design and childhood education.
"Briana loves community service," JuBeshia said. "She said she wants to come back and help the youth in this community."
But for now, Bri must go through 12-14 days of in-patient therapy at a Birmingham hospital to learn how to take care of herself in her current condition. After that, she'll have to go through 10-12 weeks of out-patient therapy.
Through the shooting, the surgeries, the procedures and the rehab, Bri has kept a positive outlook.
"Her attitude has not changed a bit," JuBeshia said. "She's back to herself, cracking jokes. Her spirit has really kept me and her dad going."
The day of the shooting, when JuBeshia arrived at the hospital, laying eyes on her wounded daughter for the first time after the shooting, Bri's main concern was for the young man who pulled the trigger.
"Please don't be mad," Bri said to her mom. "He didn't do it on purpose."
But JuBeshia says the surges of anger can't be suppressed.
"It irritates me when someone tries to justify it," she said. "He had no business with a gun in my baby's car."
Doctors said the bullet passed a couple of centimeters from Bri's heart, so the family is thankful that she's alive, but still wrestles with being frustrated over the senselessness of it all.
"Other parents are taking their kids to college for orientation, enjoying the summer," JuBeshia said. "She's spent the last month in the hospital. But God will get the glory."
She said she just wants young people to stay away from guns.
Children and young adults (24 years of age and under) constitute 38 percent of all firearm deaths and non-fatal injuries, according to the Giffords Law Center to Prevent Gun Violence.
"You can be 18 and own a handgun, but you can't buy cigarettes until you're 19, and you can't drink until you're 21," JuBeshia said. "Which is more dangerous? I just want them to put the guns down."
JuBeshia said she's not against the Second Amendment. Her adult sons own guns. But she's disagrees with the casual approach that many people take with guns.
"When I see someone in the grocery store with a gun on their hip just because they have the right to open-carry, it doesn't make me feel safer," she said. "I'm just tired of kids losing their lives over stupid stuff like access to guns."
JuBeshia and her husband, Ronald, celebrated their 20th wedding anniversary on July 3. Instead of their planned trip to the Bahamas, they spent another night on the couch at the hospital with Bri.
"She told us to go because she didn't want to ruin our plans," JuBeshia said. "But he told her, 'The Bahamas will always be there. You're my baby.'"
The ordeal has only affirmed the strength of their marriage.
"I don't think I could have asked for a better man going through something like this," JuBeshia said. "She's truly a daddy's girl, and he loves his wife and kids."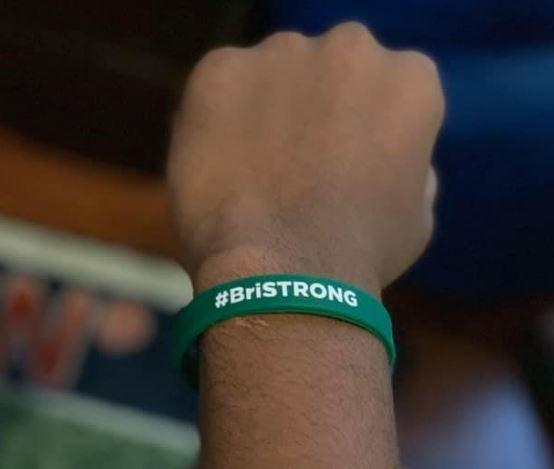 People throughout the community have supported the family emotionally and financially, through prayers, calls, visits and donations. A fundraiser started by supporters sold almost 500 #BriStrong bracelets, and a cash app set up by a supporter has helped with bills and meals during the hospital stay.
JuBeshia says any other proceeds accumulated through the cash app will be needed to do renovations on their home to make it accessible to Bri — particularly installation of a ramp. Cash app donations can be sent to $JubeshiaLoveberry.
JuBeshia said hers is a family of faith that finds its strength in God. One of Briana's brothers (she's the baby sister of five brothers) was diagnosed late last year with stage 4 cancer, showing infection in 80 percent of his bone marrow. But a more recent diagnosis showed that level reduced to just 1 percent of his bone marrow.
The family is hoping and praying for a similar development with Bri. That's why they refer to her paralysis as temporary.
"Bri is going to save kids we couldn't save," JuBeshia said. "We're just praising God through it all."
Anthony Cook is executive editor of Consolidated Publishing. Reach him at amcook70@gmail.com.