MONTGOMERY — On the wall of a second-floor room not far from where Alabamians once traded in human chattel are 358 glass jars of soil scooped up from all corners of the state: Toadville and Rockford, Pine Apple and Sandy Ridge, Boyd Station and Ralph, Hope Hull and Screamer, Macedonia and Browns.
The soil, both clumpy and fine, presents a palette of earthen colors, browns and blacks and reds and sandy whites and caramels, the jars displayed without order or distinction. It's a figurative walk through an international airport's concourse, the constant mingling of humanity's differing shades.
But this display here at the Equal Justice Initiative isn't about dirt. Humanity's not that simple. It represents the hundreds of people who were lynched in troubling Alabama's past. The victims were black and overwhelmingly poor and without legal representation. Some may have been guilty of various crimes, others were wrongly accused.
Each soil-filled jar carries a victim's name and date and place of death. A few are nameless. In 2015-16, the EJI's community remembrance project sent volunteers across the state to collect soil from the cities and towns where lynchings occurred. In some cases, researchers knew the exact locations. In a few others, they knew the specific trees.
On the wall are three jars of Calhoun County dirt — from Anniston, Oxford and Bynum.
"For me, I didn't expect (the jars) to be as impactful as it is to have them all in here," EJI staff attorney Jennifer Taylor said. "It's powerful, too, because even as hard as we've tried to collect as much information as we can, they represent an undercount of the number of people who were killed in the circumstances of the time."
The EJI prefers the term "racial terror lynchings." It has documented more than 4,000 in the 12 Southern states between 1877 and 1950, including 363 in Alabama.
---
A DASTARDLY DEED.
Negro Brute Tries To Outrage a Little Girl.
"All day yesterday rumors were afloat in the city about an attempted outrage on a fourteen-year-old child out near Bynum's … "The little girl upon whom the negro made the attempt was the fourteen-year-old daughter of Mr. Frank Ansley, who lives about a mile and a half from Bynum's Station, better known to our readers as Coldwater.
"A gentleman from Bynum's was in the city yesterday and says the boys caught the negro who attempted the rape on the little white girl, but he got away. It is hoped that the advertisement elsewhere offering a reward for his apprehension may find him. Those Bynum boys have a very keen sense of humor."
— The Hot Blast newspaper, March 1892
---
Before last summer, Debbie Pendleton had never heard of Bynum, much less visited that part of western Calhoun County and its working-class neighborhoods near Anniston Army Depot. The EJI's soil-collection project intrigued her — she's retired from the Alabama Department of Archives and History — and she volunteered knowing she could be sent anywhere in the state, possibly far from her Montgomery home.
The EJI sent her to Bynum.
"I wanted to do it because I felt like it was some way for me to atone for our sins," Pendleton said. "I also knew my ancestors were probably a part of" the lynchings in the South.
Her assignment was a documented lynching in Bynum on March 3, 1892. The exact location and the victim's name was unknown. She was given an empty jar with a lid, a trowel and a sheet of instructions. On a Sunday morning last July, Pendleton's GPS directed her north toward Calhoun County. She went alone.
The instructions said to find a place where she'd feel comfortable, so she drove around Bynum, now part of Oxford, scouting out locations to dig. She doesn't remember the name of the road where she stopped. But she does remember the place — New Hope CME Church, which sits on a hill above a cemetery on Bynum Boulevard. On that Sunday morning, the church parking lot was empty. She thought that was odd.
Before digging, Pendleton wandered through the cemetery and noticed that a few of the graves with homemade markers were from the 1800s. "I thought (the church) was the perfect place because I was surrounded by people who, if they didn't know my man, they were alive when he was alive," she said.
A huge oak tree dominates the front of the church. That's where Pendleton ended up, trowel in hand. "I sat there and looked at this oak tree and looked at how beautiful it is," she said. "And then I found my spot and dug my dirt right there."
She then drove back to Montgomery, where her jar of dirt from Bynum was placed on the top row of the EJI's collection.
---
HE IS A DEMOCRAT. Masked Men Supposed to Be Kolbites Whip a Negro.
"Anniston, Ala., July 18. — (Special.) — A few nights ago Jack Brownlee, a negro who lives in the lower portion of the county, was taken from his home by a party of masked white men, thirty or forty in number, and whipped. Brownlee is a democrat, and has been organizing Oates clubs among the negroes of that section. About two weeks ago he had Sam Comer, a white man, and a Kolbite, arrested for attempting to ravish his daughter, to which crime Comer plead guilty, and for which he was fined $25. The mob told Brownlee that he was being whipped for organizing the democratic clubs, and for having Comer arrested. He was told that if he did not leave the county he would be hanged. Although weak from the beating, he took the advice, and has left. Brownlee thought he recognized some of the mob as the leading Kolb men of that community, but, as he could not swear to it, no arrests have been made."
— Atlanta Constitution, July 19, 1894
"At Oxford, Ala., a mob of thirty whitecappers went to the home of Jack Brownlee, colored, shot his house full of holes, beat the doors down and took him to the woods, where he was stripped and whipped almost to death. He was ordered to leave the county. He has not been seen since, and he is thought to have been killed. Political causes are alleged."
— The Cheney (Kansas) Sentinel, July 26, 1894
---
Started in 1994 by attorney Bryan Stevenson, the Montgomery-based EJI represents death-row inmates and others who may not have received fair trials. Stevenson and EJI attorneys have argued cases before the U.S. Supreme Court. Today, its work has expanded into other areas, such as adult prosecution of children, overcrowding and dangerous conditions of U.S. prisons and remembering America's history of racial injustice.
The soil-collection project emerged from discussions between EJI staff and architects for the lynching memorial the nonprofit is building in Montgomery, Taylor said. The search was a way to connect the memorial's concrete to the ground where the lynchings occurred. Once the project started, researchers used newspaper archives to verify as many lynchings as they could. Unverified lynchings weren't included. Volunteers, many of them college students, signed up to fan out across the state on four different dates.
The goal was to get soil representing every documented lynching in Alabama. That project nearly complete, the EJI is now reaching out to out-of-state groups to document lynchings in their states. The wall on display at the EJI is open to the public, although it asks visitors to call ahead.
"We didn't expect it would get as much attention as it has got," Taylor said. "We've heard from people who had a personal connection. We've heard from people who had heard things from older people in their families. It was clear that there was a real hunger for people to get connected to this."
---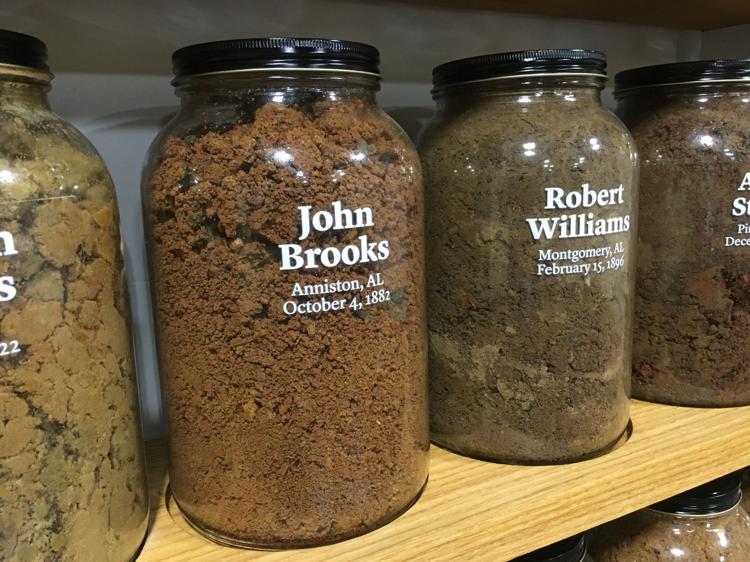 The Alabama Hanging
"A special says that John Brooks, colored, was hung today by a mob near Anniston, Ala. He had been convicted of ravishing a white girl, and no sooner was sentence pronounced than a band of men surrounded the jail, demanded the prisoner and hung him to a tree. He confessed."
— The (Nashville) Tennessean Oct. 6, 1882
---
Lynching's legacy in America is cold-blooded and still largely misunderstood. The EJI firmly believes there's a direct line between slavery, the Civil War, a failed Reconstruction, Jim Crow laws, lynchings and the Great Migration to northern and western states that created urban ghettos to the nation's modern-day problems of mass incarceration and prison overcrowding. It's hard to argue with that logic.
To stand before the soil-collection wall at the EJI office is an exercise in grief and education. Visually, it's breathtaking. There are family members. Mothers. Women. Teenagers. Unknowns. Multiple lynchings on the same day in the same town. In September 1893, five black people in Carrollton were accused of burning down a mill and gin house. They didn't get a trial. Paul Hill, Paul Archer, Will Archer, Emma Fair and Ed Guyton were murdered in their jail cells by a mob. In April 1895, five black people were lynched in Greenville, including three women. Mary Deane, Alice Green, Martha Green, Zeb Colley and John Rattler were accused of killing a white man, but they never went to trial and their guilt was never proven. A mob tied their hands behind their backs and hung them from trees.
Today, their dirt-filled jars sit side-by-side in that second-story room in Montgomery.