Doug Jones' unlikely victory in Tuesday's U.S. Senate election unveiled a fascinating image of Alabama's voters, Alabama's politics and Alabama's core issues. Turnout mattered. Demographics of race, education and gender mattered. So, too, did the state's historic political geography within the Black Belt, the northern hill counties and urban centers that exist along the Interstate 65 corridor.
Jones, the Democrat, defeated Republican Roy Moore for myriad reasons. Yes, his support from black female voters was overwhelming. Yes, he benefited from support in majority-black polling places that traditionally lean hard to Democratic candidates. And, yes, Moore was strongly supported by Alabama's white voters — but that didn't stop 12 counties that went for Republican candidate Donald Trump in the 2016 presidential election from flipping left to Jones' side.
That Alabama image — of an electorate steeply divided by race, gender and education — followed in Calhoun County, as well.
Here are 10 Calhoun County takeaways from Tuesday's election:
1. Moore won Calhoun County with 54.6 percent, which shouldn't be a surprise considering 75.5 percent of the county's 114,611 residents (2016 Census estimate) are white. He's from just up the road in Etowah County; Calhoun County is staunchly Republican; and Calhoun County voters sided strongly with Trump in the presidential election last November. (Click here for an interactive version of the county's election-day map that includes the results from each polling place.)
That said, all 67 Alabama counties moved left to some degree in Tuesday's vote when compared to the Trump election, according to The Washington Post. Calhoun County, however, was not among the 12 Trump-supporting counties from 2016 that flipped to Jones. You can make the argument, though, that Moore underperformed in Calhoun County, which Trump won with 69.2 percent last fall. The credible accusations of sexual misconduct that had dogged Moore's campaign and U.S. Sen. Richard Shelby's announcement that he wouldn't vote for Moore surely played a role in that regard.
---
2. Calhoun County's demographics mattered. A lot.
Consider the county's map. There are cities (Anniston, Oxford, Hobson City, Jacksonville, Piedmont, Weaver and Ohatchee), some that are racially diverse and others that aren't. There are unincorporated communities (Saks, Alexandria, White Plains, Wellborn, Pleasant Valley). And within all of those are stark pockets of poverty and lower-income households that transcend race.
Jones dominated Alabama and Calhoun County's majority-black polling places, often winning by more than 90 percent. That's no shock. But that made the decision of white voters a compelling part of Tuesday's election. Statewide, Jones won 30 percent of the white vote, which may have affected Calhoun County polling places that Moore won but didn't dominate, such as Weaver and certain locations in Oxford and Anniston.
---
3. By and large, Calhoun County's results followed the Alabama statewide trend. Majority-white cities and communities went mostly for Moore; majority-black cities and communities were overwhelmingly in the Jones tally. Jones dominated nearly all of Anniston's downtown polling places, along with Hobson City; the Republican could hardly buy a vote in downtown, western and southern Anniston. Moore, on the other hand, had an easy time in areas such as White Plains, Piedmont, Bynum, Alexandria and most of Oxford.
---
4. Broken down further, Jones' domination of Calhoun County's majority-black polling places was stronger than Moore's domination of the county's majority-white polling places. Example: 1,239 votes were cast at the Alexandria Civitan Club, which Moore won with 69.7 percent. It wasn't close. And that margin was typical at most of the polling places Moore won.
However, in the majority-black polling places, Jones was more dominant. At the Anniston City Meeting Center, 1,292 votes were cast and Jones received 89.6 percent of them — and that wasn't even Jones' most lopsided win in the county. Those results make it easy to adopt a lazy analytical view that it was all about race.
---
5. TV pundits Tuesday night made much of Shelby County's results, and for good reason given its location and demographics. What's interesting is that Shelby County and Calhoun County, results-wise, are virtual mirror images of each other.
Moore won Shelby County at 55.7 percent, right in line with Calhoun County's result. But Shelby County's population is 83.7 percent white, which should have colored that part of Alabama bright red, but it didn't. As he did in Calhoun County, Moore won Shelby County but suffered from white voters who voted for his Democratic opponent. The same could be said for Calhoun County's white voters, especially young voters and white female voters who may have leaned to the left. Washington Post exit polls said statewide that young Alabamians, regardless of color, were a dominant bloc for Jones.
---
6. Additionally, Calhoun County and Moore's home county of Etowah were two of the five northern counties that did not go Republican in dominating fashion. Racial demographics surely played a role.
Moore was unbeatable in the counties that encircle Etowah and Calhoun — St. Clair, Cleburne, Cherokee, Clay, DeKalb and Marshall. Moore won those counties with 70 percent, or more, of the votes. But Calhoun and Etowah were among the five northern counties (joining Colbert, Lauderdale and Limestone) that Moore won with less than 60 percent.
And, to the south, Jones eked out a victory in Talladega County (50.1), where blacks make up 32 percent of the population.
---
7. Demographic trends are fascinating to pick apart, but so, too, are oddities.
Consider:
Two-hundred and twenty people voted at Anniston Carver Center. Of those, 217 (99.09 percent) went for Jones. One write-in ballot was cast. Who were the two people who voted for Moore? Just wondering.
Also, McClellan has only one polling place — the Calhoun County Highway Department. Tuesday night, 48 people voted there; 33 ballots were cast for Jones. It's a tiny sample size, but it's a significant statement nonetheless for the residents at Anniston's former Army post.
---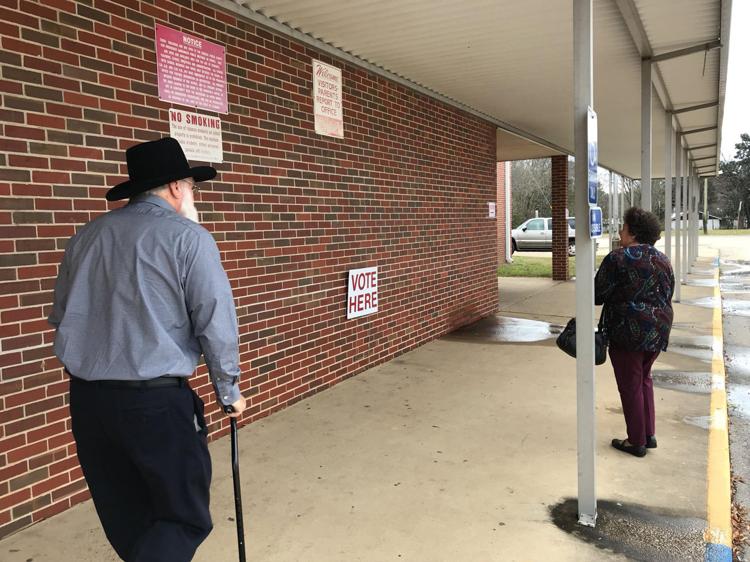 8. A few of Calhoun County's polling places were highly competitive: Oxford Public Library, Saks High School, Eagle Point Church and Jacksonville 1st Baptist (at which, in one of Tuesday's local quirks, Jones and Moore were separated by only two votes). But three Anniston places were noteworthy for their parity — Norwood Hodges Community Center, The Donoho School and First Presbyterian Church. At Donoho, Jones prevailed with 50.98 percent. At Golden Springs, Moore won with 50.46 percent.
The Golden Springs results are a microcosm of the changing demographics of Anniston's over-the-mountain residents. Historically, that community has been overwhelmingly white and a haven for middle-class families and retirees. In Alabama political terms, that makes that polling place strongly Republican and conservative — a can't-miss for Moore's campaign.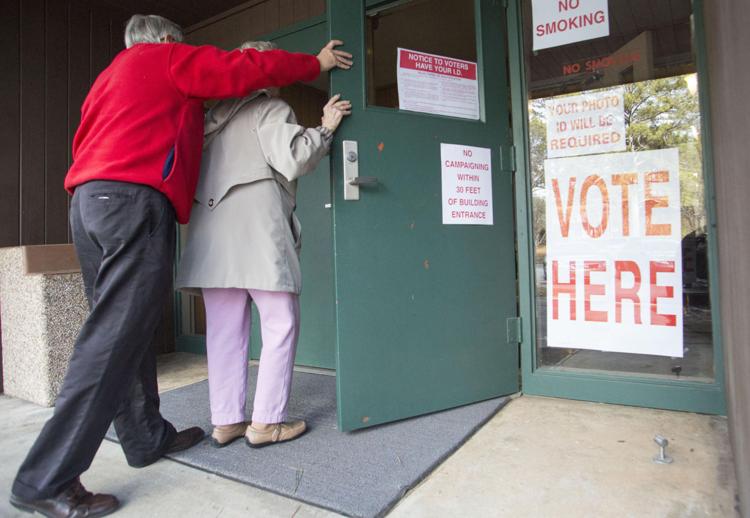 However, Moore's slim victory there shows how that part of Anniston is changing demographically as a result of the city's beleaguered school system and an increase in the number of rental properties available just north of Oxford. It's becoming more diverse (racially, economically and educationally) and less predictable on election day.
---
9. Anniston is a majority-black city and its downtown, western and southern neighborhoods are overwhelmingly African-American. Given black Alabamians' support for Jones, there's no shock that the middle of Anniston's map is one large patch of Democratic blue.
But look to the north toward Jacksonville, to the dots of varying shades of blue. Those may be the Calhoun County locations that most closely resemble the Alabama counties that swayed the election toward Jones.
Why? There's an abundance of reasons. Jacksonville is a college city. (Remember, Jones won Lee and Tuscaloosa counties, both with 57 percent.) Jacksonville is a diverse city (by Calhoun County standards) that has neighborhoods separated by race, income and education. And Jacksonville's median household income ($33,987) is much closer to Anniston's than Oxford's. Jones won Eagle Point Church. Jones won Westside Baptist. Jones won 1st Baptist (barely). And Jones won Glenwood Meadows Meeting Room.
---
10. If Calhoun County's center is its Democratic stronghold, its eastern edge is its Republican fortress. Look at the map.
If you draw a line from DeArmanville and Choccolocco up through White Plains, east of Jacksonville and into Piedmont, you'll highlight polling places that presented Moore with some of his largest victories in Calhoun County.
White Plains' two polling places (the Volunteer Fire Department and the 1st Baptist Church) went all-in for Moore, each at more than 70 percent. To the south, Moore won at the Choccolocco Community Center (67 percent) and DeArmanville United Methodist Church (66 percent). To the north, the Republican prevailed at Piedmont's fire station (67 percent) and recreation center (77 percent).
That swath of red on the county map has more to do with Moore's support from conservative white voters than it does from Moore's support based on income or education, given that those demographic variables range widely as you travel in the east.