Everybody loves a parade. Especially President Trump.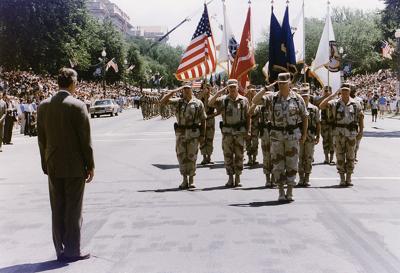 For some reason only he understands, President Donald Trump has directed the Pentagon to plan for a large-scale military parade in Washington, D.C. The reaction has been, dare I say, extreme.
As an aside, remember our last military parade?
Either way, consider these three stories from The Washington Post:
Story No. 1: "Local officials are panning the prospect of an unprecedented show of military force that would leave the city government on the hook for security, clean-up and repairing damage to the roads — even if the federal government reimburses its costs later."
Story No. 2: "As President Trump directs the Pentagon to plan a similar showcase of military might, he is surely hoping for the same kind of flag-waving media coverage that went along with President George H.W. Bush's tribute to Operation Desert Storm 27 years ago."
Story No. 3, this from columnist Jennifer Rubin: "A parade along the lines Trump has ordered up would make the military look like Trump's props, which perhaps was the idea. Now that the idea has been leaked (kudos to whoever understood the quickest way to kill this was to tell the press about it), let's hope it evaporates like so many other silly Trump ideas."
Even retired generals hate the idea, says Time magazine: "'I used to watch them in Bulgaria,' retired Air Force Gen. Michael Hayden, former director of the CIA and National Security Agency, said on Twitter of these type of parades, another reference to the association of these events with totalitarian regimes. 'Put me down as a no,' he added."
-- Phillip Tutor