As Alabama's governor, Robert Bentley did the state a favor by showing how not to solve the state's prison crisis. We wonder if Gov. Kay Ivey remembers that.
Three years ago, Bentley proposed borrowing $800 million to replace Julia Tutwiler Prison, which houses female inmates, and build three new men's prisons to address the state's chronic problem of prison overcrowding. There wasn't much else in the proposal. Details were slim. Feasibility studies were lacking. Questions went unanswered. Lawmakers asked to support the proposal didn't know enough about the financing or the site-selection process or the jobs lost at prisons that would close. The plan was eventually lowered to two new men's prisons, the women's prison and a bond issue of $550 million.
And, it failed. The state Legislature didn't OK Bentley's nebulous proposal. (Technically, the Senate approved a revised version, but the House of Representatives let the bill die on the last day of the 2016 session.) "When you're talking about $800 million over a 30-year period, they need to answer a lot of questions," state Rep. John Knight, D-Montgomery, said that spring.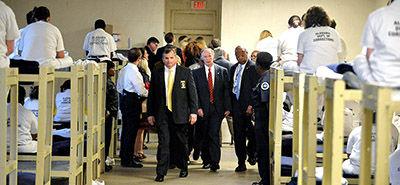 Either then or now, no one who can fog a mirror doubts the need for Alabama to overhaul its prison facilities. Even with sentencing reforms that have lowered overcrowding -- the prisons in November held 20,251 inmates in facilities initially built for 12,412, the AP reported -- the problem hasn't gone away. Bentley's failure has rolled into Ivey's lap, and that's why this week she unveiled her plan to build three new regional prisons that may require a state bond issue of as much as $900 million.
Or, the state could lease new prison facilities from private companies, Ivey said -- which could allow the governor to build new prisons without having legislators rubber-stamp the expense.
Or, as the governor said, all options are on the table.
That's not a plan. That's a compilation of ideas, a wish-list with a potential price tag that's dependent on advice from contractors who specialize in building prisons.
"This is nothing but Bentley's plan with new lipstick on it," state Rep. Chris England, D-Tuscaloosa, told The Associated Press.
Bentley and Ivey's mistake revolves around facts, or a lack thereof. To expect legislative support, the governor and the state Department of Corrections must develop a detailed, researched plan that includes financial projections, feasibility studies and other empirical reviews. It is outlandish to assume lawmakers tasked with being good stewards of the state's money will approve a plan with a potential $900 million price tag without knowing the details, the contingencies and the long-range projections.
Bentley's prison plan dominated much of the 2016 legislative session because it was weakly sourced and poorly explained. Ivey's plan is headed for a similar fate unless she quickly learns from her predecessor's mistakes.