PIEDMONT – The city of Piedmont has come together in full force to support one of their beloved police officers.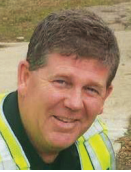 Kevin Blue, 51, of Alexandria, was recently diagnosed with glioblastoma, an aggressive type of brain cancer.
"Kevin is a tremendous asset to our community," Piedmont Police Chief Freddie Norton said.
"He always sees the best in people and really wants to change bad behaviors while bringing justice. He truly cares about everyone. His presence is definitely missed."
Norton said he was contacted on June 29 after Blue was taken to an area hospital.
"It has affected us all because our staff is like family," Norton said.
Blue has been a Piedmont police officer since January 2014. He previously worked for the Calhoun County Highway Department.
Norton said that Blue is seeking out treatment options and will begin them in the near future.
"Thankfully, he is now at home." Norton said.
Multiple area businesses and organizations have rallied behind supporting Blue and his upcoming treatment costs.
As of this week, Shell's Downtown, Fruit Punch'd, Don Bigotes, Bubba's SnoBiz, Fagan Auto Parts, Piedmont Taco Bell/KFC and the Weaver Police Department are donating a percentage of their sales, or have made a monetary donation to support Blue.
A bank account has also been created in Blue's honor at NobleBank & Trust in Piedmont.
Additionally, the Piedmont Rescue Squad is also selling bracelets for $5 and shirts for $20 in honor of Blue.
"The community has really been amazing in showing their support," Norton said. "We are all thankful for everything people have done, and will continue to do for Kevin."
For more information on how to support Blue, contact the Piedmont Police Department at 256-447-9091.