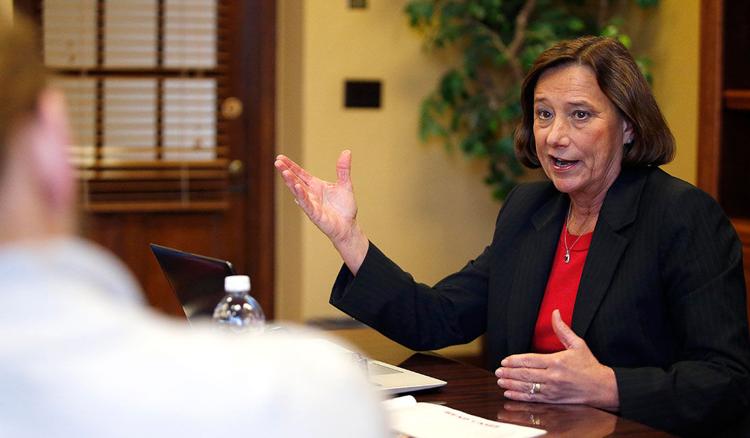 The Other Dr. Beehler
While husband works to make mark at JSU, Pam Beehler works on advancements in brain health
JACKSONVILLE — Pam Beehler has a particular academic expertise. It is of the brain, particularly the health and the performance of it. And she has shared this expertise with students at just about every college campus she's been at while following the administrative career of her husband, John Beehler, Jacksonville State University's first-year president.
"Wherever my husband was," said Pam Beehler, who holds a doctorate in human performance, "I was tenured faculty."
But at JSU she's not. That's because of Alabama nepotism laws that say a state employee, like a JSU professor, cannot be appointed by a relative, like a JSU president who is a husband.
"I'm still doing what I love doing," she said, sitting before her laptop with a pulled-up Web page of the company that calls her its chief science officer. "I'm still very actively involved in this company."
The company is RC21X, born in 2014 from the web-based system that Pam Beehler designed to measure and monitor one's neurocognition over time through a series of 15 game-like modules.
Based in the Beehlers' home state of Pennsylvania, RC21X is still developing its commercial brand, said its CEO, Clarence Carlos. He sees it as a tool that school athletic departments and health care providers should invest in. For now, RC21X earns no profit.
"She doesn't get paid a dime," Carlos said of Beehler. "She's doing this because she believes in it and that it'll make a difference."
Carlos, with experience in the medical technology business, sought out Pam Beehler when she got to Pittsburgh in 2013 as John Beehler became dean of the Business School at Robert Morris University.
"I could've gone for a faculty position in Pittsburgh," Pam Beehler said. "But I just thought, if I wanted to become an entrepreneur, this is the time to do it."
There was yet much to discover about brain health in the 1980s, around the time she committed herself to the field while completing her doctorate at Indiana University. This was well before the revelations of concussions and their long-term effects on football players like Ken Stabler, the former Alabama star discovered earlier this month to be suffering from chronic traumatic encephalopathy at the time of his death.
As she learned more at Indiana about the nervous system, Beehler found herself captivated by the brain, the dictator of movement, largely responsible for her accomplishments as a softball and basketball player at Penn State through the '70s.
"Back then, it wasn't a popular thing necessarily for a woman to have her own career," said John Beehler, who she met at Penn State and married upon graduation. "It was clear from the start she wanted her own career and wanted to strive. She's just a very driven and competitive person."
During her first teaching stint, at the University of Texas at Arlington, she started doing lab research alongside a professor who was also looking to make a mark in the brain health field. George Kondraske was engineering tools like RC21X, intended to measure brain performance.
"The thing that impressed me was her desire to get everything right," said Kondraske, who Beehler continues to do research with. "She was interested in advancement."
As John Beehler went on to take administrative roles at Wichita State University and Northern Kentucky University, Pam Beehler went along and created baseline concussion tests for athletes at the schools — years before the NCAA pushed for these tests at member institutions.
"She's a genius," Carlos said from RC21X's headquarters. "What you have down there at that university is a dual package."
While John Beehler serves JSU's most prominent role, Pam Beehler serves the role of first lady; "It's all part of it," she said, going to campus events, sitting in on her husband's meetings, promoting the school.
"I've gotten used to it," she said.