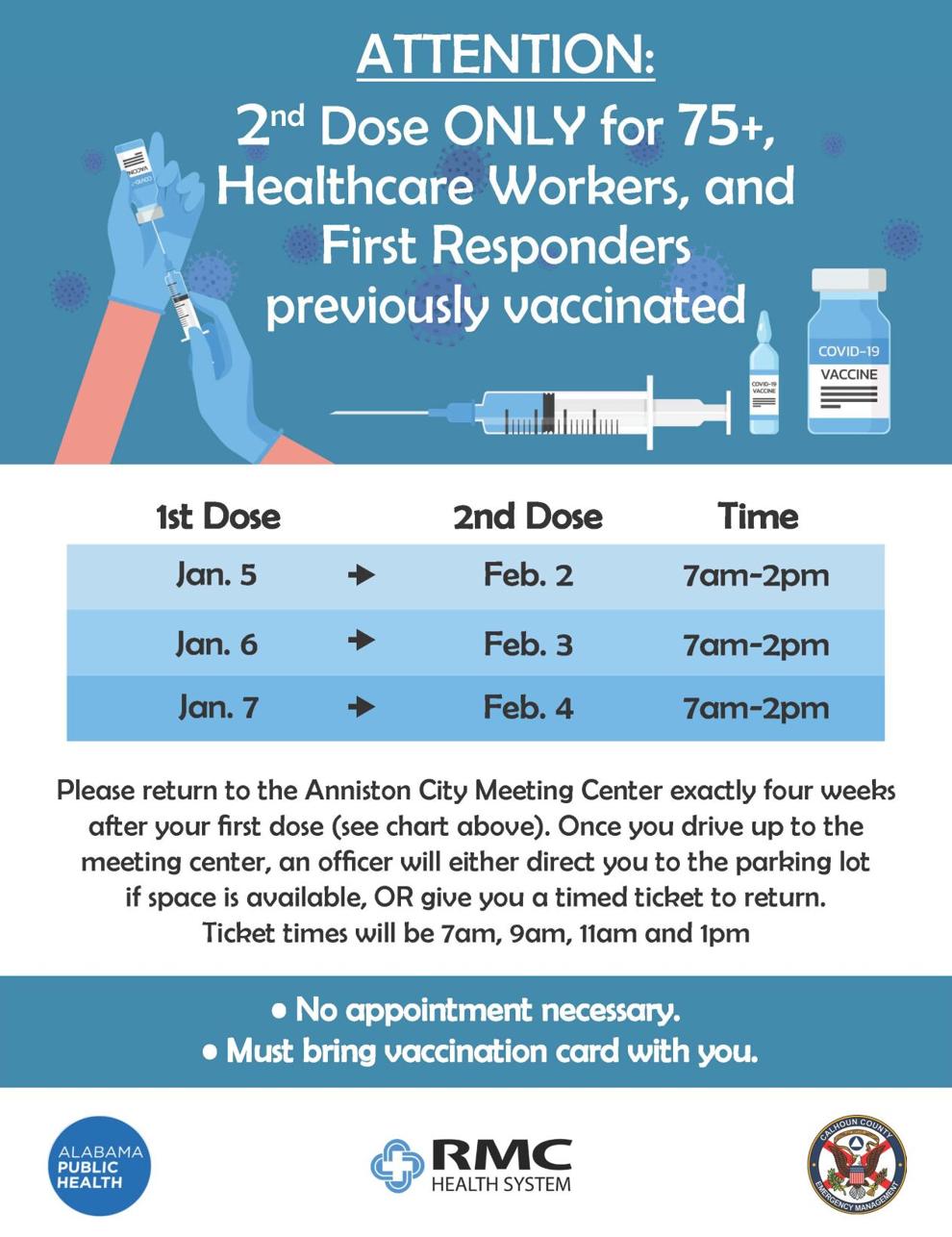 Local emergency management officials are planning to hold a vaccination event at the Anniston City Meeting Center Feb. 2 through Feb. 4 for people ages 75 and up who got an initial dose of the COVID vaccine in early January.
The Moderna vaccine requires two shots, with a second booster shot given several weeks after the first.
There will be enough vaccines on hand for everyone who got a shot the first time around, said Tiffany DeBoer, a spokeswoman for the Calhoun County Emergency Management Agency.
People who were vaccinated at the Anniston City Meeting Center in January should return to the City Meeting Center on the same day of the week they received their first shot.
If you received a vaccine on:
Tuesday, Jan. 5 — return Tuesday, Feb. 2
Wednesday, Jan. 6 — return Wednesday, Feb. 3
Thursday, Jan. 7 — return Thursday, Feb. 4
Vaccines will be given between 7 a.m.-2 p.m. each day. No appointment is needed. Those who wish to participate should bring their vaccination card with them, reflecting first dose administration on Jan. 5-7.
Officials hope to avoid the long lines they saw when the first round of shots became available in early January, DeBoer said.
Shots at the February event will be available only to people who got the first shot at the same site a month earlier, DeBoer said, so there should not be a rush of new people trying to get immunized.
When arriving at the meeting center, an officer will either direct patients to the parking lot or give them a timed ticket to return. Timed tickets will be at 7 a.m., 9 a.m., 11 a.m. or 1 p.m.
"Hopefully they won't believe this time that they need to show up at 5 a.m. to get in line for their shot," DeBoer said.