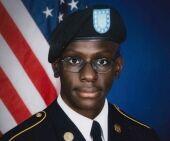 Isaac Crook illuminated rooms and courted friendships, a young person whose reputation seemed impossibly glorious. "He was amazing," his father says, which is what most dads say about their children, but Mack Crook says it with an intensity that leaves no doubt. 
Isaac adored soccer — European "football," especially — and coveted a career in the Army. He eyed a West Point appointment. His goal was to become an Army officer. Ever since he was 2, barely old enough to know better, he dreamed about soldiers. 
"He'd say, 'I'm going to be an Army man, I'm going to be an Army man,'" his mom, Regina Crook, remembers.
It's amazing that Mack and Regina Crook can tell these stories, swooning with pride and laughing as only parents do. It's strength personified.
His death, and the despair it's caused so near the Christmas holiday, makes no sense.
Isaac had already fulfilled one dream by joining the Army National Guard and surviving boot camp this summer at Fort Leonard Wood, Mo. His parents rave about how the military matured Isaac, turning a high school athlete into a focused man. He'd been accepted into The Citadel and Jacksonville State University. He was halfway through his West Point application.
Mack was in Weaver last week when he got the call about Isaac and saw his son before he was taken to Regional Medical Center. CPR attempts couldn't save him. The Crooks believe everything was done to help their son. Doctors told the family Isaac had either a heart attack or a blood clot. 
"When he hit the ground," Mack said, "he was dead."
There's something else you must know about Mack and Regina Crook. Their Christian faith is immense, almost immeasurable. It permeates their conversations, especially those about Isaac. 
In 2000, the Crooks opened Faith Christian Store on McClellan Boulevard. ("A Ministry From God For You," its ads said.) Then a builder, Mack sold his cars and work equipment to finance the endeavor. One of the stories Mack and Regina tell mentions the store and their other sons, Eric and Macklin. 
Eric, the oldest, was raised in the church. Macklin was the "church baby," whom congregants doted over. Isaac, the youngest, was the "Christian store baby."  
Which sounds odd until Mack explains it. "When the older ladies would come into the store, they would anoint him through my wife's stomach. And then when he was born, they would come down to the store and anoint him with oil. He was a son of God. We never had to discipline that boy, never."
But Mack did question Isaac's interest in the military. He knew his son was sincere about joining, but was it the right choice?
"I was on the bed one night and he came in, he had just turned 17, and he asked me could he go into the National Guard," Mack said. "And I said, 'No, you're still a baby boy.'"
"He came back the next night, and I told him no again," Mack said.
"And he came back the third night, and the Spirit led me to let him go," Mack said. "I was worrying about it, but I let him go. That's what he wanted to do, to fight for his country."
"Usually the mothers are the ones totally against their children going into the military," she said. "(But) I wasn't, and I can't explain it. It seemed like something that was predestined for him."
This is the Isaac I wished I'd met —  a passionate young man from a family of faith who collected friends throughout Calhoun County as easily as he did expensive soccer jerseys ordered online. 
"He was the young person that every day he encouraged everybody," Regina said. "He wanted to get up today and do better than he did the day before. He wanted to be better, stronger, faster, even in his academics."
This Saturday he planned to retake the ACT test in hopes of raising his math score and boosting his West Point application.
"He didn't shy away from anybody," Regina said. "He wasn't cliquish; he just loved everybody."
He signed up as an organ donor, so when he died his body offered life to others. Doctors even removed skin from his back to graft onto burn victims and used his corneas to repair patients' eyesight.
The "Christian store baby" and future Army officer, protecting others, befriending all, leaves a legacy that will endure.
"I'm getting through it," Mack said, "because I know God let us raise him for 18 years and He has taken him for his job in Heaven. And I know without a shadow of a doubt — it's the only way I'm getting through it — it ain't going to be long until I see him again. It's a short life."
The Crooks buried Isaac in his Army National Guard dress uniform. A soldier, forever.