WEAVER — The crowds began arriving early at the Weaver Heritage Day Festival. By 9 a.m., shoppers browsed at the craft booths, played games set up in booths — such as "pick-a-duck" — and ate pancakes, funnel cakes, homemade fried pies to order and more. 
Shortly after 9 a.m., the Rev. Jimelvia Martin, the new pastor at Weaver First United Methodist Church, urged the crowd to enjoy the fellowship and fun, but she also spoke of the Sept. 11 attacks of 20 years ago and led the crowd in 11 seconds of silence as first responders from the Weaver police and fire departments stood nearby. 
During the silence, cicadas in the trees above the festival-goers trilled and a distant lawnmower hummed as minds turned to one of the nation's worst days in its history. The first responders raised the American flag and then lowered it to half-staff in memory of those who died during the attacks.
After the ceremony, country music filled the shady area at the Elwell Park where 48 crafters and booth owners sold their goods, greeted old friends and made new ones.
One crafter was Zayden Bentley, a 14-year-old maker of wooden pumpkins, who proudly stood behind his creations.
"I made these with my mom helping me," he said.
His mother, Jessica Bentley, sat at the back of the booth where another of her children, 7-year-old Teegan, sold homemade Christmas ornaments.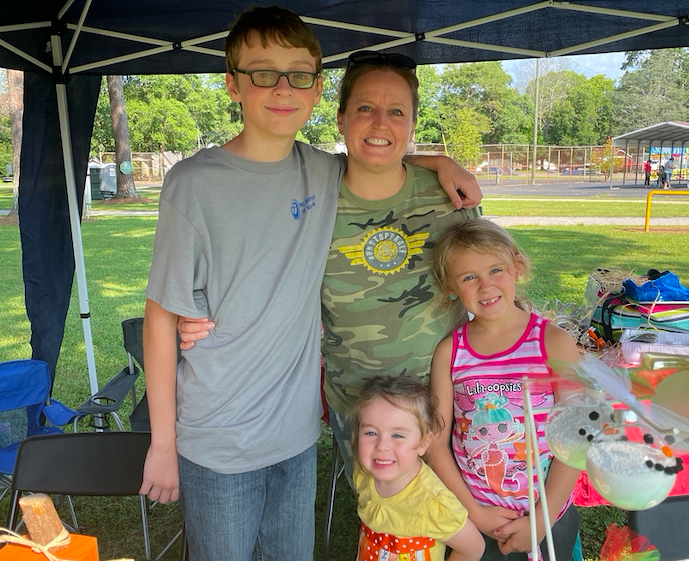 "My birthday is around Christmastime," she said.
Her sister, 3-year-old Trigvee Bentley, played nearby.
Previously sponsored by the city, the festival became a Lions Club project two years ago, with the money raised from booth rentals going toward its good causes, such as providing scholarships or contributing to Camp Seale Harris, which helps diabetic children. Lions Club member Aletha Young, of the club's festival organizing committee, said things had gone so smoothly Saturday for the first time during her years of helping, both with the city and the club, that she was able to enjoy an early pancake breakfast. 
In the senior citizen room of the Weaver Community Center, Ken Lanterman and others sold baked goods and miscellaneous items to raise money for the seniors' activities, which require door prizes, food items and coffee. Also, they use the money to purchase coffee. The program meets there Mondays through Thursdays.
Outside, mingling with the crowd, were Jamie McCrimmon of Oxford and her mother-in-law Diane Hamilton of Anniston. They come to the heritage festival each year.
"My late aunt, Alice Thorpe, lived here in Weaver, and my stepdaughter got married at the Methodist Church here," Hamilton said.
Mayor Wayne Willis, who stood in front of city hall for a while, said having their annual event fall on Sept. 11 this year gave their festival more significance.