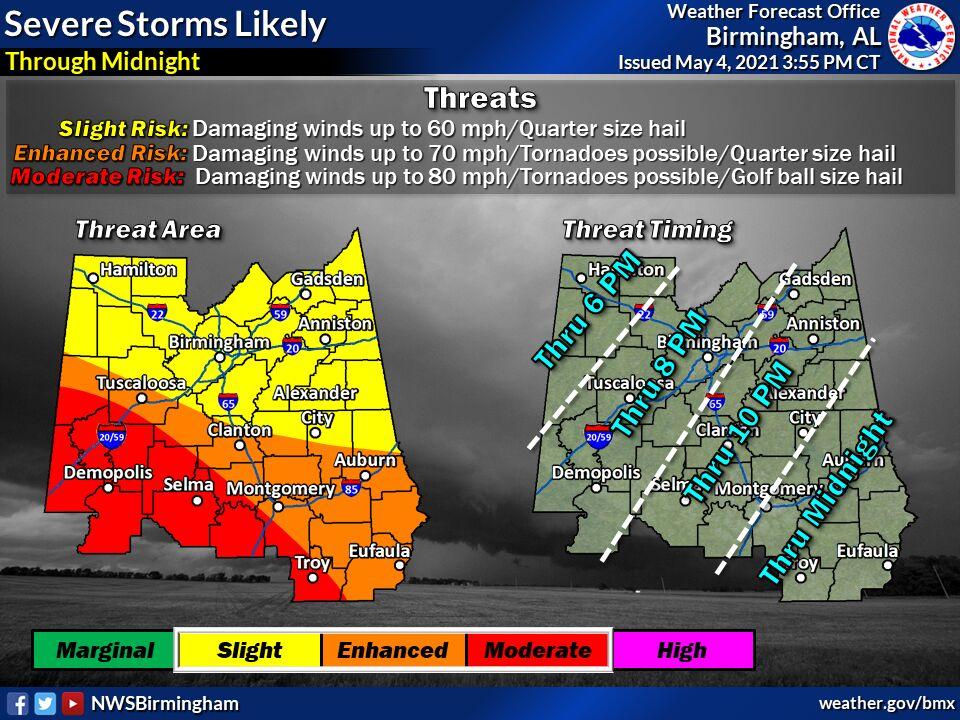 Heavy rain produced flooding in some parts of Calhoun County Tuesday, but the area avoided the more violent weather threats forecast for the day.
Parts of Saks and Anniston were among the locations where flooding was reported by 4 p.m. Tuesday, Calhoun County Emergency according to Management Agency spokeswoman Tiffany De Boer. There were also reports of cars half-submerged in Alexandria near Post Oak Road, De Boer said.
But the area avoided most of the one-two punch forecasters originally predicted. The National Weather Service had warned of a stormy morning followed by a line of severe storms crossing Calhoun County late in the afternoon — a pattern familiar to local residents who recall the March 25 tornado in Ohatchee and Wellington, as well as previous storms.
Forecasters did issue a tornado warning for Cleburne County early Tuesday afternoon, based on radar indications of a storm capable of producing a twister. Local officials had no reports of significant damage in the immediate wake of that storm.
But the afternoon wave of storms produced mostly rain — and a lot of it — for places north of Interstate 20.
The Weather Service issued a flash flood emergency for Jefferson County. The storms that produced that flooding were headed toward Calhoun and other eastern counties by evening Tuesday. 
The area was under a tornado watch for most of the day, convincing school leaders in the Anniston and Calhoun County school systems to dismiss classes early.
An Anniston City Council meeting originally scheduled for Tuesday night was postponed to 12:30 p.m. Wednesday.