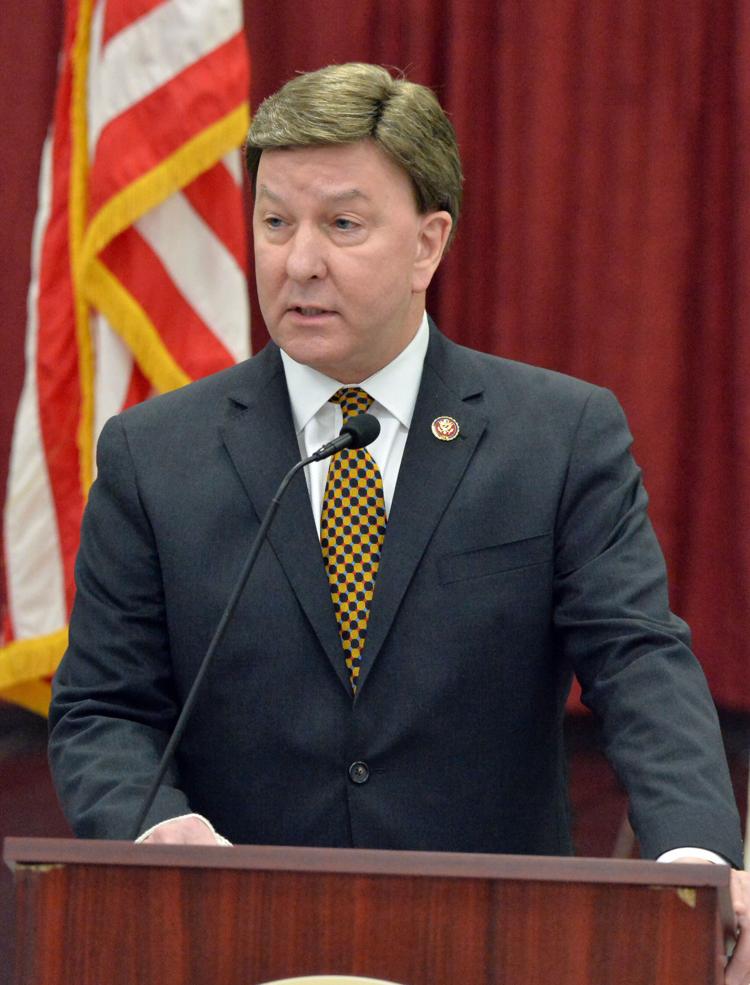 The U.S. House of Representatives will likely vote on an article of impeachment against President Donald Trump this week, but the House member from the Anniston area hasn't made a public statement about the impeachment push.
U.S. Rep. Mike Rogers, R-Saks, hasn't made a public statement about the Capitol Hill insurrection since last Thursday, when he tweeted a condemnation of violent rioters. Attempts to reach him through his staff were unsuccessful. 
"There is no place for political violence in America," Rogers said in his Thursday tweet. "Whether it is from the left or the right, it is abhorrent and wrong."
Rogers came under fire Tuesday in a blistering resignation letter by Jason Schmid, a Republican staffer for the House Armed Services Committee, where Rogers is the ranking minority member.
In the letter, obtained and published by the website Politico, Schmid calls the idea that the 2020 election was illegitimate a "poisonous lie" that "inspired so-called 'patriots' to share common cause with white supremacists, neo-Nazis and conspiracy theorists to attack the seat of American government."
 Over the last four years, Rogers has developed a reputation as an ally of Trump. The president championed the idea of a sixth branch of the military for space warfare — now known as the U.S. Space Force — which Rogers first proposed a few years earlier.
Last year, Rogers signed on as a supporter of one of Trump's legal challenges to the 2020 election results. Last week, he was among the House members who voted against certifying those election results. The move to certify did pass, and President-Elect Joe Biden will be sworn in next week.
But the riot by Trump supporters last week proved too much for some Republicans. Several members of Trump's administration resigned after the mob stormed the Capitol.
Resignations among Congressional staff appear to be less common. In his letter to Rogers, Schmid cited national security concerns related to the riots as a reason why he could no longer stay on staff.
"Foreign intelligence services were likely on the scene and will certainly capitalize on the crisis it has caused — our people will pay a steep price," Schmid wrote in the letter, addressed to Rogers by name and to other committee members as a group.  "Congressional enablers of this mob have made future foreign conflict more likely, not less."
Attempts to reach Rogers for comment on the letter Tuesday were not successful.
Local Democrats last week took Rogers to task for his support for the election challenge.
"Rogers, along with all those making a mockery of their oaths to uphold the Constitution, was fully complicit with those who stormed our Capitol and raised the Confederate and Trump flags in it," Calhoun County Democratic Party leaders said in a statement released Friday by local party chairwoman Sheila Gilbert.
It's unclear whether the recent silence from Rogers will help him avoid the heat that has come to some of his Republican colleagues in Alabama's delegation. Rep. Mo Brooks, R-Huntsville, has come in for particularly strong criticism, including proposed House censure for his statements before the Capitol Hill riot.
"Today is the day American patriots start taking down names and kicking ass," Brooks said in speech to pro-Trump protesters before the riot last week.
Brooks has since issued several statements about the riot, initially blaming it on the loosely organized anti-fascist movement known as antifa, a group that law enforcement officials have said is not connected to the riots. Later, Brooks released statements denouncing violence.
Then on Tuesday afternoon, Brooks issued a rambling statement claiming to rebut "scurrilous fake news media and socialist Democrat attacks.
"The notion that I would give a recorded speech calling for riots and violence is the height of arrogance and stupidity," the statement from Brooks read. "I called for fighting in the 2022 and 2024 elections."
Rep. Terri Sewell of Birmingham, the only Democrat in Alabama's House delegation, was also the only Alabama House member to vote in favor of certifying every state's results in the 2020 election. In a statement released Monday, she criticized House members who voted against certification.
"It's not okay for elected officials to continue to peddle lies and conspiracy theories about widespread voter fraud and an allegedly stolen presidential election," she wrote in a statement released on social media.
Sewell also announced Monday that she is a co-sponsor of the article of impeachment against Trump.