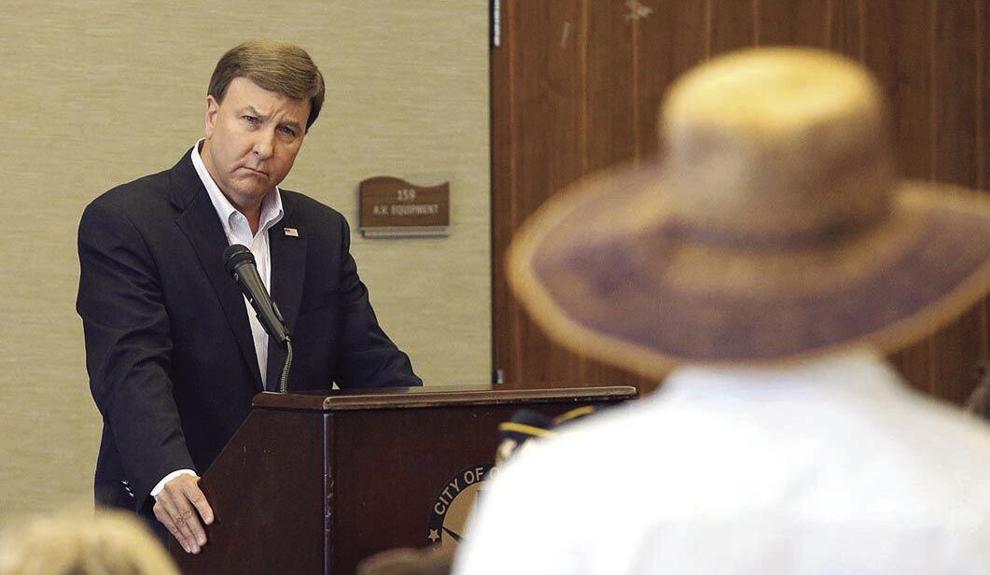 Alabama's Congressional delegation split along party lines Wednesday as the U.S. House of Representatives voted 232-197 to impeach President Donald Trump for a second time.
The six Republicans in Alabama's House delegation voted against the article of impeachment charging Trump with incitement of insurrection. House members debated for more than two hours before the vote. Rep. Mike Rogers, R-Saks, was not among the lawmakers who rose to speak.
"I don't think you're going to hear from any of them," Calhoun County Republican Party chairman James Bennett said of Alabama's Republican delegation while the debate was going on. "I think they're going to vote on it, they're going to send the thing to the Senate and it's going to die there."
With just a week left in his term, Trump made history Wednesday as the first president to be impeached twice. The circumstances that led to that vote were unprecedented as well.
Trump refused to concede after the November presidential election, urging his supporters to rally in the nation's capital last week on the day of the Congressional vote to certify the election results — a vote that is typically only a ceremonial event.
Protesters brandishing Trump flags stormed the U.S. Capitol, forcing lawmakers to abandon House and Senate chambers and delaying the vote. Five people are dead as a result of the attack.
Alabama's GOP lawmakers have been under a hot spotlight since that attack. Rogers was among the lawmakers who voted against the certification of the election, and among those who announced before the attack that they intended to challenge the election.
Rep. Mo Brooks, R-Huntsville, faces potential censure from house colleagues for his role in rallies before the attack. In a speech at a rally, Brooks urged protesters to "kick ass."
Neither man rose to speak in the impeachment hearing, in which lawmakers from both parties rose for brief statements ranging in length from 30 seconds to about two minutes.
Democratic Rep. Terri Sewell of Birmingham talked about the "searing memory of being in this gallery, the people's house, right up there and fearing for my life.
"Why? Because the president of the United States incited others to be violent," Sewell said. "A mob of insurgents in this house. It's unacceptable. It led to the killing of five Americans."
Newly elected Republican Rep. Barry Moore of Enterprise rose immediately after Sewell, arguing that the impeachment push comes too late to be meaningful or to be done properly.
"So here we are, seven days until the end of his term and we're going to impeach a president, for what reasons?" Moore said. "There have been no hearings. There have been no committees."
Rogers released a statement immediately after the vote, but it wasn't about the impeachment; it was about the Air Force's decision to move the headquarters of the U. S. Space Command to Huntsville, which was announced Wednesday.
"He's doing his typical thing," said Sheila Gilbert, chairwoman of the Calhoun County Democratic Party. "He's voting for what keeps him safe."
Rogers issued a statement denouncing violence the day after the Capitol riot, but has remained quiet about the matter since then.
"He's probably keeping his head down," Gilbert said. "He and his fellow Republicans are probably getting beat up on quite a bit."
Bennett, the local GOP chairman, didn't see the lack of comment as a problem. The impeachment comes too late to affect Trump, he said, and would likely fail in the Senate. 
"I don't know what Democrats think they're going to accomplish, but they're just firing up Trump's base," Bennett said. 
An impeachment trial could lead to Trump being banned from running for federal office again. According to reports in the Washington press, Senate Majority Leader Mitch McConnell, R-Ky., doesn't plan to expedite the impeachment trial, meaning any vote to convict would take place after Trump leaves office.