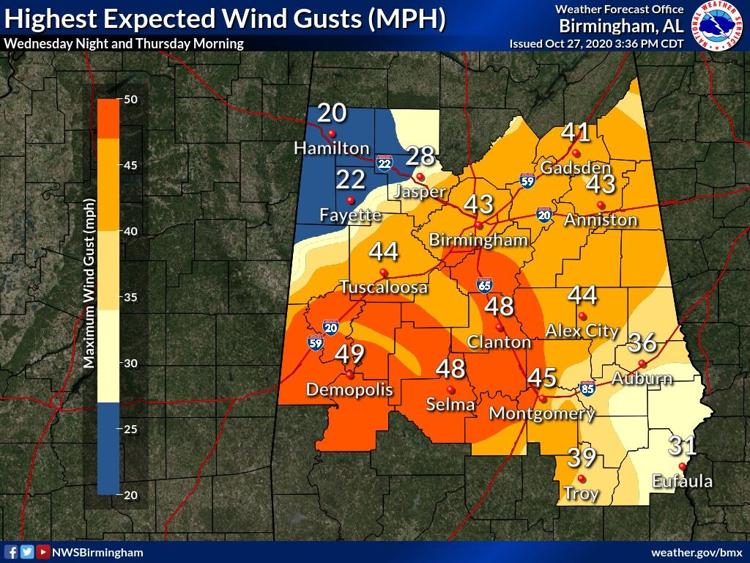 Northeast Alabama should be outside a tornado risk area as Tropical Storm Zeta crosses the state Wednesday night, though high wind gusts are still a concern. 
The storm is forecast to land in Louisiana at 7 p.m. Wednesday night and cut a path northeast across Alabama at about 55 mph, according to the National Weather Service station in Calera. 
 Forecasters placed Calhoun and surrounding counties under a tropical storm watch Tuesday, an uncommon occurrence this far inland. Calhoun County Emergency Management Agency director Michael Barton said the speed of the storm was one reason for that watch. 
"There's a potential for trees to fall, and people will definitely want to take care of loose items out in the yard," Barton said. 
A "marginal" risk area for tornadoes has been established south of Alexander City, the lowest of five risk rankings in the National Weather Service scale. High winds will be a threat, however, with sustained winds up to 35 mph in Calhoun County and on the eastern edge of St. Clair County, and winds up to 40 mph throughout Talladega and Cleburne counties.  
Sporadic gusts up to 55 mph are forecast for all four counties after midnight going into Thursday. 
"It's going to be enough to knock down trees and cause some power outages," Chris Darden, a meteorologist with the weather service, said Tuesday afternoon. 
Forecasts show rainfall of up to 4 inches for the four-county area through Thursday night, which may lead to "isolated urban flooding," Darden said. 
Given the speed of the storm, the worst of it should move out of northeast Alabama soon after sunrise Thursday. 
"It should be a fairly short-duration event overall," Darden said. 
Star staff writer Tim Lockette contributed reporting.