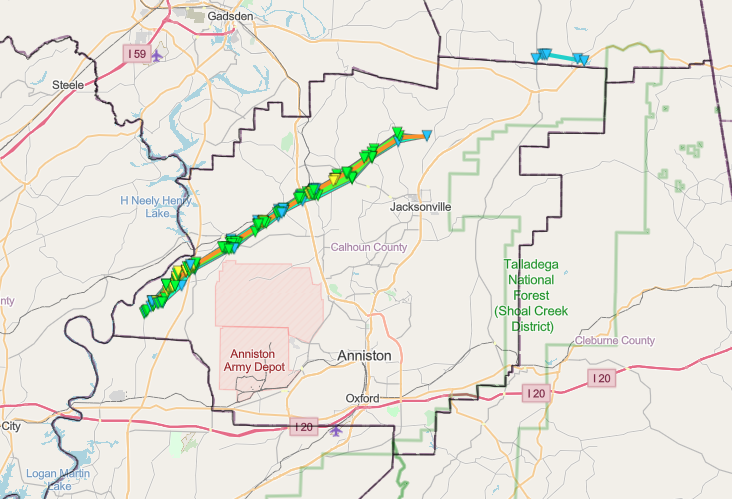 Much insight into the strength of a tornado comes from surveying the damage it causes. 
Storms like those last week in Calhoun County spawn tornadoes that drag gashes in the landscape, tear trees from the ground and blow homes apart. Five people died in and near Ohatchee on March 25 when an EF-3 tornado hit.
Estimating the strength of a tornado when your own home lies in pieces is simple: It was strong. But when it comes to charting the paths of tornadoes, understanding their strength and applying that knowledge to future storms — there's a procedure. 
Central Alabama has seen strong midweek storms for the past two weeks. Meteorologists from the National Weather Service station in Calera have been busy forecasting those storms, but in between issuing watches and warnings, they've been driving across central Alabama, gathering data like forensic detectives. 
"That's us; we do it all," said Mary Keiser, senior meteorologist at the weather station. "We do this to gather scientific data, not only for the media but for people trying to help folks recover. That's for FEMA, for the Red Cross, for insurance companies, and also for the climate record." 
National Weather Service meteorologists surveyed the damage in northern Calhoun County and determined it was the result of an EF-3 tornado.
Data gathered by the meteorologists turns into tools available to the public, like the NWS Damage Assessment Toolkit, which compiles damage witnessed by the two-person survey teams. The map for last week's tornado shows a long track from Boiling Springs Road northeast through Ohatchee and Wellington, before petering out on Gray Harrelson Road near Possum Trot just a few miles north of Jacksonville. Each point on the map is interactive; click a symbol and comments from the meteorologists appear, along with photos they took.
At the far end of the line, north of Jacksonville, a few softwood trees lay at a slant, near but not on the road. Both the hard hits and less-significant impacts are important for charting a tornado track, Keiser explained.
Most often, those tracks are discovered by surveyors starting in the areas with the most damage. 
"We look for potential places where indications on radar seemed to show the right conditions, and also where we receive damage reports, as well," she said. 
According to an NWS explainer provided by Keiser, the survey team starts at a damage site, then works to determine wind speed. That's done by figuring which of 28 "damage indicators" each damaged structure falls under, anything from trees to homes, shopping malls and warehouses. Then the degree of damage is determined. That can be broken tree limbs, or tree trunks stripped of bark, and structural damage from light wear to complete destruction. 
Using a table that combines those values, the meteorologists will estimate a wind speed, though they might adjust it, depending on other factors. A home not properly attached to its foundation, for instance, would be damaged by lower wind speeds than a house with better construction. Forecasters tend to learn a lot about engineering, Keiser said, to better assess damage. 
"We wear a lot of hats," she said. 
Once the site is assessed, the meteorologists record the final, adjusted wind speed and move on to the next structure.
The tornado's final strength is determined by its highest speed at any point along its path, ranked on the Enhanced Fujita scale, which categorizes tornadoes by wind speed from an EF-0 at about 65 mph to an EF-5 at speeds over 200 mph.
Keiser said that each track is considered a single tornado if there's enough of a gap where no damage has occurred — "even if it's from the same storm," she added. "They kind of go through a recycling process; they weaken and occlude a little bit and then strengthen."