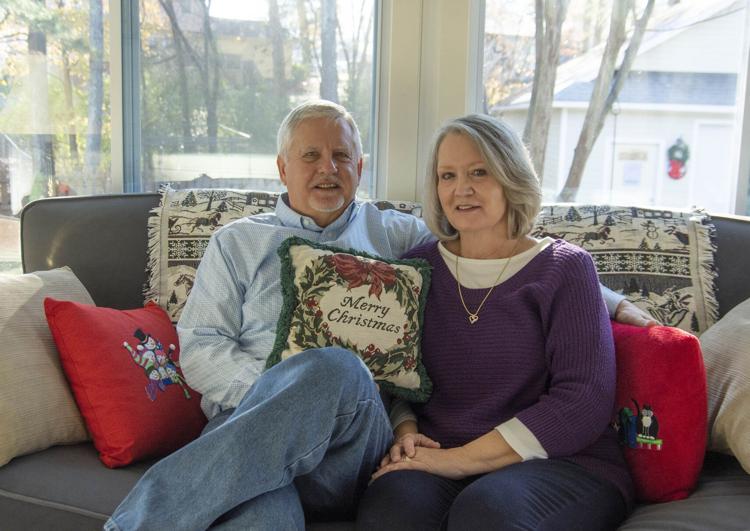 Because of the pandemic, Jamie Perkins' family has already missed her wedding and the birth of her daughter in October. Now, they're going to miss her daughter's first Christmas, too.
Perkins, who lives in Jacksonville, is one of several Calhoun County residents who say they will avoid gathering with friends and family on Christmas due to the pandemic — but they are happy to be celebrating nonetheless.
Perkins said she started the pandemic not really believing COVID-19 was that bad, but that changed after her husband recently caught the virus. 
"It's real and it's scary," she said.
Perkins said the family had been under quarantine until Dec. 21. 
She said they had planned to visit her family in Tennessee and her husband's family after that, but they didn't feel safe doing that now.
Instead, she said, the family will likely open presents and maybe cook. 
"It's not going to be like normal," she said. "The kids are disappointed."
Christina Dorn, the communications director of Grace Episcopal Church in Anniston, said the church discontinued in-person services on Dec. 13 due to the rising number of COVID-19 cases locally.
This year, only 10 people will be in the church on Christmas Eve, including the priest, organist and a few choir members, for a service that will be broadcast on Facebook.
"We didn't feel that it was safe to have worship on Christmas Eve," Dorn said.
During a normal Christmas, Dorn said, the church's children would put on a Christmas pageant. Instead, she said, the church plans to make a video that all members can be involved in.
She said the video is a reminder that people can still find joy this season, wherever they are.
"We still have the joy of Christmas," Dorn said. "We may not always be happy, but it's a joyful time when our savior is born."
Terry and Jane Parker of Oxford will be spending their 46th Christmas together by themselves.
Their daughter and her family, including their only grandchild, live in Pittsburgh, Pa. Because of the risk of exposure on an airplane, their daughter and her family have decided not to fly. 
The Parkers also can't visit their son, his girlfriend and her children this year because of a recent COVID-19 exposure. Hopefully, Terry Parker said, they'll be able to "do Christmas" when it's safer.
Parker said this Christmas will be reminiscent of early holiday seasons with just the two of them.
"We are fortunate to have each other, and for that we are so very thankful," he wrote in a text message. "Too many people will be alone with no one to share the joy of the Christmas season as we celebrate the birth of our Lord."