Six months after President Donald Trump declared opioid abuse a national emergency, policymakers in Alabama are slogging through an effort to address the crisis – without much new help from the federal government.
Lawmakers have set aside $1.1 million in the state's still-unapproved budget for services specific to the opioid crisis. A bill to increase penalties for fentanyl trafficking is making its way through the Legislature. So is a data-gathering bill that could allow the state for the first time to get a real picture of where the drug crisis has hit the hardest.
State of emergency or no, public officials say, crafting public health policy takes time.
"At least it's seeing the light of day," said Calhoun County District Attorney Brian McVeigh, a member of the state's Opioid Overdose and Addiction Council, set up last year to find solutions to the opioid epidemic.
Trump last August described opioid use as a national emergency, and promised a formal emergency declaration, after a summer of discontent over the long-festering problem of prescription drug abuse.
Overdose deaths in 2015 topped 52,000 nationwide, more than the yearly toll from homicides and car crashes combined, and health policy experts trace the problem back to a surge in prescriptions for painkillers, beginning in the 1990s.
First, people began taking prescription opioids such as Oxycontin and Vicodin off-prescription. And when governments cracked down on those prescriptions, addicts turned to similar illegal drugs such as heroin or fentanyl. By most counts, the death toll is worst in Appalachia and rural areas, though 2016 numbers from the Centers for Disease Control and Prevention suggest Alabama is nowhere near the top-ranked states for opioid deaths.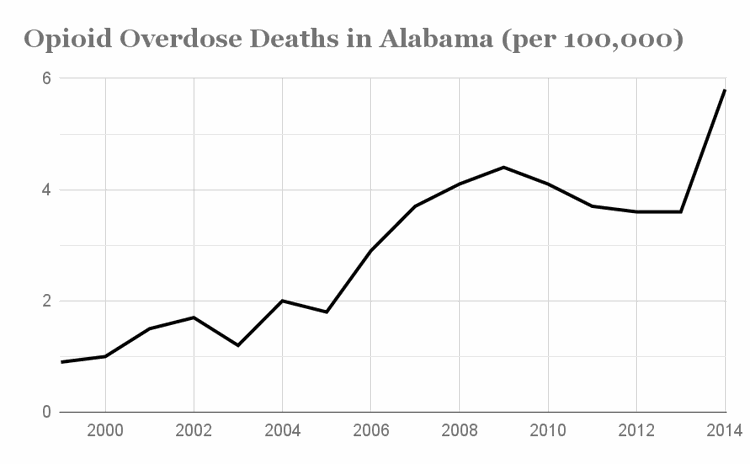 Trump's emergency declaration last year left local policymakers scratching their heads, largely because the White House recommended few specific actions and set aside little money to deal with the problem. Meanwhile, Alabama Gov. Kay Ivey tasked the newly-formed Opioid Council with drafting a plan to fix the problem.
The council found, among other things, that the state doesn't really have a clear picture of where the problem is at its worst.
For years, Alabama has maintained a database of drug prescriptions through something called the Prescription Drug Monitoring Program, which state regulators use to keep an eye on pharmacists who overprescribe. Privacy laws, however, keep the state Health Department from crunching the numbers from that database in a way that allows them to find opioid hotspots, said acting state health officer Scott Harris.
"Public Health has essentially been subsidizing this system but we haven't been able to use it," Harris said.
A bill to allow the department to analyze that data is working its way through the Legislature, as is a budget line item setting aside more than $1 million to pay for it.
Of all the council's  proposals, the simplest one – increased penalties for trafficking  in the opioid fentanyl – seems to have captured the most attention.
Police officers have long advocated for a crackdown on fentanyl, a potent synthetic opioid that can lead to a deadly overdose in miniscule amounts. Law enforcement officials have said the drug is so powerful it poses a danger to police officers who seize it from suspects, let alone drug users who misjudge the dosage.
Two bills in the Legislature would require a life sentence for anyone bringing 56 grams – about two ounces – of the drug into the state. Critics of the bill warn of unintended consequences.
"You could put a lot of addicts in jail who are definitely not traffickers, and who need help," said Kenyen Brown, a Mobile lawyer and former federal prosecutor.
Brown worries about a provision in the bill that would count the weight of any medium laced with fentanyl when the drug is weighed. Dealers have begun selling pills that look like prescription pills, but are actually laced with fentanyl, Brown said – pills that wind up in the hands of addicts who aren't drug dealers, he said.
"Nobody wants to be seen as the person who weakened drug laws," Brown said. "If this doesn't work the way we planned, the results could be with us for a generation."
Recovering addicts and addicts' families often ask for a rethinking of the stigma around addiction – and a more treatment-based approach for small-time users who get arrested. Ask about stiffer sentences for dealers, though, and the reaction can be very different.
"Drug court is good for someone who really wants to get clean, but there are a lot of people out there who know how to work the system," said Angela Cheshire, a Randolph County resident whose son died of an overdose in Anniston last year. She said she's been watching the fentanyl trafficking bill and hoping it will pass.
Cheshire said the thing most opioid-policy advocates are hoping for most is more treatment, available in more places for more addicts. That would likely come with a price tag, and one of the opioid council's stated goals is to come up with a funding source to pay for more treatment.
So far, though, no long-term funding bill has been introduced in the Legislature, Harris said.
Cheshire said friends and family members of addicts are well aware that fixing the problem will take time.
"It's not something we're going to fix overnight, but we've got to start somewhere," she said.