At least a dozen Alabama counties aren't reporting information that could block some mental health patients from buying guns, state and county officials said this week.
Some county officials, in interviews with The Anniston Star, seemed unaware of the 2004 and 2015 state laws that require the reports. One said he simply didn't follow the state's policy. Some cited technical problems.
"We've been trying to report, but evidently what we're doing isn't good enough," said Marshall County Probate Judge Tim Mitchell in a Wednesday telephone interview.
Marshall County is one of 18 counties named in a Monday memo by the state's Legislative Services Agency as noncompliant with the law that requires probate judges to immediately report to the Alabama Law Enforcement Agency every time they commit someone involuntarily to inpatient mental health treatment.
That information later goes into the National Instant Criminal Background Check System, or NICS, a database that is used to block gun purchases by people who aren't allowed to own guns. The state's data can also be used by sheriffs, who can block people with mental health problems from obtaining concealed carry permits.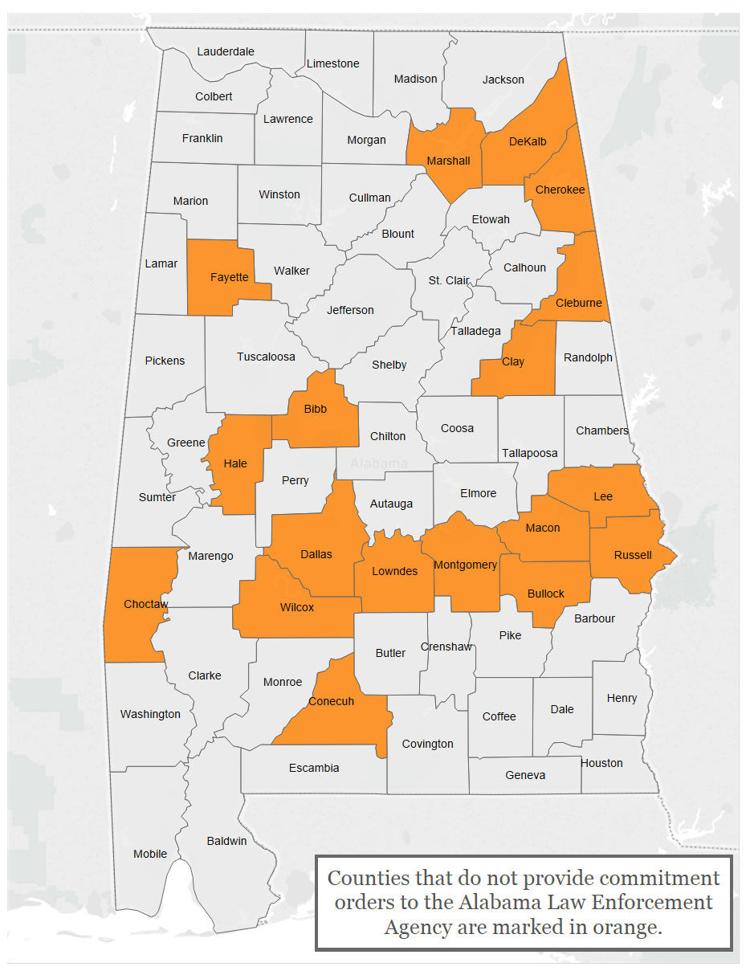 Calhoun County isn't on the list. Neighboring Cleburne County is. Probate Judge Ryan Robertson said he does six to 10 involuntary inpatient commitments per year, but doesn't report all of them to the state.
"It's my understanding that it's up to me, that if I feel the person is dangerous, we would send them in," Robertson said.
Section 22-52-10.8 of the Code of Alabama says judges "shall immediately forward" commitment orders to ALEA. That's been the law since 2015, though a similar law, without the "immediate" wording, has been in place since 2004.
"We have never adopted that policy," said Fayette County Probate Judge William Oswalt. He said most of his commitments involved people who weren't taking their medication, and didn't present a danger.
"I can tell you that in Fayette County, we're a small community, and everybody knows everybody," Oswalt said.
Members of the gun task force last week said that two probate judges had actually refused to report mental health data to the state, in violation of the law, and would be referred to the attorney general's office. They didn't name the counties involved. Oswalt on Wednesday said he hadn't refused to comply but that his office doesn't "follow the procedure."
Attempts to reach gun task force chairman Rep. Allen Farley, R-McCalla, were unsuccessful Wednesday.
Chief probate clerks in Choctaw and Conecuh counties confirmed that those counties don't send the information to ALEA.
In Clay and Bibb counties, also on the list, judges said they simply didn't have any commitments to report.
"I'm aware of the requirement, and I'm responsible for reporting, but we just haven't had any inpatient commitments," said Bibb County Probate Judge Stephanie Kimmer.
Judges can order people into mental health treatment without sending them to a mental hospital or the equivalent, but those orders don't trigger the same reporting requirement. Judges and other law enforcement officials across the state have fretted for years about a shortage of mental health beds, which makes it hard for mental health officials to find places to put people who are committed.
"We had one person who was in a local hospital for 70 days while he waited for a bed to open up," said Mitchell, the Marshall County magistrate. Mitchell said he'd sent patients as far away as Calhoun County for treatment, though he said he made decisions to commit based on need, not on available space.
Mitchell wasn't aware his county was considered noncompliant until The Star called. Later he said his office had tried to mail in its reports, only to be sent a form and told to register for a new electronic reporting system that so far hasn't worked.
ALEA spokeswoman Robyn Bryan said the state law enforcement agency is indeed transitioning to a new electronic reporting system.
"When everyone is able to submit electronically, that should help tremendously," Bryan said.
Only one probate judge on the list, Alford Harden of Russell County, said his county was actually sending reports. Harden said his office discovered a backlog of unreported commitments going back to 2013 and had just finished submitting them. Bryan confirmed that.
Around 27,000 people have been denied gun purchases for mental health reasons since 1998, according to figures released by the FBI in 2016. Local gun dealers say that when a purchase is denied, they're not told the reason why, only that the person can't own a gun.
Ricky Hinds, owner of Anniston's Quintard Jewelry and Pawn, said he can only hope the database is correct when he runs a background check.
"I don't want a dangerous person to have a gun any more than anyone else does," Hinds said. He said it's disturbing to think that the state might not be getting complete reports on some would-be purchasers.
"Why even do a background check if you don't get all the information?" he said.