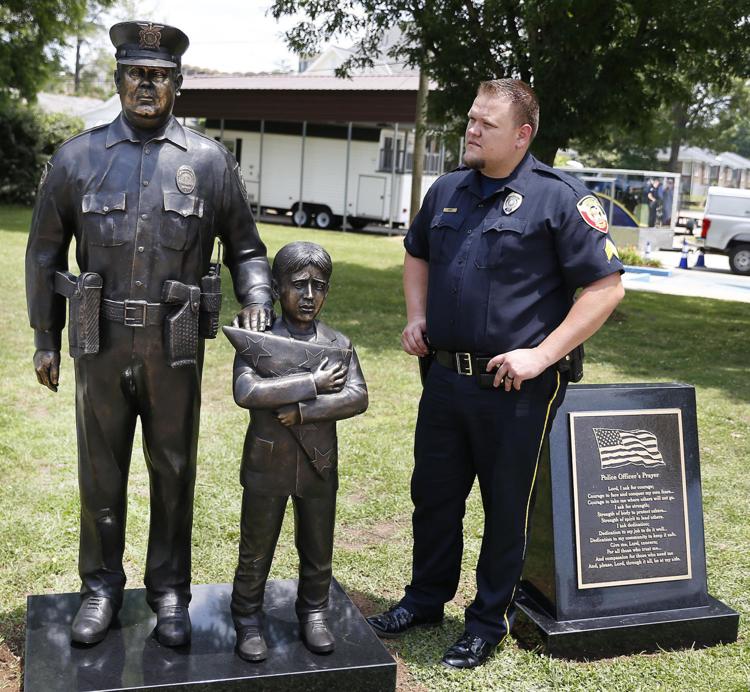 Even as local police and government officials honored fallen comrades, sirens could be heard near the Alabama Law Enforcement Memorial in Anniston on Friday.
Sirens from first responders' vehicles screamed up Quintard Avenue while Probate Judge Alice Martin sang the national anthem, opening a ceremony to honor fallen law enforcement officers throughout the state. No one remarked on the sound. Instead, a crowd of more than 100 people stood at attention and listened while Martin sang, posed before a wall engraved with the names of hundreds of Alabama police who died in the line of duty.
When she later took the podium, Gov. Kay Ivey underlined the sacrifice police officers make.
"On a day like today, we are reminded of a truth we all know but rarely say: Every day men and women in law enforcement put their lives on the line for Alabamians," Ivey said. "Freedom in a free society is not free."
The event, held at noon, brought a close to local National Police Week activities in Calhoun County, which included free food at the Anniston City Meeting Center each day this week for police. A bronze statue was unveiled during the ceremony, featuring the sculpted figures of a patrol officer and a young boy holding a folded flag in memoriam to a fallen officer, beside a plaque displaying a prayer for law enforcement officers.
Three names were added to the memorial wall, which holds the names of more than 500 Alabama law enforcement officers killed in the line of duty.
Oxford police Chief Bill Partridge said the three new names on the wall were Benjamin McDonald, Sgt. Wytasha Carter and Sean Tuder.
Partridge said McDonald was a patrol officer in Lanette who died in November 1936. A report from the Opelika-Auburn News last week cited Lanette police as a source, and said McDonald died after a shootout, just two weeks after moving from weekend patrol to a full-time position with the department.
Carter was a 17-year veteran officer working in Birmingham who was fatally shot in January when approaching two men who allegedly were attempting to break into vehicles.
Tuder, a Mobile officer, also died in January, after being fatally shot while serving an arrest warrant.
Partridge thanked the families of the officers for their loss.
"It means a lot to know their family members have a place to come and recognize them," he said.