MONTGOMERY — To fight an epidemic of opioid abuse, Alabama needs more drug treatment, more access to anti-overdose drugs and possibly legal immunity for people who report overdoses, members of a new state task force said in their first meeting Monday.
"This is the biggest public health problem we're facing in this country," said Scott Harris, the state health officer.
Harris is one of more than three dozen members of the Alabama Opioid Overdose and Addiction Council, a collection of law enforcement and public health officials appointed by Gov. Kay Ivey to study the widespread abuse of opioids. The group has until the end of the year to craft a plan to fight the problem.
President Donald Trump last month declared abuse of opioids — prescription painkillers like Oxycontin and illegal stand-ins like heroin and fentanyl — a national emergency. In 2015, deaths from overdoses nationwide outpaced traffic and gun deaths combined, and public health experts say the problem is driven largely by opioid use. Public health officials say the problem began with overprescription of the drugs by doctors, with addicts increasingly turning to illegal drugs as states clamped down on prescription painkillers.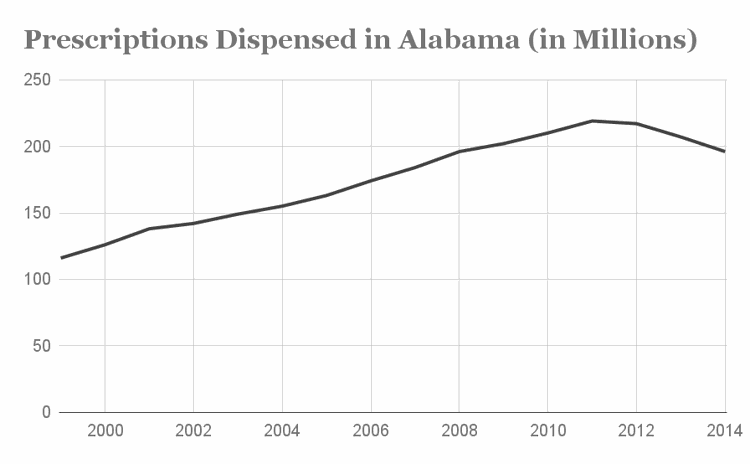 Calhoun County District Attorney Brian McVeigh, a member of the task force, said he's seen more than one drug epidemic over the years, including crack, methamphetamine and synthetics. The difference with opioids, he said, was the number of overdoses.
Overdose deaths in Calhoun County have tripled since 2006, Calhoun County's coroner told The Anniston Star last week.
"There was a day in Anniston late this spring when we had four overdoses on one day," McVeigh said. "You didn't see that with other drugs."
The best way to address the problem, many members of the panel said, is to make drug treatment more available. Speakers said addicts couldn't find treatment programs and often couldn't afford them when they did.
"We know we do not have enough treatment in all Alabama to meet the need," said Sarah Harkless, director of substance abuse treatment for the Department of Mental Health. For years, Mental Health officials have complained that their department was underfunded, though their pleas for more money typically took a backseat to funding crises in Medicaid and other programs.
Health officials have had more luck in expanding the use of naloxone, sometimes known as Narcan, a drug that can reverse the effects of an overdose in an emergency. Two years ago, a change in a state rule allowed pharmacists to prescribe the drug to anyone who demonstrates a need — ideally getting the drug into the hands of more friends and family members of users.
University of Alabama-Birmingham psychiatry professor Foster Cook said that despite the change, many pharmacists don't seem to keep the drug in stock, to the dismay of drug users' family members.
"They call back and say 'I went to my drug store and they say they didn't have any available,'" Foster said.
The state should consider a "Good Samaritan" law for people who call 911 to report overdoses, providing them with immunity from prosecution, Foster said. Fellow users are often the first to spot overdoses, he said.
Foster said that when people come to the emergency room to be treated for an overdose, they should leave with a dose of naloxone on hand in case they overdose again.
All emergency medical technicians in the state carry the drug, and some police officers do. Attorney General Steve Marshall said he'd like to see more officers carrying the drug — and not just to help overdose patients. He said officers are increasingly at risk, during traffic stops, of accidental exposure to the potent drug fentanyl.
"One of the things that I'm seeing is that this is becoming an officer safety issue," Marshall said.
EMTs record their use of naloxone on emergency calls, and task force members have said EMTs' naloxone use is one of the best ways to track opioid abuse. Task force members called for the creation of a separate, nonprofit entity to collect better data on the problem.
More data could help doctors prescribe opioids less often, said Sen. Jim McClendon, R-Springville, a task force member. If doctors could see how they compare to others in their field, in terms of numbers of prescriptions written, they might self-regulate.  
More data would "arm that provider to tell the patient 'I can't do that,'" McClendon said. "Sometimes it's hard to resist a patient."
The task force's plan is due on the governor's desk by Dec. 31.