State Sen. Del Marsh, R-Anniston, said Monday that he's not in the running in the 2020 U.S. Senate race.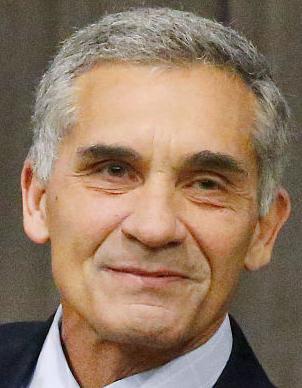 "I'm not running, and I've not made any plans to run," Marsh said in a telephone interview with The Anniston Star.
Marsh, the president pro tempore of the Alabama State Senate, is one of the most influential people in state government – and a perennial non-candidate for higher office. More than once, the Montgomery rumor mill has pegged him as a strong candidate for governor or U.S. Senate. Marsh has never jumped in to any of those races.
The 2020 race looms large for the GOP because the seat is now held by Sen. Doug Jones, D-Birmingham, who barely squeaked by a scandal-plagued Republican Roy Moore in a 2017 special election. Jones was the first Democrat elected to the Senate from Alabama in a quarter-century, and he could face strong headwinds for re-election.
So far, only two Republicans have said they're officially in the race: U.S. Rep. Bradley Byrne, R-Mobile, and former Auburn football coach Tommy Tuberville. But Marsh seemed to send hints of a coming run, including Facebook ad in February that criticized Jones on the abortion issue.
Marsh said Monday that he had considered a run, but has decided against it. That comment came during a call about legislation Marsh had filed last week. Marsh's proposal would add an amendment to the Alabama Constitution of 1901 stating that "only" a citizen of the United States can cast a vote in the Alabama county where they live. The constitution now says "every" citizen living in an Alabama county can cast a vote. The amendment, if it passed, wouldn't affect provisions that keep some convicted felons from voting.
"It's clarifying the law," Marsh said. Marsh said he wasn't aware of non-citizens actually voting anywhere in Alabama, though he said many states have moved to specify that noncitizens can't vote.
"I can't tell you that this is a problem at all," he said. He said a conservative group asked for the bill and that he wanted to get ahead of potential voting problems. Asked if it was a move to appeal to conservatives in a Senate race, Marsh declared he wasn't running.
A Mason-Dixon poll earlier this month had Marsh fifth among prospective candidates for the GOP nomination, with 4 percent of Republican voters saying they'd choose him. Roy Moore was the leader in that poll, but with only 27 percent of the vote in a crowded field. A full 25 percent were undecided.
Lori Owens, a political science professor at Jacksonville State University, said name recognition plays a major role in early polls – and she said that Roy Moore's name recognition is hard to beat. Moore had a long career as a judge in Alabama involved in legal disputes over the Ten Commandments in the courtroom, before a blistering 2017 Senate campaign in which several women accused him of sexual misconduct.
"You can get name ID if you don't have it," Owens said. "But usually it takes a lot of money."