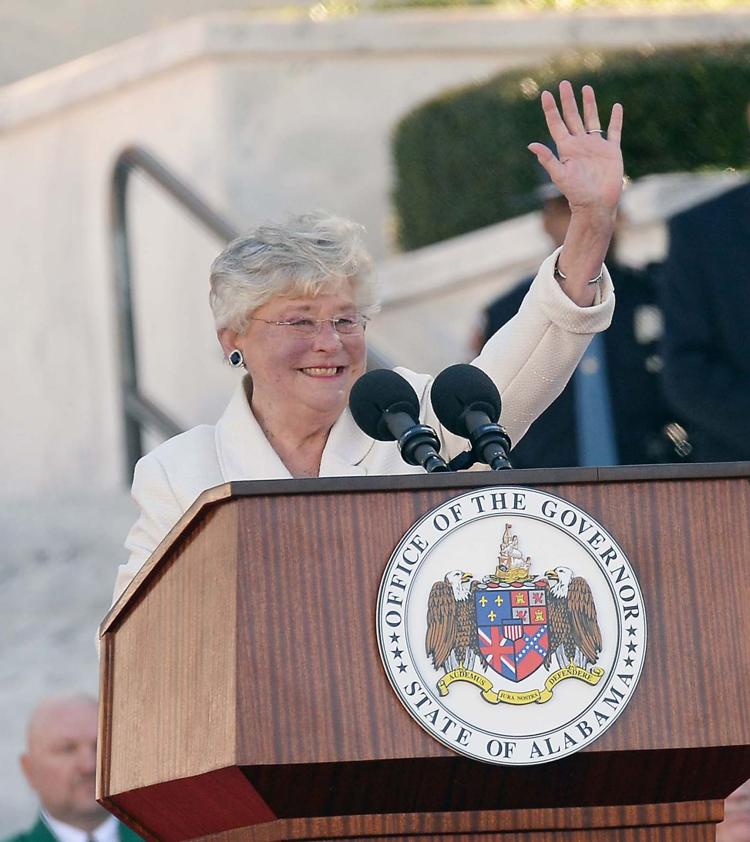 Anniston Mayor Jack Draper knows what he'll ask of Gov. Kay Ivey when she arrives in the city this week.
"We desperately need the state's help with McClellan," Draper said of the former Army base that once was the city's lifeblood.
Draper and other local leaders will get a chance to tell the governor exactly what's on their minds this Friday, as Ivey arrives in Anniston on the last stop of her "listening tour" across the state.
For the past two months, Ivey has criss-crossed Alabama on her tour, riding a Bush Hog at the factory in Selma, handing a giant check to college officials in Mobile and touring the new high school in Auburn. At every stop, she sat down with local elected officials and business leaders – sometimes behind closed doors – in what's been billed as an attempt to find out what communities want from their state government.
"In just about all these places, the talk was about infrastructure," said Ivey spokesman Daniel Sparkman. Montgomery officials went through a detailed list of roads that needed fixing, Sparkman said. Airports and broadband came up in other cities, he said.
Those concerns just happen to dovetail with growing talk, among Republican leaders, of 2018 as the year lawmakers will deal with roads and bridges – and how to pay for them. House Speaker Mac McCutcheon has long argued that Alabama should increase its gas tax, an 18-cent-per-gallon fee that hasn't gone up in 25 years.  State lawmakers are also keeping a close eye on Washington, which could ask states to kick in more money for infrastructure if President Donald Trump can get an infrastructure bill passed.
Development of the former base has been a years-long process, though, and Draper says accidents and deaths on the parkway show a need for more work on safety measures.
"It's important for the city of Anniston," he said. "It's an economic engine."
Outside city halls and county courthouses, however, the wish list may be a little more complicated. In man-on-the-street interviews with randomly selected local residents last week, The Star found mixed opinions on roads and taxes, as well as a smattering of other issues that may not have been on the "listening tour's" radar.
"There's a lot of drug addiction out there, though I don't know that there's anything the governor could do about it," said Trent Underwood, who buys and sells odds and ends at his store, Needful Things, in Wellborn.
Underwood isn't bound by the same record-keeping requirements as a pawn-shop owner, but he's taken to keeping records because of the number of people who bring in big-ticket items to sell for $25 or $30. An old pickup truck or new electrical generator for sale at that price has to be stolen, he said, and he won't buy it. Customers sometimes admit they're scrounging for money to get high.
Ivey has in fact appointed a task force to address the rise in opioid addiction, which met for the first time last week.  Underwood said he hasn't heard of it. A long-time Republican and supporter of President Donald Trump, he said he follows politics at the national level mostly – and likes Alabama as it is, in part because of low taxes.
The idea of a gas tax doesn't sit well with him.
"It seems to me like they're finding roads to do work on just for the hell of it," he said.
Others, though, say they see the need.
"Some of our roads are unbelievable," said Sue Kilpatrick of Oxford. A frequent traveler on Interstate 20, Kilpatrick says some of the exits in St. Clair County are in such disrepair, they're a hazard to drivers.
Ask local residents how to pay for state services, and one long-debated topic rises again and again.
"Tell her we want a lottery," said Oxford resident Gloria Atkins, one of several who mentioned the idea to The Star.
Alabama has flirted seriously with the idea of a statewide lottery several times in the past two decades. Lawmakers in recent years have been unable to line up behind a single lottery proposal, in part because of disagreements about where the money should go – to the state's cash-strapped General Fund or to its second, separate budget for schools.
Jack Wright of Southside doesn't care where the money comes from, but he does think schools should be the governor's top focus.
"I'd like to see us put more emphasis on educating our children," Wright said. "Alabama will always be on the bottom until we deal with that."
Wright and others who spoke to The Star were also concerned about what's being taught in the state's schools, and whether it's actually useful in the workplace.
"We need to be teaching kids how to really do something for a living, not just do well on a test and make the city look good," said Bob Mayfield, a retired soldier from Weaver. Mayfield and others mentioned specific skills, such as welding, that the state's K-12 schools could be teaching.
It's one area where local residents may be on the same page with the local leaders Ivey is meeting. Sparkman, the Ivey spokesman, said "workforce development" – shorthand for graduating students with skills in a needed trade – has also been a major topic in Ivey's meetings.  
The Star hopes to present Ivey with questions directly from local residents and readers during her visit to the city. To share your thoughts, send an email to tlockette@annistonstar.com or post your thoughts on social media with the hashtag #listentoAnniston.