MONTGOMERY — Alabama voters will choose a new U.S. senator in a series of elections this year, Gov. Kay Ivey announced Tuesday, nearly a year earlier than her predecessor had planned.
"This special election will remove any cloud of doubt that might have been associated with the previous process used by the former governor," Ivey said in a Capitol press conference.
According to an announcement from the governor's office, party primaries to choose nominees will be Aug. 15, with runoff elections Sept. 26, if necessary; the general election for the seat will be Dec. 12.
"The rule of law always must prevail," Ivey said, an apparent reference to state law that says the state should hold elections "forthwith."
Bentley said that election would be in 2018, at the same time voters are set to chose a new state government — with primaries in June and the general election in November. Sessions' Senate term is up in 2020.
Critics of Bentley said state law requires a special election as soon as possible, and that a year and a half in the seat for Strange was too long before allowing voters to weigh in.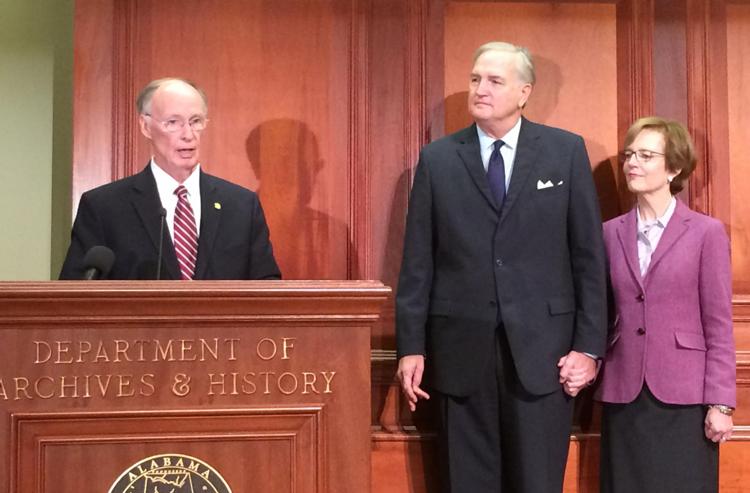 Bentley's resignation halted an impeachment effort in the Alabama House of Representatives. That impeachment effort had paused last year after it was revealed that Strange's office was conducting its own investigation into allegations against Bentley, a fact that raised questions about the appropriateness of the governor's appointment of Strange to the Senate.
Ivey last week seemed undecided on the issue of the special election, saying she wasn't sure the state needed to spend the estimated $15 million a separate special election would cost.
Ivey's executive order gives candidates until May 17 to qualify for the race. Strange appears to be the only candidate to file paperwork in the race so far, though Pelham resident Ron Crumpton, the Democratic nominee in the 2016 race against Sen. Richard Shelby, has indicated he'll run for the office.
"With the cloud still around former Gov. Bentley's appointment of Strange to the Senate and the Trump Russia scandal growing every day, there has never been a better time for Democrats to win in Alabama," Crumpton was quoted as saying in a press release Tuesday.
"As I've said for months, I'm a candidate and I'm ready to run whether the election is next month or next year," Strange was quoted as saying in a press release Tuesday.
Alabama Senate President Del Marsh, R-Anniston, said he's been studying a possible U.S. Senate run, and will decide by the end of the week.
"Do I think my skill set is better for the job? I do," Marsh said. "The question is, is this the right time to do it."
Marsh said he had considered a run for governor in 2018, but decided he was "comfortable" with Ivey in the office.
"If she chooses to stay in that position, I'd have a real hard time running against Gov. Ivey," Marsh said.
Rep. Ed Henry, R-Hartselle, announced Tuesday afternoon that he would run against Strange. Long a critic of both Strange and Bentley — Henry introduced articles of impeachment against the former governor a year ago — Henry said he'd won his battle against Bentley and wanted to go to Washington to "help Trump drain the swamp.
"Luther Strange is a Mountain Brook boy who's aspired to nothing but becoming a U.S. senator," Henry said.
According to reports filed with the Federal Election Commission, Strange already has $239,000 on hand to spend on campaigning in the special election.
"The people of Alabama won," said State Auditor Jim Zeigler, who filed suit earlier this year to force Bentley to hold the special election earlier than 2018.
Zeigler, long known as "Mr. 49 percent" for his long string of election losses, is two-for-two this year in his battles against Bentley. Earlier this month, the state Ethics Commission found probable cause that Bentley had violated campaign finance and ethics laws, a move that likely pushed the ex-governor toward resignation. Zeigler filed the complaint that led to the finding.
Zeigler, whose job involves taking inventory of state property, said his office found no missing items in the governor's office after Bentley's departure, though he has not finished  counting "silver and other valuables."
Ben Cunningham added reporting from Anniston.