GADSDEN — Danny Crownover has a vague memory of the Olde Hickory House restaurant that stood on Meighan Boulevard in Gadsden 40 years ago. If his memory of it were sharper, he would have had a better day Tuesday.
"I bet 90 people have called me to ask about it today," said Crownover, president of the Etowah County Historical Society, which operates a small library and museum of local history in a Gadsden community center.
Crownover spent much of the day Tuesday talking to callers who wanted more details on the Hickory House, an obscure and long-defunct Gadsden restaurant that has become a key clue in America's biggest and most troubling political mystery.
The restaurant did exist. And that matters because U.S. Senate candidate Roy Moore, a Republican former judge and social conservative folk hero, has spent the last week fighting off allegations of sexual misconduct.
First came a Washington Post story in which four women said Moore had made sexual advances toward them when they were teens and Moore an assistant district attorney in his 30s. One of the women said she was 14 when Moore initiated an encounter with her.
On Monday came the most serious charge: Anniston resident Beverly Young Nelson said when she was a 16-year-old waitress at the Hickory House in 1977, the then 30-year-old Moore sexually assaulted her. Nelson said Moore offered her a ride home from the restaurant, but instead drove to a dark spot behind the restaurant and groped her, leaving a bruise on her neck.
"I thought that he was going to rape me," Nelson said in a televised Monday press conference. "I was twisting and I was struggling and I was begging him to stop."
Nelson also produced a high school yearbook she said had been signed by Moore before the alleged attack, with an inscription that mentioned the Hickory House and the date "12-22-1977."
Another ad for The Olde Hickory House in Gadsden, Ala. from Gadsden Times, Jan. 9, 1978. Via Google Newspaper archive. pic.twitter.com/lFRUkvYzeE

— WilliamThornton (@billineastala) November 14, 2017
Moore denied everything in Nelson's story, including her account that he was a regular customer at the Old Hickory House.
"I don't even know the woman. I don't know anything about her. I don't even know where the restaurant is or was," Moore said in a press conference Monday.
The news had many Gadsden residents searching their memories, wondering whether there was an Olde Hickory House, where it was and how well-known it was forty years ago.
The restaurant was real, and it was on Meighan Boulevard. Gadsden city directories at the Glencoe Public Library list it at 305 Meighan Boulevard in 1978 and 307 Meighan Boulevard in 1980. A January 1978 ad in the Gadsden Times placed it at 207 Meighan. By the mid-1980s, the restaurant is no longer mentioned in directories.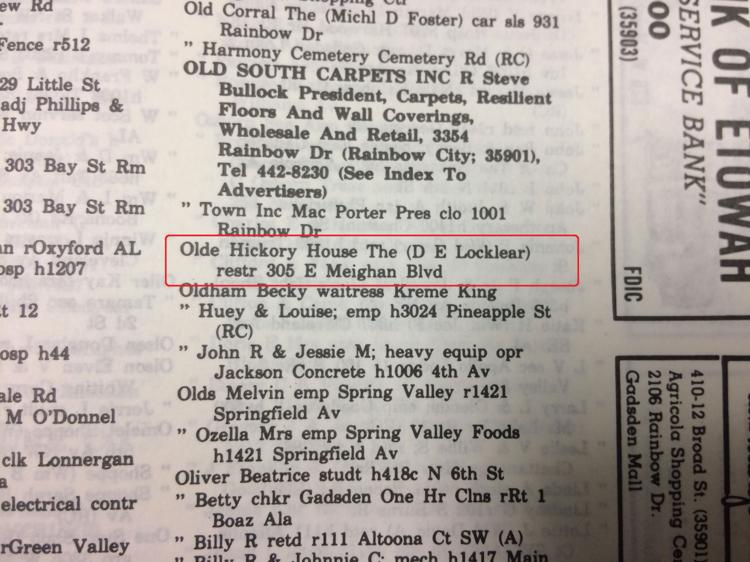 It's unclear why those addresses vary, but all would place the restaurant in front of plenty of Gadsden drivers. Meighan is the city's main drag, and the Hickory House was near the base of one of the city's biggest landmarks, the bridge over the Coosa River. It's less than a mile from the Goodyear tire plant that was the city's main employer at the time on the side of the river informally known as East Gadsden.
Yet few who recall the restaurant remember it well, and none of Moore's colleagues questioned by The Star on Tuesday from the time could say whether he was a regular there or not.
"I don't really have a dog in this fight," said Tom Davis, a Gadsden lawyer who was in practice downtown in the late 1970s. Davis said he'd encountered Moore back then, but "couldn't place" the Olde Hickory House.
"I'm sorry, I can't help you," said another longtime lawyer, James Pruitt. "I never even ate at that restaurant. I believe it was in East Gadsden."
Linda Stough, a volunteer for the county historical association, remembers the sign put up by palm-reader Elaine Johns at 302 Meighan. Stough had her palm read there in the 1970s — Johns told her she'd meet a dark, handsome man — but she says she can't picture the look of the Hickory House next door.
Others are searching, though. Kamesha Dupree of Anniston, who manages the Rally's restaurant now at 303 Meighan, said several people have stopped by to ask about the property's past. She doesn't have answers.
"I wasn't even born in 1977," Depree said.
Many Gadsden residents approached by The Star Tuesday said they didn't want to comment on the Moore situation, though most seemed eager to mine reporters for information about the Hickory House.
By Tuesday, naysayers in the blogosphere were claiming the restaurant was a hoax all along. Some pointed to a Yelp review of a later Hickory House at a different address. Moore's wife, Kayla, reposted one of the fake-Hickory-House theories, complete with a photo apparently of another restaurant.
The truth is hard enough to find when you're trying. Barbecue joints named "Hickory House" were commonplace in the area in the 1970s, if ads in past issues of The Star are any indication. The Meighan Boulevard Hickory House isn't listed as a registered business with the Alabama Secretary of State, though city directories list it as belonging to D.E. Locklear, a businessman who owned multiple businesses in Anniston as well.
Attempts to reach Locklear were unsuccessful Tuesday.