Even Alabama's bicentennial celebration is typical Alabama: complicated and complex, prone to historical revisionisms and grade-school explanations. If 200 years of Alabama history are fraught with shades of gray — in civil rights, in politics — the observance of the state's birth is just as murky.
Yet, it is our story, the story of an east Alabama once dominated by Native Americans, the Creeks and Cherokees, an influx of pioneers squatting on acres the federal government didn't want them to have — yet — and spasms of land grabs by greedy speculators.
This weekend marks the end of Alabama's official bicentennial commemoration, a three-year effort designed to honor the state's Dec. 14, 1819, parturition, memorialize its heroes and launch a deeper understanding of what Alabama is and who its people are.
A blunt question, then: Does Alabama's 200th birthday apply to east Alabama? The answer is, well, murky. 
"I don't disagree. It's very confusing," said Huntsville native Don Christian, president of the Order of the First Families of the Alabama Territory, a nonprofit in which membership is restricted to those who can trace their lineage to pre-statehood Alabama. "The reality is that our history is very complex."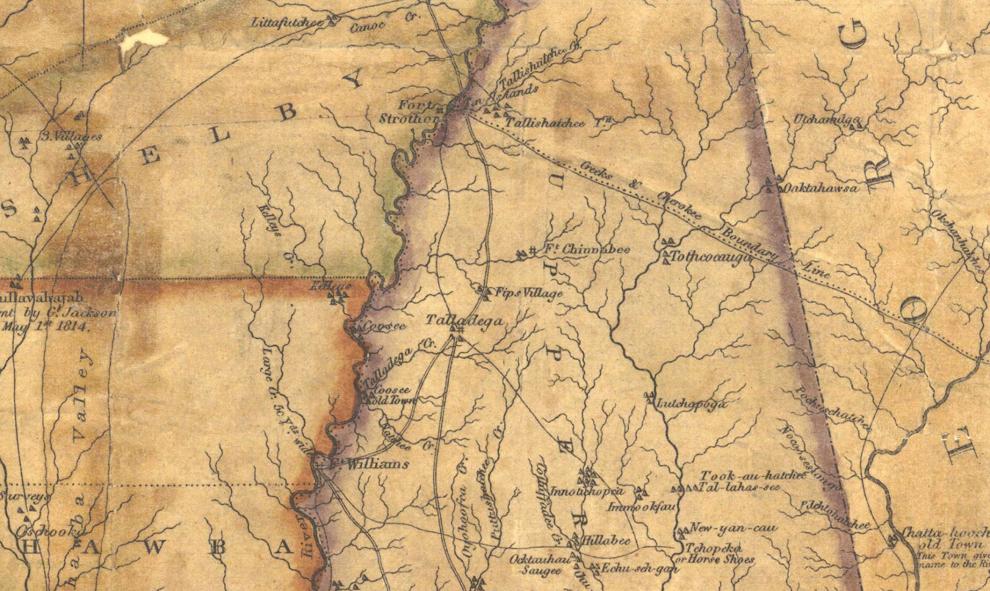 From a territory to the 22nd state
By 1810, the Mississippi Territory's legislature had carved only three counties — Madison, Washington and Baldwin, though not with their modern boundaries — out of today's Alabama; the rest was Native American tribal land within the territory's borders. In 1818, the year after Mississippi's statehood, the Alabama Territory contained 23 counties. That number rose to 29 by the time Alabama became America's 22nd state in December 1819 during the presidency of James Monroe.
None of those counties were in east Alabama.
Instead, Cherokee and Creek Indian tribes still controlled east Alabama, roughly from southern Jackson County in the north, northern Barbour County in the south and Talladega and Coosa counties to the west. Today's Calhoun, Cleburne, Cherokee, Talladega, Clay and Randolph counties sit squarely in the middle of what remained sovereign Native American land weakly protected by feckless federal treaties when the state was created.
The historical murkiness arises from how you merge statehood with the east Alabama counties' birthdates. Which carries more weight? It's a matter of interpretation, likely. 
What's clear is that the nine counties born in 1832 after the Treaty of Cusseta did not exist in 1819, which makes this weekend's celebration problematic. In fact, there's a case to be made that the bicentennial for east Alabama — for Anniston, Oxford, Jacksonville and Talladega — won't arrive for another 13 years, in 2032.
Here's why. At statehood, most of east Alabama consisted of sovereign Native American homelands surrounded by the fledgling state's new border, an unresolved conflict of indigenous ownership and the United States' Manifest Destiny. Pioneers living then in today's Calhoun or Talladega counties, for instance, were ostensibly illegal immigrants subject not to Alabama or federal laws but to Native American oversight — which created even more murkiness, an untenable situation that worsened during the ensuing decade.
Alabama's easternmost regions at statehood were home to Cherokees (to the north) and Creeks (in the central areas and the south) who numerically dominated the squatters who had migrated largely from South Carolina, Georgia and Tennessee. Documentation at the Public Library of Anniston-Calhoun County unearths the names of white families who moved into the Choccolocco and Alexandria valleys just prior to the formation of Benton, now Calhoun, County in 1832 after the Treaty of Cusseta. 
In some cases, white migrants — such as Dudley Snow, perhaps Oxford's most famous original settler — bought east Alabama land directly from Indians instead of federal land grants or private speculators. More common, though, were white families who simply settled in Indian territory in violation of federal treaties that prohibited such incursions.
"This place had always been ripe for squatters," said Jacksonville State University archeologist Harry Holstein, "so I don't doubt that there were whites all over these counties speculating and figuring out what they were going to do."
Tensions and remoteness in east Alabama
East Alabama didn't resemble Mobile, with its French and Spanish cultural influences, or Huntsville, which was incorporated eight years before statehood. The region's landscape was largely unscathed from human interference, with intact forests of pine and hardwoods, unfenced grasslands and a smattering of Indian trails connecting open spaces between mountain gaps. Among that landscape existed Creek Indian villages and the growing number of dogtrot houses built by white settlers.
In 1870, the Jacksonville Republican newspaper printed a series of letters from an anonymous early Benton County resident whose details addressed life here more than a decade after statehood. If people were sparse in January 1833, as he wrote, one can imagine the remoteness a decade earlier. 
"There was no security for settlements beyond a squatter claim," the settler said. "Many of the squatters whose improvements went little beyond a rude cabin, a patch and small 'deadening,' sold out to ready purchasers of more substance and disappeared, some for a 'new country' in the West and some for more remote and unsettled portions of the county."
As for the Creeks who lived among these white squatters, they were "a proud, haughty and arrogant race of men; they are brave and valiant in war, ambitious of conquests, restless, and perpetually exercising their arms, yet magnanimous and merciful to a vanquished enemy when he submits and seeks their friendship and protection," according to famed American naturalist William Bartram, whom University of Alabama historian Albert Burton Moore in 1927 famously quoted in "History of Alabama and Her People."
The rise of violence and governmental authority
If statehood brought an uneasy existence between the Creeks and squatters, the 1820s proved far worse. The Federal Road through Alabama opened a spigot of additional settlers and speculators, which altered the region's demographics and heightened tensions between the Creeks, the state government and federal officials. Federal treaties that claimed additional swaths of Creek land didn't firmly enforce provisions to thwart white intrusions. In Washington, the Indian-removal policies of Presidents Andrew Jackson and Martin Van Buren proved cancerous to any hopes of an equitable solution.
Violence often went unchecked. As early as 1821, Methodist missionaries from South Carolina were dispatched to the sparsely populated portions of east Alabama; the Rev. William Capers opened the Asbury Manual Labor School And Mission near Fort Mitchell in 1822 to "teach Creek children reading, writing, and other 'civilized' skills," according to records at Columbus State University in Georgia. The school remained open for nearly a decade. And as the 1820s ended and the white population ballooned, Alabama's desire to claim its eastern territory and the federal government's wish to finally force Creek removal west of the Mississippi River finally reached their collective apex.
The Treaty of Cusseta, signed in 1832, ended the Creek Nation's reign over east Alabama land and promised Creek chiefs and other Creeks individual access to farmable acreage and monetary payments. But that treaty dissolved into a bleak reality for Native Americans who were either forced to move west against their wishes, sold their Alabama land to speculators at unrealistic prices, or worse.
Nine counties — Barbour, Benton (now Calhoun), Chambers, Coosa, Macon, Randolph, Russell, Talladega and Tallapoosa — were born from the Cusseta treaty. Four others in east Alabama were created after the 1830s treaty removal of the final Choctaw and Cherokee settlements.
Today's Alabamians and the state's celebration
That doesn't diminish the interest Don Christian, the president of the Order of the First Families of the Alabama Territory, has in this seminal period in the state's history. For him, it's personal.
Christian, a north Alabama attorney, was among a small group of people who in 2017 who created the nonprofit as a hereditary society separate from the state-run bicentennial commission. Christian suspects he has "close to a dozen" relatives whose lineage predates statehood, but thus far he's only proven two. 
Earlier this week, the First Families nonprofit had 81 members, and Christian expected to add several more by this weekend. One member is Calhoun County's Hunter Gentry, the director of Historic Main Street Oxford. He gained membership through his great-great-great-great grandmother, Mary Gray Deason, who was born sometime between 1817 and 1819 in Autauga County. At 24, Gentry may be First Families' youngest member, Christian said.
This uncomfortable history doesn't answer the aforementioned and perhaps unanswerable question: Does this weekend's bicentennial accurately apply to east Alabama? Or must this part of the state wait until 2032 to hold its 200-year celebration?
Christian, who holds a bachelor's degree in history from the University of Alabama, plays along and wonders. "You could certainly make that argument," he said. "I just don't have enough experience about early Alabama to (definitively) say."