Adia McClellan Winfrey believes Congress should keep up the probe into alleged Russian interference in the 2016 election —  and she says impeachment of President Donald Trump would be a "viable response" if collusion did happen.
"This is an issue too big to drop, and it has long-term implications that could affect future elections," wrote Winfrey, a Democratic candidate for Alabama's 3rd Congressional District seat, in an email to The Star.
Winfrey's primary opponent, Mallory Hagan, declined to talk in detail last week about the investigation, though in recent weeks she has occasionally called out the president on Twitter.
"Delete your account," Hagan tweeted in May, after Trump praised a Fox News commentator.
On Tuesday, Democrats in the 3rd Congressional District will choose one of these women as their nominee to run against Rep. Mike Rogers, R-Saks, who has held the area's House seat since 2003. Rogers has no opponent in the GOP primary.
While Rogers has become increasingly vocal in his support of President Donald Trump in recent weeks — calling, among other things, for an end to the Russia probe — talking about Trump and Russia is altogether trickier for Alabama Democrats, political science experts say.
"You don't need to be a rocket scientist to see that Donald Trump has a following in Alabama," said Stephen Borrelli, a professor of political science at the University of Alabama. "Attacking him is probably not going to be a winning strategy in a general election."
Impeaching Trump may be a top priority for many of the area's Democrats, but one wouldn't know it from looking at either the Hagan or Winfrey campaigns. Both, instead, have tried to shift the focus to kitchen-table issues such as health care or school safety. In interviews with The Star in April, Hagan said constituents weren't asking about impeachment on the campaign trail; Winfrey said she disagrees with Trump but is "not using (her) energy to impeach him."
Both may be following the model of U.S. Sen. Doug Jones, the Alabama Democrat who won a surprise victory in last year's special Senate election. Even before allegations of sexual misconduct upended Republican Roy Moore's campaign, Jones largely kept his focus on issues such as children's health insurance and a promise to work across the aisle.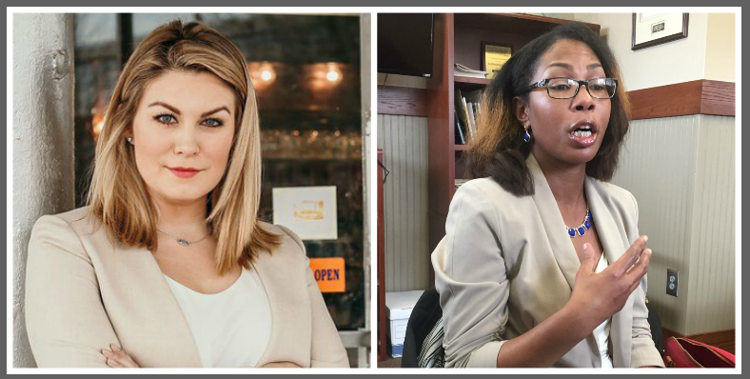 "Jones was below-average in terms of his criticism of Trump, and he won," Borrelli said.
Both women have said they were inspired to run, at least in part, by the Jones victory. Hagan, an Opelika native and former Miss America, quit her job as a television news anchor earlier this year to enter the race. Winfrey, a clinical psychologist from Talladega, was a campaign volunteer for Jones in the 2017 race.
If avoiding Trump talk is the plan, both candidates have largely stuck to it, though the president's frantic Twitter thumbs can be hard to completely ignore. When Trump on May 20 first suggested that the FBI, and not his own campaign, should be investigated, Hagan shot back a tweet.
"I hereby declare that you sound guilllllllllllty," she wrote.
Rogers, meanwhile, has in recent weeks upped the ante on the Trump-Russia probe. In a May 23 press release, the sitting Congressman called for an end to special counsel Robert Mueller's probe. Rogers also called for creation of a second special counsel to investigate the FBI.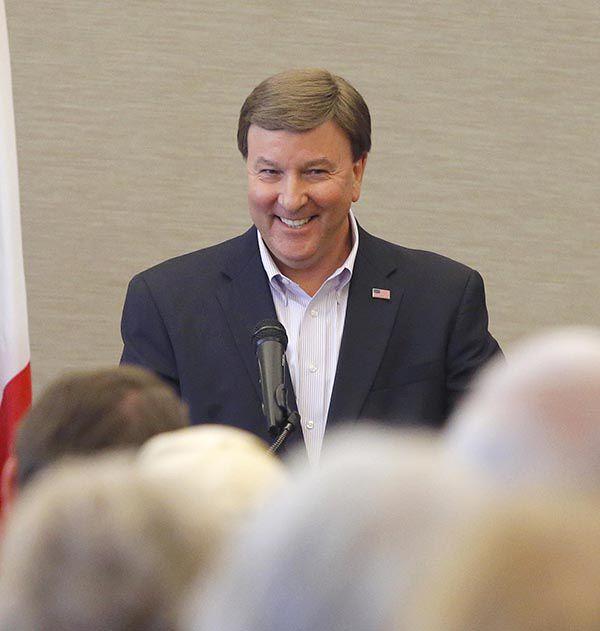 Rogers has long been a supporter of Trump, but in recent years, he's also been among the loudest Russia hawks in Congress.
Jess Brown, a retired political science professor at Athens State University, saw the statement as an odd call on Rogers' part. A Republican who isn't facing a primary challenge has little incentive to line up more squarely behind Trump right now, he said.
"I'm old enough to remember some of the politically immature Republicans who didn't keep their powder dry and went full-bore for Nixon," he said. "That turned out to be a bad idea."
Attempts to reach the Rogers campaign for more detail were unsuccessful.
Last week, The Star asked both Democratic candidates for their response to the Rogers proposal. What should Democrats do if Trump fires Mueller? If a second special counsel is appointed, and Democrats win control, should they move to end that second investigation? Should Trump be impeached?
Winfrey, in an email to The Star, said the Russia probe should continue. Any second investigation should be shut down, she wrote, to keep focus on the Russia probe. And impeachment is a viable option if the probe reveals collusion with Russia, she said.
"Our democracy is built on the sanctity of our election process, and collusion with a foreign government to impact our election process is treasonous," she wrote in an email sent Saturday morning.
Hagan's spokeswoman, meanwhile, said in an e-mail that the candidate didn't intend to respond to the Star's questions about the Rogers column.
Political science professors say both Democrats have good reason to be careful about making bold pronouncements about impeachment or the probe into Trump. In a deep red state — Trump won Alabama by 28 points in 2016 — broadsides against Trump aren't likely to attract many new general election voters.
Borrelli said the Democratic nominee, whoever she is, will  likely take a subtler strategy. Vague references to bad behavior — behavior that's already in the news — might work better than direct attacks.
"They can send out messages without saying it's all about Trump," he said. "Republicans have used dog-whistles in the past. Democrats can send coded messages, too."
There's also the chance that Trump's counterattack strategy is working. The President in recent months has used Twitter to level counter-accusations each time an indictment or an embarrassing detail emerges from the Mueller probe.
"There's a bit of fatigue setting in," said Lori Owens, professor of political science at Jacksonville State University. "I'm not even sure the extent to which people are really engaged in it."