A bill on Gov. Kay Ivey's desk would require some sex offenders to undergo "chemical castration" in exchange for an early release from prison.
If the bill becomes law, it's likely to face a court battle – not tomorrow, but maybe in a decade.
"There's really no way to file a suit until a judge imposes this penalty," said Randall Marshall, executive director of the American Civil Liberties Union of Alabama.
The Alabama Senate voted 27-0 last week in favor of a bill that would require regular treatment with drugs that "block the production of testosterone" as a condition of parole for anyone convicted of a sexual offense against a child 12 years old or younger. The bill passed the House 72-16 on May 21.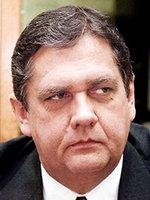 The bill's passage was a surprise victory for Rep. Steve Hurst, R-Munford, who has been proposing chemical castration in bills for years. Hurst has also introduced bills requiring surgical castration for some sex offenders. None of his prior bills came close to passing.
"Some people say it's cruel, but what could be more cruel than abusing a child," Hurst said in a telephone interview Wednesday.
A handful of other states have similar laws requiring paroled sex offenders to use medicines designed to block male hormones. Most have used medroxyprogesterone acetate, better known by the brand name DepoProvera, which has been more widely used as a birth-control shot for women.
Hurst's bill suggests the same drug, but doesn't limit the courts to using medroxyprogesterone. He said he hopes doctors will study parolees and find the best formula to reduce their sexual desire.
"I want something that works," he said. He noted that there's nothing in the bill that outlines that process of study.
It's unclear whether there are any broad studies to show whether chemical castration actually reduced reoffending among sex offenders. Law review articles from the 1990s and early 2000s, pointing to earlier scientific studies, suggest that the treatment works only for a certain type of sex offender.
"We do think the bill is ill-advised, because the underlying assumption is that sexual abuse of children is about sexual gratification, but it's driven by power and control," said Marshall. He said the ACLU believed the bill could be a cruel and unusual form of punishment and posed a risk to privacy rights in that the government would be ordering someone to take a medication.
Under Hurst's bill, the offender would have to bear the cost of the medication. Many ex-felons, particularly sex offenders, struggle to find gainful employment after their release. Hurst said the state would bear the cost of the medication for parolees who prove they're indigent. The law doesn't specify which government agency would bear that cost.
The bill generated headlines across the state after its passage, but Alabama residents may not hear much about it for years to come. Hurst said the bill would affect only people convicted after it becomes law. Those people might not come to the parole board for another 10 years or more, Hurst said.
Marshall said a suit against the bill likely wouldn't happen until that time.
Asked if Gov. Kay Ivey intended to sign the bill, a spokeswoman for the governor's office on Wednesday said Ivey was "reviewing" it.