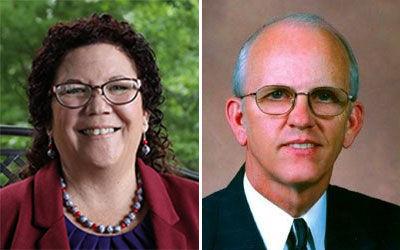 Pam Howard believes Jacksonville's hospital could have been saved, if the Republican-run state Legislature had been willing to expand Medicaid.
"We are one of only a few states that haven't done that," said Howard, a Democratic candidate for the state House of Representatives. "I don't understand the logic behind it. We are leaving literally billions of dollars on the table."
Incumbent Rep. Koven L. Brown, R-Jacksonville, doesn't entirely disagree, though he says fixing the state's broken budget system is his top priority.
"I want to be part of fixing our General Fund problem in the next term," he said.
Brown and Howard are both in the running to represent House District 40, which stretches across the middle of Calhoun County from the Neely-Henry Dam to Rabbittown and dips south through Iron City and Choccolocco. A tornado tore through the heart of district on March 19, wrecking houses along Alabama 204 before ripping into Jacksonville. A few months after the storm, the town's hospital closed after a long struggle to stay afloat financially.
Neither candidate was far removed from the storm's effects. Howard lives in the Angel community west of Jacksonville, where she and her husband run a home security business. Brown lives in Jacksonville, and is the former owner of the funeral home chain that still bears his name.
Brown took office shortly before the Republican sweep of 2010, running earlier that year in a special election to fill a vacancy left by the death of lawmaker Lea Fite. Sometimes an unorthodox Republican, Brown has been one of the Legislature's leading advocates of medical marijuana, and opened his 2018 election bid by saying the Legislature needs to "man up" and consider tax increases. He's also the Legislature's resident expert on the funeral home industry, and has proposed several bills to regulate that industry.
Howard is a newcomer to electoral politics, though she says she's been worried about some of Alabama's toughest issues for some time. The state's schools have been among the country's lowest-ranked for years, she notes. Infrastructure and health care gaps aren't getting fixed, she said.
"I see the problems, and I don't see anybody fixing them," she said.
Howard said the closure of rural hospitals in Jacksonville and other small towns could have been avoided if Alabama had expanded Medicaid to cover people up to 138 percent of the poverty level under the Affordable Care Act. The cost of uninsured patients helped put those hospitals underwater, she said.
"When their bills aren't paid, we lose the rural hospitals and we pass the cost on to bigger hospitals," she said.
Brown, a former board member of the hospital, said the lack of expanded Medicaid did play a role in the hospital's closure — though he said the hospital had been losing money for years. Brown opposed expansion in the past, but on Wednesday he said he's open to discussing it in the future.
He said former Gov. Robert Bentley had many Republicans convinced that the federal government would "pull the rug out" from Medicaid expansion in future years, leaving the state with massive costs. Brown said he's no longer convinced that prediction is true.
But Brown's top priority is untying the knot of state budgets. Alabama runs its government on two budgets, one for schools and one — the General Fund — to pay for everything else. Billions in additional tax revenues are earmarked for specific agencies and go untouched by lawmakers in the budget process. The General Fund, consumed by the cost of Medicaid and prisons, has been the subject of more than one budget crisis in recent years.
Brown believes a battle over removing earmarks is coming soon, next year or in 2020.
"It's going to get ugly," he said. "Every county has some kind of earmark that someone's going to defend."
Howard said the state should review some earmarks, but she also wants Alabama to look at revenue sources it has long ignored. The state has some of the lowest property taxes in the nation, and it charges sales tax on food — two quirks that Democrats have long criticized as shifting the tax burden to the poor.
Howard said most Alabamians would pay less if the state eliminated the food sales tax and boosted property taxes to make up the difference. She's not convinced by arguments that low property tax helps the state attract business.
"If that's our big draw for business, where's the business?" she said. "We can't keep depending on sales and income tax, because we're a low income state. That's why we're broke."
Brown said the state could double its property tax and still be competitive with its neighbors. He said it's not a solution, because the tax increase would require a statewide amendment vote.
"Do you really think the people of Alabama are really going to vote to increase their own taxes?" he said.
Howard is for a vote on a statewide lottery. Brown said he's not opposed to one. Howard would set aside the money for education; Brown prefers a 70-30 or 80-20 split, with most of the money going to the General Fund.
Both agree Calhoun County needs a new jail to replace its current facility. Both say it will be costly — $40 million to $50 million, by Brown's estimate. Counties in Alabama have little home rule, so it's likely the Legislature would play a role in finding money for the jail.
Brown said finding a revenue source the public would accept could be tough.
"People are not really keen on spending millions of dollars on jails," he said.
Howard said the state should avoid revenue-raising approaches that offer a temporary fix without looking at the underlying problems. That's how the current tax system was created, she said.
"We are our own worst enemy," she said.