At the height of debate over sexual abuse at Tutwiler Prison for Women, Alabama lawmakers set aside $250,000 to create an ombudsman who could take female inmates' complaints directly to the governor.
Then-Gov. Robert Bentley never created that office, and spent the money on a different program — a lapse that went largely unnoticed until state auditors uncovered it earlier this year.
"I don't know who within the administration made that decision," said state Sen. Cam Ward, R-Alabaster. "I try not to think back on those days."
Ward was one of the lawmakers who in 2014 advocated for an ombudsman within the governor's office to hear the concerns of women in the state's prison system — an office that would be independent from the Alabama Department of Corrections.
At the time, the department was still reeling from allegations from Tutwiler, where inmates in 2012 came forward with multiple claims of sexual abuse by guards, and later reports found prison staff responsible for the pregnancies of two inmates. Fixes to the problem proved slow; lawmakers in 2013 voted to set aside money for more security cameras at the prison, but by the end of the year construction had yet to begin.
In 2014, lawmakers put a line item in the state budget to create the ombudsman, potentially with staff, within the governor's office.
"We will decide later how, exactly, we will set that up," Bentley said later the same day. "But I do think it's a good idea."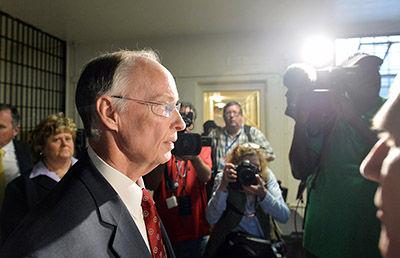 That office would have made up a significant fraction of the $1.4 million set aside for the governor's office. But a five-year audit of Bentley's office, released in April of this year by the state Examiners of Public Accounts found that Bentley's office spent the money instead on "strategies to reduce recidivism and improve public safety."
Carol Potok, director of the group Aid to Inmate Mothers, which works with Tutwiler inmates, said she doesn't recall hearing from an ombudsman in the governor's office.
"I think they never created it," she said. "I would probably know if they had."
Ward said the governor's office never seemed to be truly on board with the ombudsman position, convinced that other interventions, put in place after the U.S. Justice Department issued a letter finding a pattern of abuse at the prison, would suffice. Among those changes was the creation of a deputy commissioner for women's services within the Corrections Department.
The prison system also has a staff member dedicated to overseeing prisons under the federal Prison Rape Elimination Act. According to reports from the PREA office, there were 48 substantiated reports of nonconsensual sexual acts in Alabama prisons in 2016, the last year for which reports are available, and five substantiated reports of staff sexual misconduct.
In 2013, there were 13 substantiated reports of nonconsensual sex acts and two reports of staff misconduct. It's unclear whether the increase in numbers is due to a rise in sexual crimes or simply a reflection of better reporting.
Attempts to reach Department of Corrections officials for comment this week were unsuccessful.
Ward said he thinks an ombudsman in the governor's office is still worth considering.
"I do think it needs revisiting," he said.
Lawmakers in 2015 quietly dropped the ombudsman's office from the state budget. Bentley resigned from office in 2017, amid a scandal over campaign finance and an alleged affair with a married staff member.
Attempts to reach Bentley in Tuscaloosa, where he now practices medicine, were unsuccessful. So, too, were attempts to reach the staff for current Gov. Kay Ivey.
Auditors went over their findings with Ivey's staff in January, according to the Public Examiners report.