Two members of Alabama's congressional delegation seem to have found an issue both political parties can agree on: America needs more dogs.
In particular, bomb-sniffing dogs.
Rep. Mike Rogers, R-Saks, wants the United States to set up a domestic network of sniffing-dog breeders. Democratic Sen. Doug Jones want to create a research program to direct more money to the science of working dogs. Both men saw their bills move forward in Congress this month.
"Experts say there is a shortage of these dogs," said Heather Fluit, a spokeswoman for Jones. "The domestic agencies can't supply them fast enough, and we're looking to Europe to supply them."
The dog shortage is a real thing, said Cynthia Otto, director of the PennVet Working Dog Center, a dog-training research center at the University of Pennsylvania.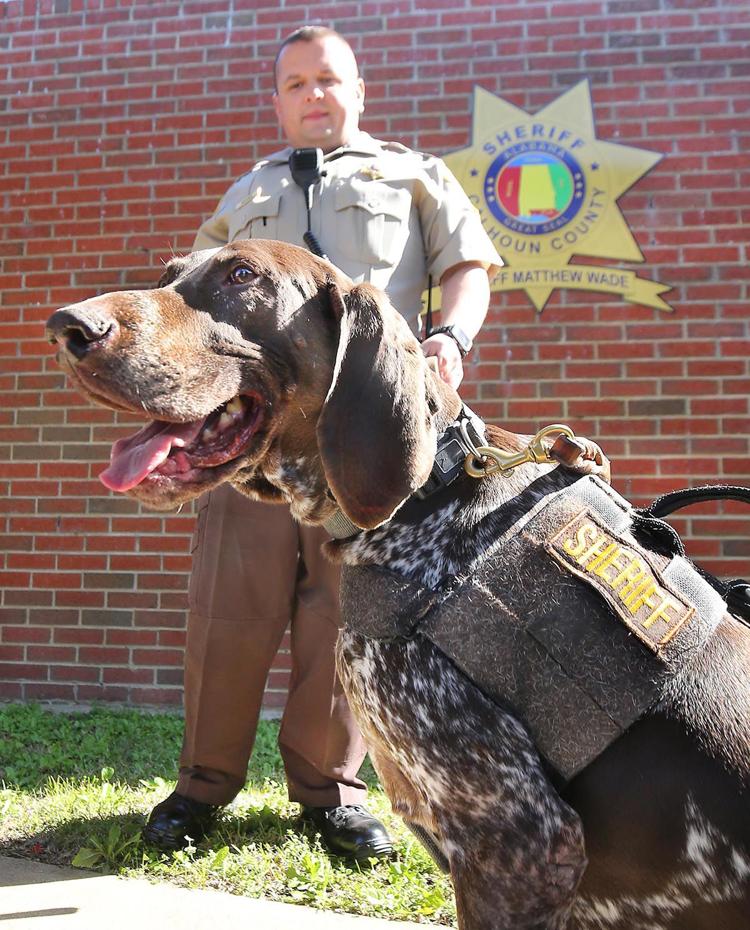 The Transportation Security Administration has around 1,000 working dogs, and the Department of Defense another 1,600, according to a 2017 article in the New York Times —  but Otto says there's no clear central count of the number of dogs needed nationwide.
"We don't actually know how many dogs are working in this country," Otto said.
What is clear is that demand for dogs has grown. Use of bomb-sniffing dogs skyrocketed in 2001, after the Sept. 11 attacks. It continues to grow, Otto said, partly because of the increasing use of sniffing dogs to spot everything from cancer to bedbugs to allergy-triggering peanuts.
"The list goes on," Otto said. "Just about anything you can imagine."
Alabama, and Calhoun County in particular, has been a hotbed of canine research. Auburn University, working through a site at McClellan, has trained "Vapor Wake" dogs which can detect explosives on a person traveling through a highly populated place. Attempts to reach Auburn officials for comment Tuesday were unsuccessful.
Still, even new training centers don't seem to have been enough to meet demand. Otto said agencies have been buying dogs from eastern European countries, where there's a stronger culture of using dogs for work rather than companionship.
Sheriff Matthew Wade didn't have trouble acquiring two Vapor Wake dogs to patrol Calhoun County's schools. Wade said he got the dogs — a German short-haired pointed named Hoss and a black lab named Q.T. — through a pilot program with AMK9, the dog-training business that works with Auburn at McClellan.
Wade said the dogs search schools for guns and explosives — and they also help students warm up to a police presence in schools.
"These are floppy-eared dogs. It gives the SRO an opening to talk to the students," he said, using the acronym for school resource officer.
Wade said the dogs would have cost about $30,000 if he'd paid full price. He couldn't recall, Tuesday afternoon, how deep a discount the pilot program gave his office.
The legislation by Jones is actually an amendment to a Homeland Security bill, which passed out of Senate committee earlier this week. Fluit said the amendment created an "open-ended" mandate for more research into sniffing dogs.
Rogers' bill, which has already passed the House, would set up a working group to find ways for the country to set up a network of breeders with clear standards and a plan to expand training. Attempts to reach Rogers Tuesday were unsuccessful, but he told the Talladega Daily Home last week that he expected the bill to find support in the Senate.
"I'm not concerned about its passing," Rogers told the paper. "It's just a matter of when the Senate will get to it."