Lyn Balfour oversaw $47 million worth of engineering projects in a war zone so well that she was awarded a Bronze Star. But in March 2007 the Virginiawoman forgot her 9-month-old son Bryce in the backseat of the car, causing him to have a fatal heatstroke.
"I grapple with, all the time, that I could do that kind of work but I couldn't remember my own child," Balfour said over the phone last week.
Nationwide, nine children have died in 2016 after being left in hot cars, including one child in Alabama, according to research funded by the National Safety Council, a nonprofit organization whose goal is to prevent injury and death at work, home and on the road.
Jan Null, a researcher at San Jose State University, has tracked child vehicular heatstroke data for almost 15 years with support from the National Security Council. His research shows that of the 670 totals deaths from 1998-2016, 14 were from Alabama. Per capita, Alabama is ranked as the 15th-worst state for child vehicular heatstroke.
A jury acquitted Balfour of all criminal charges. It did not free her from the pain.
"There is not a day that goes by that I don't think about my son. Prison is just a different location. You don't have to have bars on someone to make them feel like they are in prison every day," Balfour said. "I can't think of a worse prison without bars than a parent forgetting their child."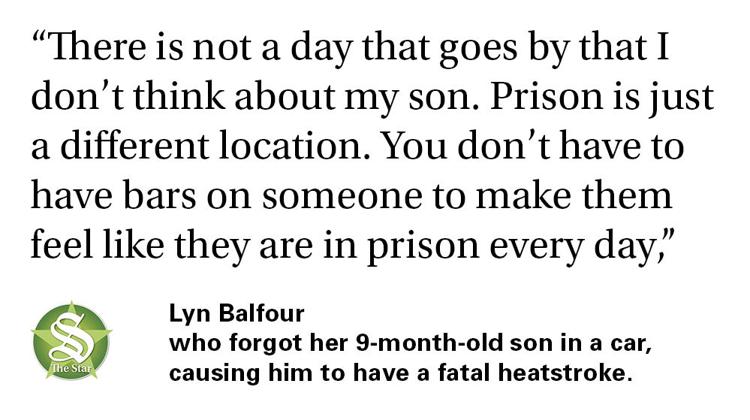 Many of the parents who have forgotten their kids in hot cars refuse talk about it because of the stigma that they must be a bad parent or didn't have their priorities straight, Balfour said. Balfour's promise to her son and her purpose now from God, she said, is to educate people. When Balfour does speaking engagements she usually starts with the same set of questions.
"Have you ever forgotten your cell phone, keys, purse, life-threatening medication, or wallet? If you've ever forgotten one of those things you can forget your child," Balfour said.
An Anniston mother and U.S. Army soldier, Katherine Papke, forgot her 4-month-old son in the backseat in August 2013. Papke was initially indicted on a charge of manslaughter under the state's Amiyah White Act, used to prosecute people who leave children alone in cars. Papke was the first person charged under the law. The manslaughter charge was dropped and ultimately she pleaded guilty to a lesser felony charge of criminally negligent homicide.
When looking at fatalities involving children in cars, Janette Fennell, president and founder of KidsAndCars.org, said that in 40 percent of cases the adults aren't charged at all, in 9 percent the accused are charged but not convicted and 29 percent of the time they are charged and convicted. She said the charged and convicted adults tend to be daycare providers who didn't mean for the children to die but knew that they were in the car. The additional 11 percent of cases are still pending, Fennell said.
"It's frustrating when people say that we got off, we weren't held accountable but it's all truly from the stigma of people in society," Balfour said.
When parents aren't paying attention and a child falls into a pool and drowns, it's deemed a tragedy but when a parent forgets a child in a car the parents are seen as criminals, Balfour said.
Balfour urges parents to realize this horrible mistake could be avoided.
"We've gotten into the habit of baby-proofing our house but we haven't baby-proofed our cars and if they don't then they have to be prepared for the consequences," Balfour said.
Kristie Cavaliero runs Ray Ray's Pledge, an organization working to bring awareness to child passenger safety and to find practical prevention tools for parents, such as smartphone apps. She suggests apps for Android devices such as Mom I am Here and Check My Child, or a scheduler to plan and automatically send text messages to confirm the arrival of a child at daycare, for example.
Cavaliero said that mornings are a high-risk time of day, especially since the 1990s when it became recommended for car seats to be placed facing backward in the back seat. She said if a baby goes to sleep and is quiet then a parent won't hear or see the child, and might easily be distracted by other things.
"Mornings are often high-stress, high-traffic; throw in a change in traffic patterns, and missing that turn or detour adds to disruptions which can be fatal," Cavaliero said.
She said any GPS safe-reminder apps for iPhones works well and a basic alarm clock can be used on all types of devices.
"I've tested a number of different apps," Cavaliero said. "I put my money where my mouth is. I don't talk about anything that I don't personally use."  
Cavaliero's daughter, Sophia Rayne Cavaliero "Ray Ray," died on May 25, 2011, just 10 days after her first birthday. The morning of the accident Cavaliero's husband, for some unknown reason, took a right turn instead of a left turn towards Ray Ray's daycare. He continued driving to work as Ray Ray slept in her carseat. It took until lunch time for him to realize that Ray Ray was still in the car. She was removed from the vehicle but lost consciousness and efforts to resuscitate her were unsuccessful.  
"I've lived the tragedy. Having two 3-and-a-half-year-olds now, they are not transported anywhere without having these transportation safety features activated and on," Cavaliero said. "Our story helps other people and brings to light all the things available today."
In 2012, a research team from Children's Hospital of Philadelphia, supported by the National Highway Traffic Safety Administration, examined the reliability of preventative equipment such as car seat weight sensors and child safety strap buckle alerts. The team found the technology to be inconsistent and unreliable, said Aditya Belwadi, a research scientist who worked on the project.
Belwadi said the research team has not looked into the success rate of apps yet but that research needs to be done on how parents react to alarms because of possible sensory overload.
Belwadi, a father of two, said, "I still prefer to have an alarm rather than not having one."
Fennell said KidsAndCars.org also works with the automobile industry to try and improve safety features such as backup cameras and alerts.
"We are reminded about everything else, low tire pressure, door ajar, but it doesn't make sense, when you step back from all those reminders. Who's decided it's worse to have a dead car battery than a dead baby?" Fennell said.
Automobile makers are testing new, more effective technologies such as advanced imaging sensors based on radar technology, Belwadi said. The radar could sense a child, elderly person or animal left inside the vehicle and alert the driver. Belwadi said having these preventive measures already baked into the product is better because it doesn't require parents to take any extra steps. He said older cars and older systems would still need child seats with built-in alarms mechanisms.
Cavaliero said that other simple measures can be taken to reduce the death toll related to child heat strokes such as locking car doors after exiting.
According to Null's research, 29 percent of deaths are related to a child entering an unlocked and unattended car and getting trapped inside or confused about how to get out until they ultimately suffer a heat stroke. Null said it can happen in the child's own driveway, in a car parked on the street or even at a neighbor's house.
"Locking your doors each time you exit the vehicle could save so many children," Cavaliero said. "That requires zero technology, just common sense even if you don't have kids."