More than 2 million Alabamians will see restrictive changes to their insurance coverage for opioid pain relief starting in January.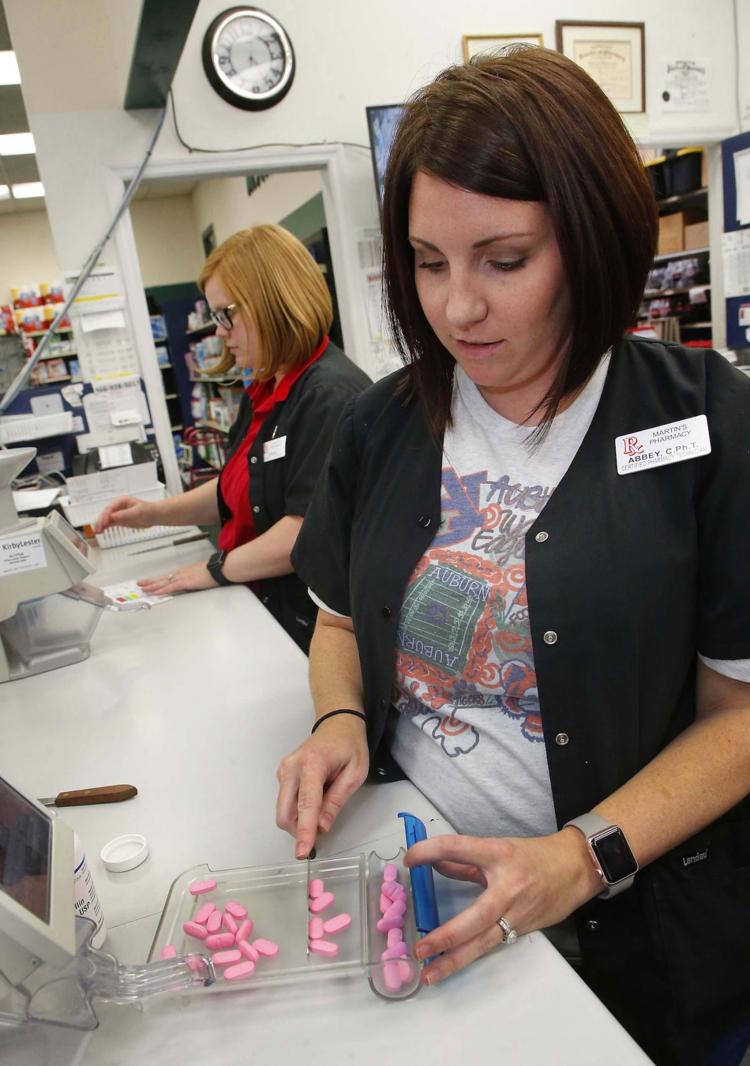 A news release sent Thursday by BlueCross BlueShield of Alabama detailed updates to the company's opioid management strategy, which sets a threshold of 300 morphine milligram equivalents, or MMEs, per six-month period. Opioids prescribed that outpace that limit won't be covered without an explanation from the prescribing doctor justifying the dosage. The restriction is meant to help stem the flow of opioids and bring down the rate of overdose deaths, according to the release. The company is by far the state's largest private health insurer, with more than 2 million subscribers in Alabama, according to a spokesperson. The changes take effect Jan. 1.
Chris Martin, pharmacist and owner of Martin's Pharmacy in Oxford, explained that 300 MMEs is the equivalent of 300 tablets of hydrocodone, 50 pills per month in a six-month span, or 198 oxycodone tablets, 33 per month, in the same span. Many insurance companies already only pay for a week's worth, he said, which is enough to cover the average recovery from a surgery. Chronic pain sufferers, however, average higher numbers.
"That's not much for people in pain management, because they get about 120 a month," Martin said by phone Friday. "It's going to be very restrictive." 
Cancer patients and people in palliative care — treatment for pain rather than the cause of the pain, especially for terminal patients — are exempt from the limits, according to the release. 
Sophie Martin, media manager for Blue Cross Alabama, wrote in an email that the 300 MME threshold was chosen as a starting point to limit the number of affected members, at least while the impact is measured. If the program reduces unsafe dosages, the amount could be reduced further. 
"The best way to think about  it is that 300 MME is equal to eight to 10 times more than the normal starting dose prescribed to patients to treat an acute pain like a bone fracture," she said by phone. 
Opioid prescriptions have declined since 2015 both nation- and statewide, according to the release, but the age-adjusted rate of drug overdose deaths increased from 16.2 per 100,000 in 2016 to 18 per 100,000 the next year. 
Cheshire said she thought the measure might harm elderly and disabled people if they have consistent use cut off, which could lead to drug-seeking behavior elsewhere. But, she said, the measure could make it harder for people to hoard pills to sell later. 
"I guess it's going to depend on the situation," she said. "There's a difference saying a person has chronic pain and someone at 30 years old and they're getting prescriptions and just refilling them and going back so they can sell them." 
Chris Martin said he thought the restrictions could have a positive impact, with more doctors simply limiting their prescriptions to dosages that meet the 300 MME threshold. If a physician wants to give more to a patient while maintaining coverage, though, it may not be so difficult. 
"I think doctors are just going to call and get overrides," he said.