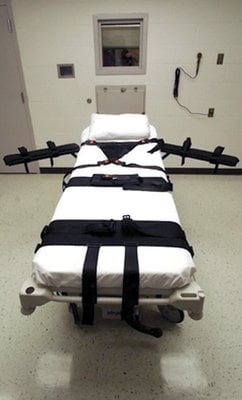 Alabama may be planning to execute an inmate with drugs made by a company that has disavowed the use of its products for capital punishment, the inmate's lawyer said this week.
"They're using drugs they shouldn't be using," said Bernard Harcourt, attorney for death row inmate Doyle Lee Hamm.
Hamm is set to be executed in February for the 1987 murder of a hotel clerk. In an appeal, Harcourt is claiming that death by lethal injection would be unconstitutionally cruel because past treatments for cancer have compromised Hamm's veins, making proper injection difficult.
Alabama executes inmates by injecting them first with midazolam, a painkiller; then with rocuronium bromide to relax the muscles, and finally with potassium chloride to stop the heart.
In a motion filed in federal court earlier this month, lawyers for the state attorney general's office included instructions and labels for midazolam manufactured by Akorn, a company that nearly three years ago announced its opposition to the use of its drugs in executions.
Alabama has been secretive about the sources of its execution drugs for years, largely because of the threat of boycotts by activists at home and abroad. Death penalty states began scrambling for new drug combinations several years ago, when European drugmakers began opting out of supplying key drugs to prison systems.
More recently, American drug companies, as well as medical and pharmacists' associations, have also come out against involvement in executions.
Lawmakers in 2014 considered a bill that would allow the state to keep the sources of the drugs a secret – there's no such protection in law now – but that bill failed. Even so, state officials have refused to publicly name the source of their drugs, citing gag orders in pending death penalty cases.
Prosecutors first dropped Akorn's name in court documents in 2015 – prompting a quick response from the drug manufacturer, which said it would stop supplying drugs to state prison systems and institute controls to keep third-party suppliers from selling them to prisons. The company also asked Alabama to return any Akorn-made midazolam it had on hand, though there's no indication the state returned any drugs to the company.
Later in 2015, prosecutors mentioned another manufacturer, Becton-Dickinson, in a court document. That company, too, objected, saying it would take "an appropriate course of action" against distributors that sell their midazolam to Alabama's prison system.
Why Akorn was mentioned in the most recent court motions is unclear. In an email to The Anniston Star, attorney general's office spokeswoman Joy Patterson said the office had no comment on the matter.
Attempts to reach Akorn, through its investor relations department, were unsuccessful. In 2015, an official from the company's investor relations department told The Star that Akorn was a relatively small player among the nine companies making midazolam at the time, with no more than 1 percent of the market share for the drug.
Harcourt, Hamm's lawyer, believes the filing is a sign that the state is indeed using drugs made by Akorn, against the company's will.
"They're playing games with these drugs," he said. "There's a bit of three-card Monte going on here."
Harcourt said it's possible the drugs in Alabama's stockpile have expired. The state's last known purchase of midazolam, revealed in a court deposition, occurred in 2015. The drug has a shelf-life of about two years.
Prosecutors included a midazolam drug label among the documents filed this month, the lot number and expiration date from that label were redacted.