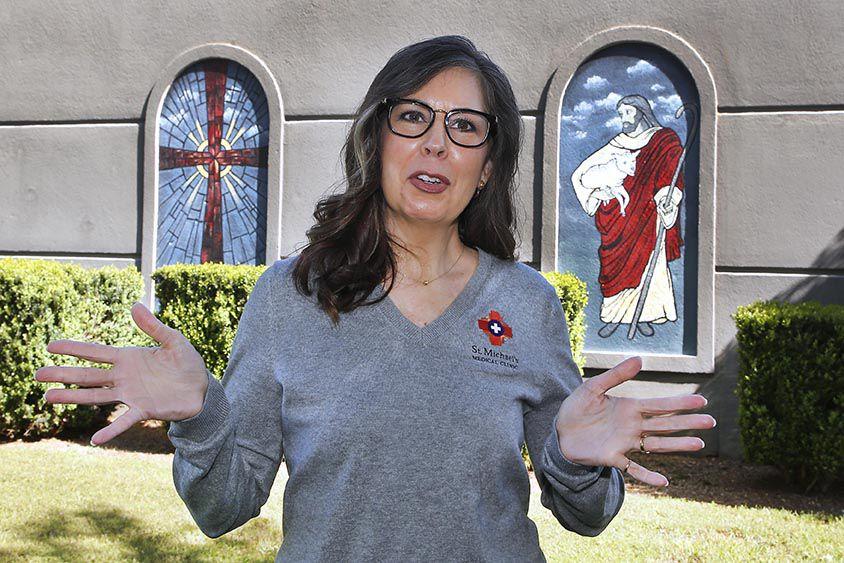 A vague legal advertisement published this week in The Anniston Star is causing Nanette Mudiam, executive director of St. Michael's Medical Clinic, to offer an emphatic message: "We are very much alive and maybe doing more than we've done in years."
The West 18th Street clinic, adjacent to The Church of St. Michael and All Angels, has operated since 1988 under the legal entity of St. Michael's Community Services Inc. In 2018, the clinic's board began the process of dissolving that corporation and reforming as St. Michael's Medical Clinic Inc., a separate 501(c)3 public charity.
The goal of the legal name change, Mudiam said, was to narrow the clinic's governing bylaws and clarify its mission and purpose of providing free health care to low-income and uninsured residents. The clinic has operated under its new legal name for several years, she said.
Dissolution of the old entity has proven more time consuming, however, and state law required the clinic's board to publish a newspaper advertisement that declared its intentions. The advertisement this week announced that "St. Michael's Community Services Inc., hereby publishes in accordance (with state law) this notice that it is dissolving," and requested that claimants should contact the board of directors' chair.
The advertisement's legally mandated vagueness may have led to public confusion about the clinic's future, Mudiam admitted. But she's adamant that nothing about the clinic's health-care services is changing.  
"Same purpose, same mission, same vision, same location," Mudiam said.
Jo Rhea Ford, the board chair, was blunt. "It's strictly a formality," she said.
When St. Michael's established the original entity and opened the clinic, "they set it up with a broad range of potential charitable activities," Mudiam said. "It was a large umbrella. But at the end of the day, what St. Michael's has always basically done is medical services." The ultimate goal of the name switch  was bylaws clarity, not public confusion, she said.
Today, the clinic employs Mudiam and three other part-time employees, including a Spanish translator, and benefits from its 30-odd volunteers. Mudiam and her staff managed the COVID-19 pandemic as best they could, though a number of volunteers with high-risk medical conditions stepped away until they were vaccinated. Pre-medical students from Jacksonville State University filled in many of the staffing gaps.
"They really helped us when we really needed some help," Mudiam said.
The clinic partnered this spring with Regional Medical Center for a COVID-19 vaccination site, with doses given inside the church's Lagarde Hall. Clinic staff do not give vaccinations at the clinic, but they can help patients arrange for doses elsewhere in Calhoun County.
Besides pandemic-related health care, the clinic treats patients for most chronic and acute illnesses.
"The need for us has not gone away … and we have more projects coming," Mudiam said. "That is why we knew we needed to clarify our mission and vision to make sure it continues to have the investments and focus it needs. The need is great, and we need to be able to address it."