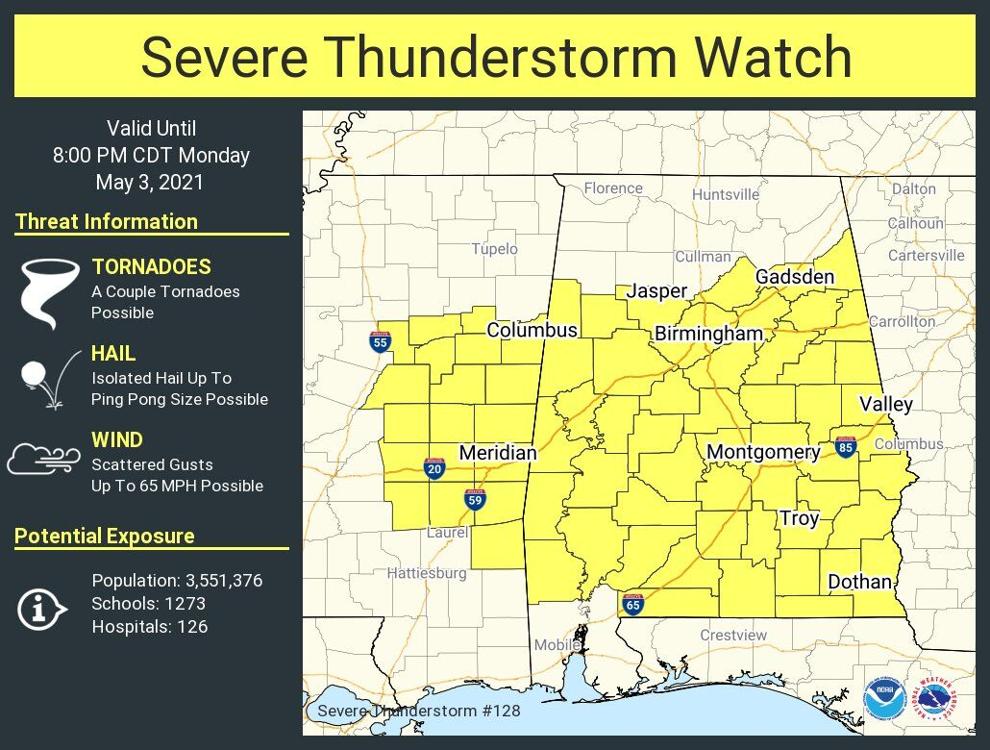 UPDATED 11:54 a.m.: The National Weather Service has issued a Severe Thunderstorm Watch through 8 p.m. Monday for most of central Alabama. This watch replaces the previous watch that was in effect for portions of the area.
Potential threats include scattered wind gusts and isolated hail. A couple of tornadoes are also possible.
The alert comes at the start of a two-day period of severe weather for Alabama, with showers and thunderstorms throughout the day and possible severe weather Tuesday, according to the service's Calera office. 
"There may be a few thunderstorms around today and tonight, and some in the morning, maybe," said Kevin Laws, NWS meteorologist, Monday morning. "But a more potent squall line will get together in Mississippi tomorrow." 
Tuesday will see most of central Alabama, including Calhoun, Cleburne and Talladega counties, in an "enhanced risk" area, the midpoint of the weather service's five-step severity scale. The classification includes possible tornadoes, damaging winds up to 70 mph and quarter-size hail. 
As of Monday morning, the "enhanced risk" window ran from 9 a.m. to 9 p.m. Tuesday. Calhoun County would likely see the worst of the squall near the end of that window, Laws said. He also said the Wednesday forecast appeared calm.