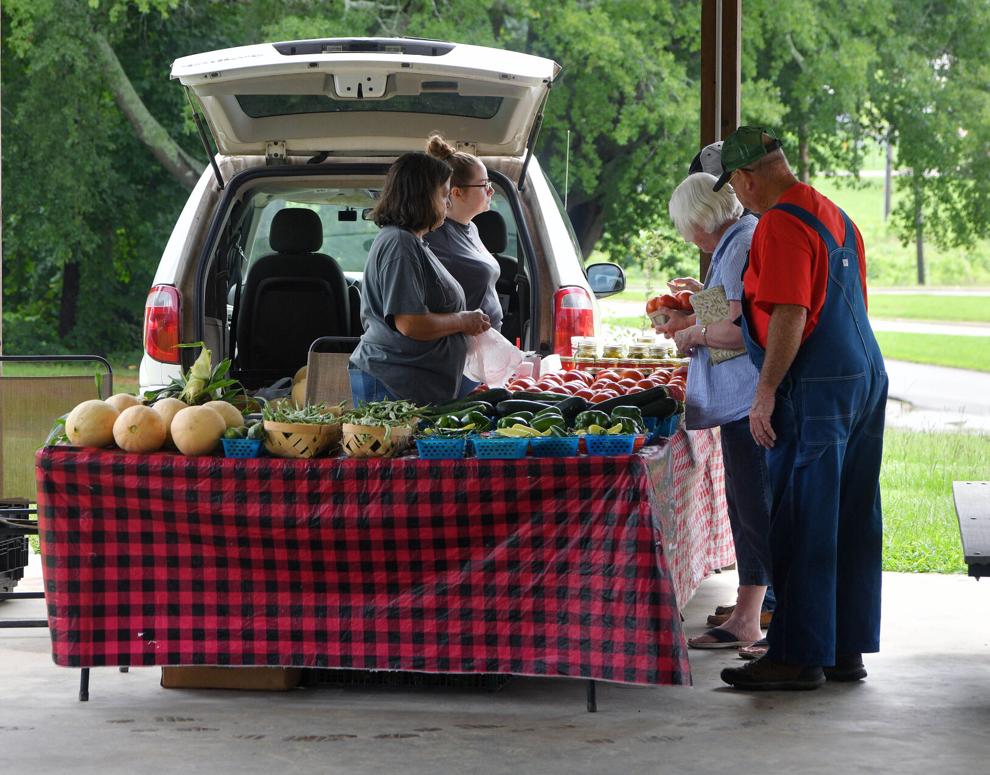 HEFLIN — Too much rain equals not enough produce.
That was the consensus of the vendors at the Cleburne County farmers market Tuesday morning in Heflin. Every Saturday and Tuesday, vegetables, canned goods and good times can be found at the market, which is located under a large pavilion at 1400 Ross St. next to the Cleburne County Chamber of Commerce.
On Tuesday morning, dark gray clouds hung low, portending another dose of rain as vendors rang up sales of their summer harvest.
Lori Traffanstedt of Piedmont said the abundance of rain is bad for the bottom line.
"It's ruining a lot of vegetables for us. We're losing a lot right now," she said as she put out some more cantaloupes for her business, Piedmont Produce.
Traffanstedt said the rain has taken its toll on her tomatoes.
 "I will have tomatoes that are bigger than my hand and they look perfect on top, and you reach underneath them to pick them and they're just mush," she said.
She said if storms are predicted, it's best to pick the cantaloupes a couple of days before so they won't get ruined by too much rain. 
"We need the rain to slack off a little bit — our okra needs the hot, dry weather. I'm not going to complain, at least we're not having to haul water to the fields," she said.
According to Jason Holmes, a meteorologist with the National Weather Service in Calera, it has been a wet summer so far. As of Monday, the Anniston area has recorded 4.51 inches of rain in July, which is 1.57 inches more than normal, Holmes said. On Monday, the Anniston area received 1.12 inches of rain.
In June, 10.55 inches of rain was recorded in the Anniston area — a whopping 6.18 inches above normal, according to Holmes.
Holmes said the average daytime high temperature for the month of June was 86.1, which was 1.5 degrees lower on account of the cloudy conditions and rain.
On the other hand, that same rain and cloud cover kept the average low nighttime temperature at 67.7 degrees, one-half degree higher than normal because the day's heat couldn't dissipate into clear, dry night air. 
Holmes said that for the month of July there were only two days — July 4 and 5 —  when rain was not predicted in the forecast for the 39 counties the Calera NWS covers. 
"It definitely has been wet," Holmes said.
Those wet conditions have taken a toll on everyone. Troy Daniel from Ranburne picked up a tomato from one of his tables at the farmers market.
"Look at this," he said, holding in his weathered hand a tomato that was small and had splits near the top due to excess rain. At the beginning of the growing season, conditions were fine, he said.
"But we had so much rain now that it's having an effect on a lot of stuff," Daniel said.
"It's been bad on bush beans this year because the ground is so wet, and when the sun comes out it just cooks the leaves," he said.
Rhonda Green, the farmers market manager, agreed.
"The sun will bake them ... it rains on them and when the sun pops out it blisters them. It breaks the cycle of the beans and knocks the blooms off, too," Green said.
Green said the farmers market, despite the rain, has been average so far this summer.
Sheila Ligon, another of the vendors, said her tomatoes are not getting as big as they normally do and they are taking longer to ripen. The rain causes other problems too, she said.
"The heavy rains knock the blooms off the beans and the okra," Ligon said.
What produce Ligon did have was selling fast. "The yellow squash, most of the beans and all of the okra are gone."
Mary Brooks from Heflin said it was only her second trip to the farmers market, but she will definitely keep coming back. 
Brooks was at Daniel's table, where he held out a head of elephant ear garlic for her to smell.
 "I like this guy right here. He has the best fresh stuff. He weighs it. This will get me addicted to coming here," Brooks said. 
"It makes you eat because it looks so pretty."
Brooks said the produce offered at the farmers market is much better than the supermarket produce.
"It's worth getting up for," she said.