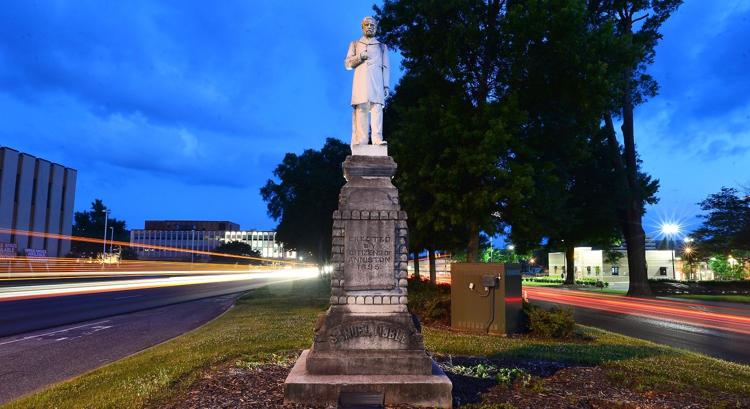 Samuel Noble monument made its debut 120 years ago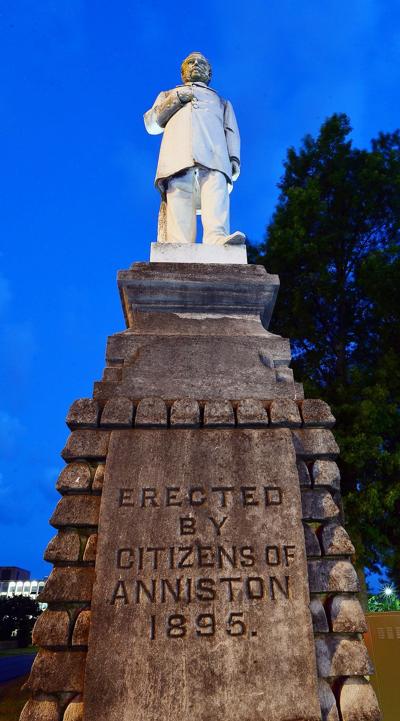 For more than a century, ol' Sam Noble has been perched atop a pile of pig iron in the middle of Quintard Avenue, facing north like any good Southerner of his day.
His right hand, stuck between the buttons of his overcoat, hasn't moved. His facial expression and mutton chops are unchanged. Unlike the city he built, time hasn't harmed him too much.
But Sam desperately needs a bath.
So Friday — the 120th anniversary of the unveiling of the monument to Samuel Noble, Anniston's principal founder — there's no better time to discuss this city's most important man-made landmark, how it came to be and when he's likely to get the sprucing up he deserves.
Let's go back to August 1888, when Noble died in his hotel room at the Anniston Inn next to Zinn Park. He was 54. The mourning city honored him at Grace Church and buried him in Hillside Cemetery. Seven years later, on June 5, 1895, Anniston held a party never before seen in this former company town of only a few thousand people.
That Wednesday, just after an afternoon shower, a parade of residents and dignitaries lined up at 3:30 for the procession at 10th and Noble streets. Among them were military companies, fire and police department officers, musicians and reporters from several newspapers. A few people pedaled along on bicycles. They weaved their way through the heart of the city, down Noble to 13th, back on Wilmer to 11th, and then up to Quintard Park, where the veiled monument waited.
At 4, the Rev. F.P. Culver offered an opening prayer. Elizabeth Roberts, a Noble granddaughter, tugged on the ceremonial cord that brought down the veil. The crowd cheered. D.C. Blackwell accepted the granite-and-marble monument on behalf of the city. Christine Cook read a poem. Girls decorated the monument's base with flowers. John Caldwell eulogized the city's most famous resident. (Caldwell replaced Andrew Carnegie, a friend of Noble's, who was originally asked to speak.) The Jacksonville Republican recorded his words.
"Today we pay him tardy tribute, but nevertheless in manner worthy of him and us,"  Caldwell said. "We place before the world his form developed out of marble as it stands before the silent and still. Pioneer citizen, we have never seen or do we expect to see thy like again. May the inspiration of his work and genius and the recollection of his name abide with us."
That moment in Anniston time only tells a sliver of the Noble monument's story, one that includes, in no particular order or importance, differing facts about who designed and carved the statue, where it was made — what country, even — and at least one mention of unspecified vandalism on a National Register of Historic Places document.
Even ol' Sam Noble can't escape a little controversy.
Let's go back to 1890, two years after Noble's death. In Anniston, a committee was formed to handle the details of erecting a monument worthy of the man himself. The "Samuel Noble Monument Association," chaired by Mayor Richard Huger, went to work. On Nov. 4, The Atlanta Constitution reported that a renowned monument and headstone maker, I.W. Durham and Co. of Charlotte, N.C., had won the bid for the Noble contract. It would cost $5,000 and would be unveiled July 4, 1891. Three days later, The Charlotte News called Durham's contract "a big victory" for North Carolina granite and granite workers, whose skill was chosen over bids from a dozen other cities and states.
The next May, the Atlanta paper updated its readers on the monument's progress — but made no mention of the Durham Co. Instead, it was to be made by sculptor George Crouch of Atlanta, where all of the carving would be done. The stone would be from North Carolina, however. (Crouch, by the way, is lauded for his ornamental stone carvings at the Georgia State Capitol in Atlanta.) What's more, The Constitution carried a drawing of Crouch's planned monument that closely resembles what stands on Quintard today. The main difference is that Noble stands on the stacks of pig iron; in the Atlanta drawing, the pig iron is stacked next to him.
Three years later, in March 1894, The Constitution changed its story again. Noble's likeness was to be made of Italian marble and stand atop a base of Alabama stone.
The following summer, Noble's granddaughter pulled the cord and let the whole town see what they'd paid for — though it's unclear who knew the truth about the monument's designer and builder.
It gets better, by the way.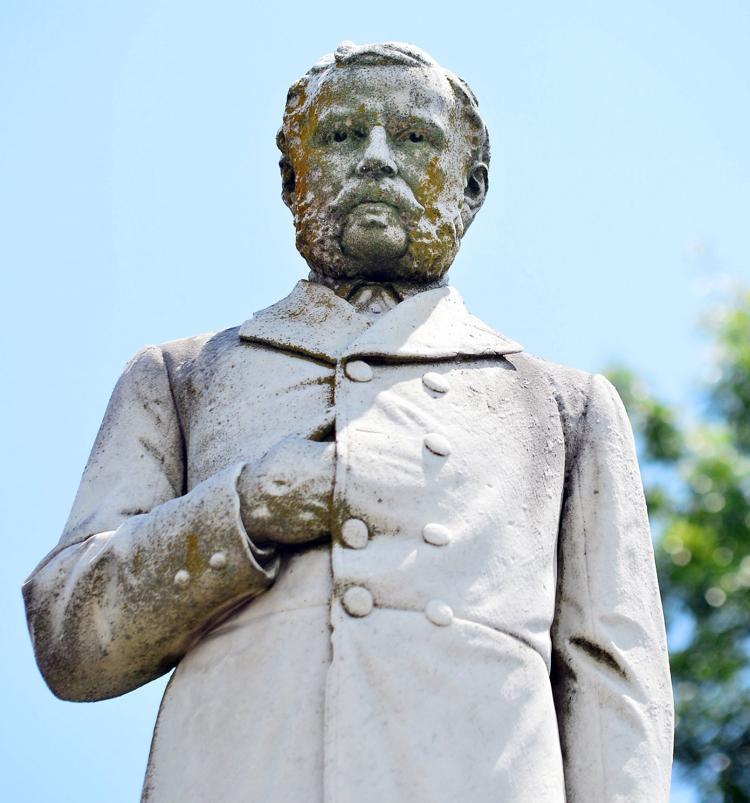 By the mid-1990s, the monument's accepted history had long been settled. Anniston Star reports and the monument's application to the National Register of Historic Places agreed: I.W. Durham designed the monument. However, that application claims that Noble's statue was created in Italy "by an unnamed sculptor." In other words, not by one of Durham's workmen and not by Crouch.
Today, if you go to the statue and look at the north side of base, near the bottom, you'll see a weathered inscription. It seems to read, "Morris Bros., Memphis." If there's a newspaper report or historical document that links Morris Bros. to the Noble monument, it's hidden like a pharaoh in a tomb.
Turns out, Morris Bros. was one of the South's largest makers of granite and marble monuments and employed sculptors in Italy. The company made monuments for cemeteries, cities, military organizations and families. Its work can be seen at virtually any sizeable Civil War battlefield. And, it seems, Morris Bros. built enough of the Noble monument — perhaps only the granite base — that it still carries that name. Or not, depending on which version of this story you believe.
Nevertheless, ol' Sam needs a thorough cleaning. His face is an odd combination of algae green and brown. His shoulders and arms are nasty, as if he walked underneath a painter's ladder. And that says nothing of the granite base, which is several shades darker than its original hue.
Anniston's Parks and Recreation Department is making plans for Noble to get a thorough makeover this summer. Decades ago, in the early 1920s, The Star's editorial board urged the city to take care of the statue, which by then was enveloped in moss and weeds. Something had to be done about its "deplorable conditions." The Cleburne News chimed in, as well. "It makes one feel sad to note that the state of the founder of Anniston is being neglected and not kept polished as it certainly deserves." Later, the Anniston Jaycees washed Noble in the spring of 1951 as part of its "Clean-up, Paint-up, Fix-up" campaign. And, for decades, children decorated Noble on his birthday, Nov. 22 — Founder's Day in Anniston.
Everyone needs a good washing now and then. Ol' Sam is no exception.