Regional Medical Center in Anniston is beginning to postpone some elective procedures to free resources to deal with an influx of coronavirus patents, one of the hospital's doctors said in a Wednesday press conference.
"We need those staff, we need those vents, we need those beds," said Dr. Almena Free, chief of staff at RMC.
Local health officials held the press conference in a parking lot near West 11th Street, close to a drive-through testing site, to update the public on the state of the virus and the coming of a vaccine.
Calhoun County, like the entire state, has seen a surge in new virus cases since Thanksgiving.
"We have seen a rapid intensification of cases over the last several days," said Michael Barton, director of the Calhoun County Emergency Management Agency. "We currently stand at over 1,000 new cases in a two-week period. That far surpasses our average back in the summer, during the surge."
Barton said 127 people in the county have died from the virus – about twice the number of deaths seen in most counties with similar numbers of cases and similar numbers of infections. He said the numbers are likely due to high numbers of deaths outside hospitals, including deaths in nursing homes.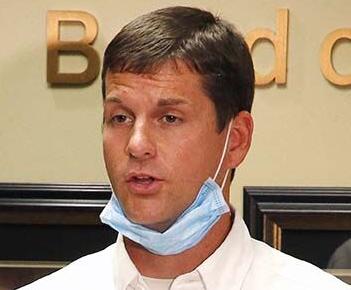 Statewide, according to state health department numbers, there are now nearly 2,100 COVID patients in hospital beds, nearly 500 more than the state saw during the summer surge.
In Anniston, 53 COVID patients are hospitalized, Free said. On Tuesday, RMC staff rushed to open a third coronavirus ward to accommodate the influx, moving some patients to nearby Stringfellow hospital to make room, Free added.
On Wednesday morning, 15 likely COVID patients were in the RMC emergency room, one of whom was awaiting an intensive care bed, Free said.
"We're in a bad situation in this country, and we're in a bad situation in Anniston," Free said. "You don't need to let your guard down."
Doctors urge extreme caution for Christmas
Free and others at the press conference urged people to plan to spend Christmas only with the people they currently live with, to avoid spreading the virus through family gatherings.
For months, doctors have warned people to wear masks, wash their hands and maintain a safe distance from others. At Wednesday's press conference, the advice reflected just how widespread the virus has become.
Free and others said people who have tested positive for COVID should isolate within their homes — separate from other family members — and should consider wearing a mask even at home.
Closing a toilet lid before flushing, Free said, may keep the virus from spreading through the air.
Widespread vaccination still months away
Barton said it will be "a number of months" before most healthy people get a vaccine for the virus. Officials at Wednesday's conference said they don't have any specific timetable for widespread vaccination.
Federal approval of a vaccine could come as early as this week, state and local officials have said, and Alabama plans to distribute the first doses to medical workers. Even so, there's almost no chance anyone in Calhoun County will get a COVID-19 shot this week.
"In the first wave of vaccines, we're told that Calhoun County was not allotted any," Barton said.
When the first shots do become available, he said, they will go to medical workers, first responders, nursing homes and other long-term care facilities, and doctor's offices where staff are likely to come into contact with COVID patients.
He said local officials are now planning the details of those vaccinations. That includes plans to give shots to people who work on different shifts, and plans to have backup personnel in place in case adverse reactions to a vaccine take some people out of the workforce for a short time.
"It's not going to be as simple as, 'Hey, we're open today, come and get your vaccine,'" he said.