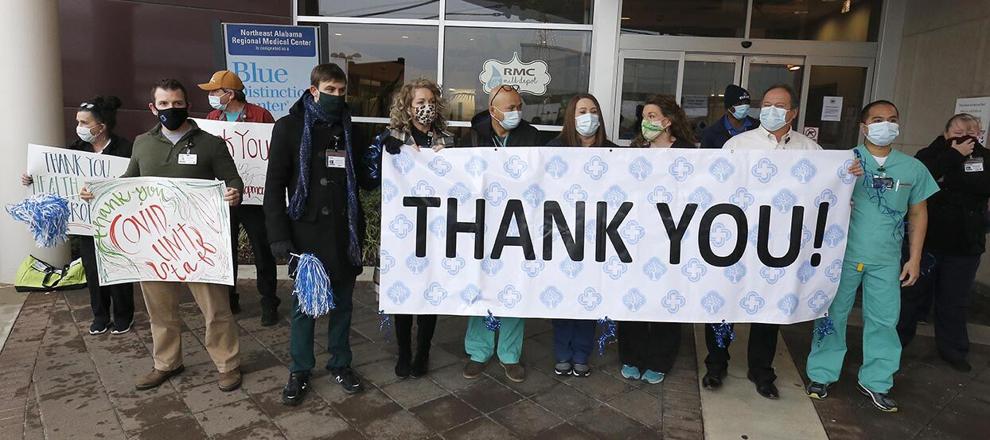 Chris George has run breathing tubes into nearly 100 COVID-19 patients, and every time he is in close quarters with a very sick person.
"I'm literally face to face putting the tube in," said George, a nurse at Regional Medical Center. "And after intubation I'm supposed to be in the room for 30 minutes just to make sure their vitals are stable."
Nearly eight months into the pandemic, George hasn't caught COVID-19 yet. He was among a few dozen RMC staffers who gathered Tuesday morning at the hospital's entrance to cheer as volunteers delivered 20 powered air purifying respirators, or PAPRs, paid for with $23,000 in local donations.
It's a tidbit of good news that, a year ago, would have taken a bit of effort to explain. On Day 304 of Alabama's struggle with the coronavirus, nearly everyone has learned a little of the lingo of the COVID ward.
When nurses and doctors intubate patients — placing a tube down the windpipe of someone with a severe case of coronavirus to help them breathe — they typically wear protective N95 masks, according to George. The PAPR (pronounced "papper") is a big step up from that.
It's vaguely akin to a gas mask, with a hose that runs down to a filter. It's expensive, in the $1,000-per-unit range, but George and others at the hospital say it will make work safer for the people who work most closely with coronavirus patients.
On Tuesday morning, there were 17 coronavirus patients on ventilators at the hospital out of a total of 65 COVID-19 patients at RMC, according to Dr. Almena Free, chief medical officer at RMC. That's down from a peak of about 85 patients earlier this month.
Health workers hold out little hope that the numbers will stay that low.
"Unfortunately, I think we're going to get higher than 85, just because of that surge from Christmas," George said.
More than 10,000 people in Calhoun County have had COVID-19 since the virus first appeared in Alabama in mid-March. New cases declined a little at the end of December, but by Tuesday the county was again averaging about 100 new cases a day, near the December peak.
By the official count, 195 people in the county have died of COVID-19 in the pandemic. That's an increase of 40 since the Alabama Department of Public Health's official count from last week. Assistant state health officer Dr. Karen Landers said the increase probably isn't due to a surge in actual deaths in the past few days.
"We've been working through a backlog of records," Landers said. She said the increased numbers came from review of earlier deaths that have since been attributed to COVID.
Photos: Powered Air Purifying Respirators Donated to RMC
Photos of powered air purifying respirators being donated to RMC.
Backlogged numbers have caused surges in the death toll and case count in the past, adding fuel to the fire for COVID skeptics online, who sometimes claim the numbers are overestimates.
For hospital staff, though, the deaths are all too real. As they cheered for the arriving supplies Tuesday morning, some of the health care workers wore black. Many expected to attend the funeral of Dr. Dennis Bonner, an Anniston cardiologist, later the same day.
"It is a shame," said George, who planned to be a pallbearer at Bonner's funeral. "He was my mentor, really. I learned everything about how to practice the art of medicine from him."
George said he doesn't know whether Bonner would ultimately be counted among the official casualties of COVID. The doctor was in intensive care on RMC's COVID unit, but was later moved off the COVID ward after he no longer tested positive for the virus, and was later transferred to UAB Hospital due to multiple organ failure, George said.
"Dr. Bonner is an icon in the community," RMC CEO Louis Bass said. "He was an outstanding cardiologist, a great person. It was a big loss to the community, his passing."
Bass declined comment on Bonner's cause of death, saying he didn't know enough of the specifics.
George, the RMC nurse, said there is no way to know whether Bonner caught COVID while working with patients. He said there's a risk of catching the virus outside the hospital, just as there is on the COVID ward. Sometimes more, he said, because hospital workers regularly wear masks and wash their hands.
"Someone in your family might come into contact with somebody who doesn't take the same precautions," he said.