OXFORD — Myra Mizzell's sons, her daughter, grandchild after grandchild — even great-great-grandchildren — flowed through her living room on Tuesday.
They'd come to hug her neck and whisper condolences, paying their respects to a man they loved: George Rankin Mizzell, the woman's husband of 69 years.
Mizzell died Friday at the couple's home. He was 93.
As the man's progeny circulated through that home — the house his wife's great-great-great grandfather, Dudley Snow, built in 1832 upon settling near what would become Oxford — Myra remembered how she met Mizzell.
She was married at 17 to the 24-year-old, who lived across the street from the same house. It was in a different part of Oxford than where it now sits, just over the Calhoun County line and into Talladega County.
"I knew when I met him that he was the one for me, and he said he did, too," the widow said Tuesday. "If he'd lived till June, we'd have been married for 70 years," she said, her voice cracking at the last.
At 184 this year, the house where the two lived is simple but ancient, listed on the National Register of Historic Places. Mizzell, a self-trained woodworker, loved the home, insisted the couple live there, and made it his mission to make sure it remained standing.
"It wasn't my favorite choice," the widow Mizzell said. "I couldn't see it as being a comfortable place to live."
The house was in bad repair, she said, when she and her husband bought it from her sister in 1961.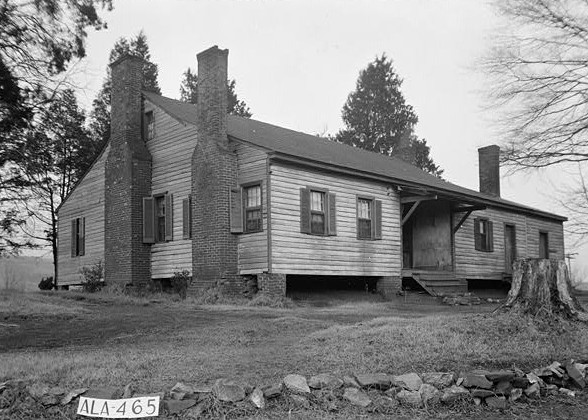 "It didn't have good floors in it, there were leaks in the ceiling," she said — plenty of work for a plumber and pipe-fitter by trade. "It was cold as ever, but he warmed it up."
The woman said Tuesday she never knew why her husband was so attached the house. Richard, a grandson, has a theory.
"I always took it that it was family heritage," the grandson said. "He was the jack-of-all-trades, and ... it was almost like a quest for him to rebuild it."
That quest was nearly derailed in the 1990s by the eastward expansion of Quintard Mall. The Mizzells had to pay to move the house off of Snow Street to Peek Drive, where it now stands.
Mizzell developed Alzheimer's more than a decade back. His wife said he sometimes forgot the house he loved. He never forgot his children.
"He always knew us," said Diana Mizzell Durham, his only daughter. "Some Alzheimer's patients, you know, they get mean — he never did. He just wanted to hold your hand. He always told us he loved us."
Mizzell also loved going to church — he was a member of Lakeview Baptist Church nearly his whole life — and shared his faith with his children. Durham said the family had a Bible study every day.
"He was strong in his faith," the daughter said. "He was a very caring person."
John, Mizzell's second son, today views his father's commitment to that faith as the strong foundation the rest of his life's been built on.
"The greatest gift he gave us, I think, was that he raised us in church," the son said Tuesday, just before a service for his father at Miller Funeral Home in Oxford. "It was never a question of if you wanted to go to."
In death, Mizzell still will reside near Snows: He was buried Tuesday afternoon in the family's cemetery, a small plot that still sits on Lakeview Baptist Church's hill overlooking Quintard Mall's parking lot.