When Lisa Weathers walks the aisles between kennels at Calhoun County Animal Control Center, she stops every few feet.
She puts her fingers through chain link gates to stroke furry foreheads. When wet noses are offered, she kisses them. The kisses are returned in kind.
"The public has to be educated," Weathers said Wednesday, over the unending cacophony of about 100 barking dogs. "They have to be aware of the problem they are causing."
The problem, the staff members at the center say, is that few people who bring dogs and cats to the building's door realize just how many other animals are already inside, waiting to leave — one way or another.
Despite opposing a local lawmaker's bill requiring animal shelters to publicly report the numbers of animals accepted, adopted and euthanized, Cheaha Regional Humane Society —  a nonprofit that runs the animal control center — does track those numbers. The center took in 2,932 animals in 2014, according to figures provided by the society's chairwoman, Jane Cunningham. It euthanized 879.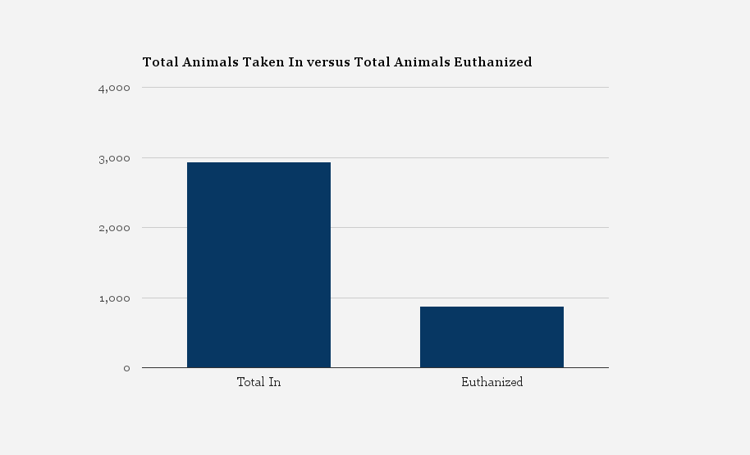 She and animal control center employees say those numbers illustrate the animal overpopulation in Calhoun County. Those employees agree that mandatory animal sterilization laws, as well as stricter guidelines on breeders, would bring that number down.
Political will for laws regulating animal control in Alabama has been weak, though. Rep. K.L. Brown, R-Jacksonville, proposed a bill this legislative session that would've required animal shelters across the state to track and report to the public the numbers of animals at the shelters, as well as staff salaries. The bill was rejected by the House of Representatives in March.
"I don't know how we can make policy on this issue if we don't even know how many animals are in these shelters," Brown said then.
In 2008 and again in 2009, state Sen. Del Marsh, R-Anniston, proposed bills that would require owners of dogs and cats to have the animals sterilized, unless used for licensed breeding or show purposes. Those bills failed, too.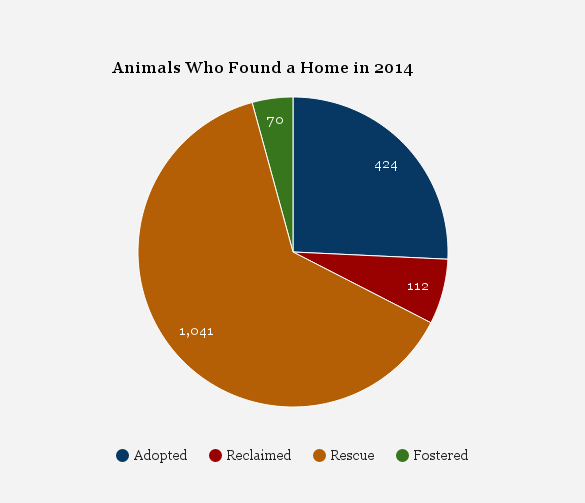 Unconditional surrender
The center's animal control officer, Wayne Shubert, caught 720 animals in 2014. Shubert responds almost exclusively to calls from the Calhoun County Sheriff's Office. The deputies only call with cases of animal cruelty or vicious dogs, he said.
The county's four other animal control operations, in Anniston, Heflin, Oxford and Weaver, also drop dogs at the center. Of the operations, Anniston Animal Control routinely dropped off the most in 2014.
But the largest number of animals — 45 percent of the 2,932 taken in last year — were surrendered to the shelter by Calhoun County residents, according to the center's numbers.
Roughly 14 percent of those received were adopted by new owners. More than twice that number — 1,041 animals — left the center and went to rescue operations across the country.
Forty percent of the animals received at the shelter never made it out.
"Obviously, you can't save them all," said Michelle Bridges. The center's only certified euthanasia technician, Bridges wishes things were different.
The reality, she said, is that some of the dogs brought into the shelter are too aggressive for the staff to work around, much less be adopted by families.
Others come in sick, with illnesses too contagious or grievous for the center to treat, she said. The center euthanized 879 animals last year. It's put down 55 in 2015, although The Star received numbers only through March.
Some of those euthanizations took place away from the center, because Bridges has not yet been approved to perform euthanasia by a veterinarian contracting with the nonprofit, Weathers said.
Over the course of 2014, another 246 died inside their cages.
Weathers told of one dog brought in so malnourished and thoroughly infested with parasites that it didn't survive the deworming process.
Another time, a surrendered puppy came in cold to the touch and dehydrated. Those surrendering the puppy said it had gotten stuck under a porch.
It stayed for three days until they finally fished it out, Weathers recalled. The puppy didn't make it through a night at the center.
With so many animals moving through the center — there were about 100 dogs in the kennel area and approximately 70 cats in an adjoining trailer Friday — upper respiratory infections are also a constant concern, she said.
"We do our damnedest to prevent that," by using strong disinfectant on kennels and cages during daily cleaning, Weathers said Friday.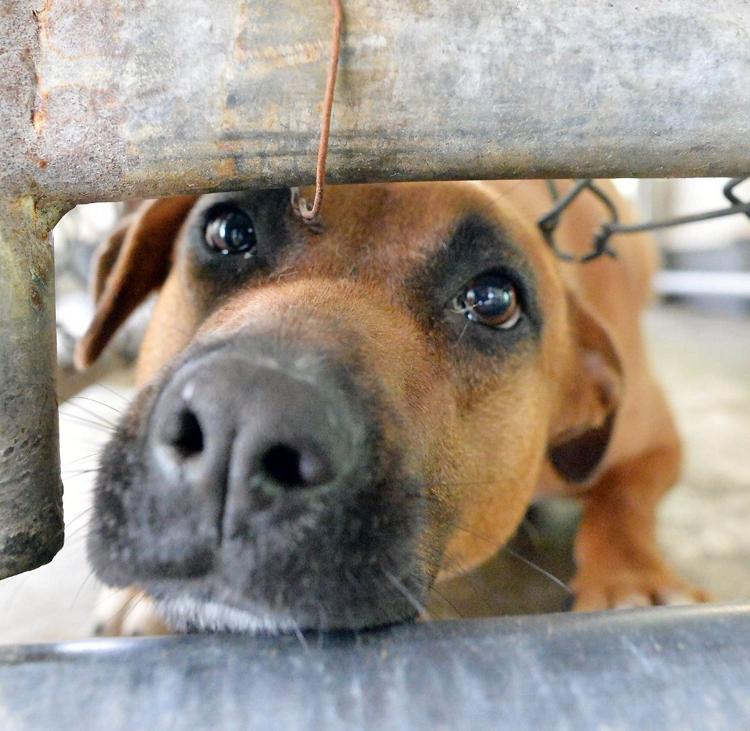 'Puppy season'
A retired Oxford police officer, Weathers works part-time at the center, alongside five other part-time employees who say they share a passion for helping animals.
She and the rest of the center's staff are quick to tell those who walk through the door with a puppy that grew too big or a stray dumped in their neighborhood that the animals could be put to death.
But she also spends much of her time trying to get those animals dropped at the shelter out and away before that happens.
Weathers started a Facebook group called "Friends of the Animals at Cheaha Regional HS," and uses it to connect cats and dogs held at the center to rescue organizations.
"I'm on it until 1 and 2 o'clock in the morning after I leave here, messaging rescues," she said.
She's helped send Rottweilers to New York, Jack Russell terriers to Canada and litters of Labrador retriever puppies to Wisconsin.
So far this year, she's helped get 218 animals into rescues, many of them dogs.
"Cats are harder to do because there's just not as many rescues," she said.
Five more dogs would leave for a rescue in Nebraska on Saturday morning, freeing up space for five newcomers at the facility.
Weathers knows the center will desperately need that space in a few weeks, when what she called "puppy season" kicks off: During the spring and summer, litters of unwanted or unexpected puppies and kittens are born to Calhoun County animals.
Many end up at the center. Last year, intake peaked in June, when 231 animals flooded in. One-hundred sixty-five were euthanized that month. Weathers expects the center to take in just as many this year.
Joey Wilson, a kennel technician at the Humane Society, wants to believe most people do think about those lives as inherently valuable, and don't want to see them end.
It's hard to reconcile that belief with the realities of limited space at the center, and the unceasing stream of surrendered animals.
"Judging by how many come in ... It doesn't bother them," Wilson said Tuesday.
Wilson's worked at the Humane Society for about a year. He got his start as an inmate from the Calhoun County jail who helped clean the center; after he got out, he was offered a job.
"I've been clean 14 months now, and it's all thanks to this," he said. "Thanks to these animals, I have something I care about more than myself."