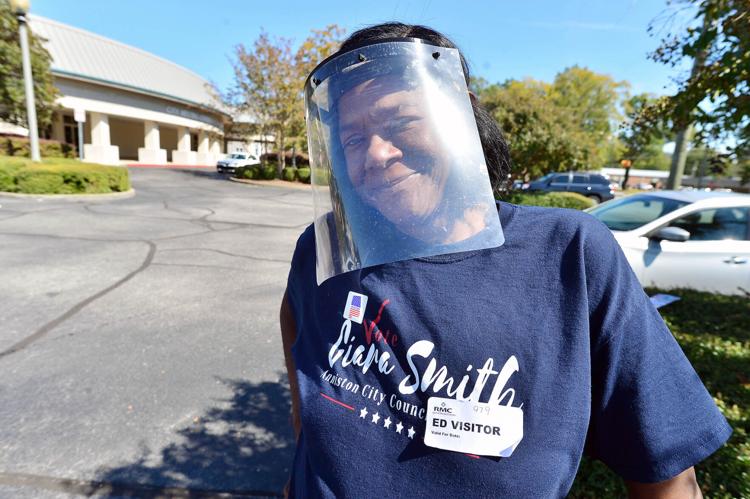 Polls closed at 7 p.m. in municipal runoff elections in Jacksonville, Piedmont and most of Anniston.
At one Anniston polling place, the election went into extra innings. 
Voters are still casting ballots at Anniston's Senior Citizen Therapeutic and Recreation Center at McClellan, which got a late start Tuesday morning when a city worker didn't show up to unlock voting machines in time for polls to open at 7 a.m. City officials sought and got a court order to keep polls open until 8:25 p.m. to make up for the delay. 
"It's so we can offer everyone the same opportunity to vote," said City Manager Steven Folks. 
Cities across the county held elections on Aug. 25, with races going into runoffs wherever one candidate failed to get more than 50 percent of the vote. Anniston had the most at stake in the runoffs, with the mayor's position and three city council seats up for grabs. Piedmont and Jacksonville each had one council seat at stake in the runoff vote. 
City clerk Skyler Bass said Tuesday that Anniston would begin tabulating the vote from eight of its nine polling places shortly after polls close at 7 p.m. That means results in the Ward 2 and Ward 3 City Council races will likely come in before other city results. Incumbent Ben Little faces challenger Ciara Smith in the Ward 3 race. Dann Douglas Huguley and Demetric D. Roberts face each other in the Ward 2 race. 
The late-closing polling place at the senior center is in Ward 1, where incumbent Jay Jenkins faces challenger Angela Fears for a council seat. Voting for mayor is citywide. 
Despite initial reports of low turnout, more than 3,000 people had cast ballots in the Anniston runoff by 6:30 p.m.
That's compared to roughly 3,700 who cast ballots in the city in the Aug. 25 municipal election. 
The Anniston Star website will provide updates on the results as they come in.