A man charged with firing a gun into the vehicle of a Piedmont City Council member and injuring a man in June had his bail reinstated Wednesday, though his case will go to a grand jury for further investigation.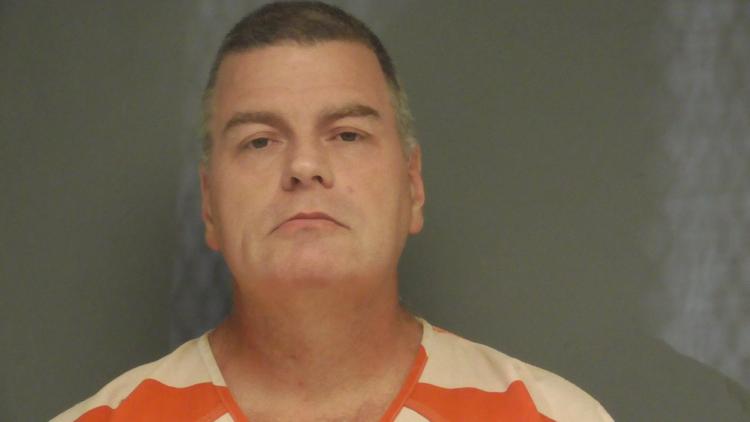 Elbert Brent Griffin, 47, sat beside his defense attorney in the courtroom of District Judge Randy Moeller Wednesday afternoon bound in chains and handcuffs. As witnesses in the case spoke to Moeller, Assistant District Attorney Dave Johnston and Griffin's attorney, Shelby Scott, Griffin curled himself down to scrawl notes to his counsel; his hands could not reach up far enough to write normally. Last month, Griffin was accused of shooting into the truck of Piedmont Councilman Ben Keller in a dispute over ownership and payment for a car Keller apparently sold Griffin. Wednesday, Griffin was in Moeller's courtroom for a preliminary hearing on charges of first-degree assault and shooting into an occupied vehicle, as well as a hearing for bond reinstatement. 
According to the first witness interviewed, Calhoun County Sheriff's Office investigator Bruce Butterworth, Griffin turned himself in to Piedmont police on June 11, the day of the shooting, and admitted that he fired the rounds that struck Keller's truck and hit Robert Yurk, a friend of Keller's who was with him during the altercation. 
"He brought his firearm, he surrendered that to the Piedmont Police Department and the investigators took it from there," said Butterworth, who interviewed Griffin the day of the shooting. 
The councilman agreed with some details of the story Griffin told investigators: He had visited Griffin's home on the night of July 10, they had argued about payment for the vehicle and the confrontation became physical. The next day Keller returned to Griffin's home to again demand the money. 
"He said, 'I'll give the car back,' but I said 'No, you've already had it for a while,'" Keller said. 
Keller drove away and returned soon after with Yurk in his passenger seat, and in the confrontation that followed, Griffin fired the shot that hit Yurk and another that went through the windshield and back window of Keller's truck. 
But other details were left unclear or in contradiction with other testimony; asked about a table leg that he may have wielded as a club before the shooting, Keller said he "kept a stick" in his truck, but he told Scott he was unsure what it looked like or where it came from. Keller claimed to have picked up Yurk only before returning to Griffin's apartment, but both Griffin and Yurk, who later testified, said Yurk had arrived both times with Keller. 
Johnston, the prosecutor, asked Yurk about his injury; he had been taken directly to a hospital in Gadsden after the shooting. The bullet hit his right shoulder, which Yurk said is still weak. He can't lift his arm above his head, he said, and he agreed he could not lift a gallon of milk, when Johnston asked. On the witness stand, Yurk said he had been splitting wood at Keller's house on the morning of the shooting. The two drove to the bank and stopped to see a friend about freshly caught fish, he said. Then Keller asked if Yurk minded making another stop, Yurk recalled, and he said he went with Keller to Griffin's apartment both times. 
The confrontation that led to the shooting was provoked after Keller drove around the block and realized his car wasn't at Griffin's home, Yurk said, prompting him to pull into Griffin's driveway a second time. 
"We pulled up, we went down the alleyway and he came out hollering about how he'd bring the money to Ben's house, and Ben was like, 'I want my money or my car.' He says, 'I've got a gun.'" 
According to Butterworth, the police investigator, Griffin said he had purchased the gun earlier that morning for fear of retribution from Keller. Griffin's fiancee, Patsy Martin, said on the witness stand that the car was already gone that morning. She said she heard Keller announce to Griffin that he had a pistol; Keller and Yurk both denied having had any weapons. 
After the hearing, Martin said she and Griffin had assumed Keller had already repossessed the vehicle. 
Moeller's job Wednesday was to decide if there was probable cause for further investigation; after witness testimony, the judge announced that the case would have to go to a grand jury. He also decided to reinstate bond for Griffin, who had been out of jail for an earlier offense when he was charged in June. Moeller was unable to consider self-defense in finding probable cause, he explained, though he was able to include it in his reasoning for reinstating the bond. Griffin will have to surrender any firearms he owns as a condition of the reinstatement, and avoid contact with both Keller and Yurk. 
After the hearing, Griffin was taken back to the county jail, but his brother and Martin talked with Scott in the courthouse parking lot after the hearing. Both said they were relieved they could bring Griffin home.  
"We're just so glad," Martin said.